Carpal Tunnel Linked to Higher Rates of Amyloidosis and Heart Failure
Researchers from this registry study, plus a group of editorialists, say the syndrome appears to be a "red flag" for future CVD.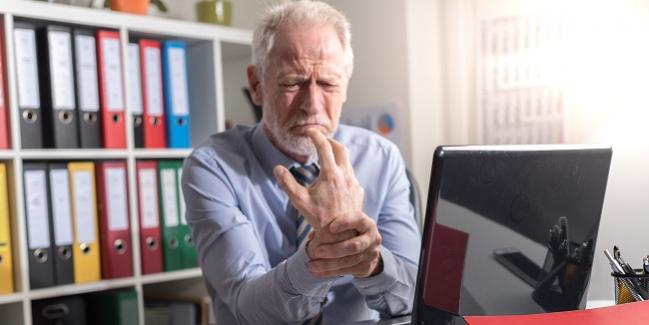 A large population-based study adds new evidence to support a strong association between carpal tunnel syndrome and future risk of being diagnosed with amyloidosis. In addition to a greater incidence of heart failure, patients in the Danish study also had increased rates of other cardiovascular events compared with individuals without carpal tunnel.
"We may be missing a large portion of patients who have the most common form of cardiac amyloid, wild type [transthyretin (TTR)] amyloidosis," said study co-author Mathew S. Maurer, MD (Columbia University Irving Medical Center, New York, NY), in an interview with TCTMD. "This data is intriguing and useful and further suggests that we need to refine what is the right screening approach and we need studies to figure that out."
In an editorial accompanying the study in the July 9, 2019, issue of the Journal of the American College of Cardiology, Van-Khue Ton, MD, PhD (University of Maryland School of Medicine, Baltimore), and colleagues note that in one recent small study, up to 10% of patients undergoing surgery for carpal tunnel had evidence of TTR deposits in their tenosynovial tissues, suggesting "that clinicians should heed the warning sign of carpal tunnel syndrome as a 'red flag' of TTR amyloidosis."
"Carpal tunnel syndrome in select patients may serve as an early warning sign many years prior to the onset of amyloidosis, giving clinicians ample opportunities to screen and monitor for amyloid development," Ton and colleagues write.
A-fib, Heart Block, and Need for Pacemaker Also Higher
Maurer and colleagues, led by Emil L. Fosbøl, MD, PhD (Copenhagen University Hospital Rigshospitalet, Denmark), examined data on 56,032 patients from Danish national registries who underwent carpal tunnel release surgery (CTS) and compared them with a similar number of age- and sex-matched individuals from the general population.
CTS patients had an elevated risk of future diagnosis of amyloidosis (HR 12.12; 95% CI 4.37-33.60), with a median time from surgery to diagnosis of 3.1 years. Additionally, CTS patients had a higher incidence of heart failure at 10 years compared with controls (5.3% vs 3.2%), with a median time from surgery to diagnosis of 3.7 years. Other outcomes, including A-fib, atrioventricular block, and pacemaker/implantable cardioverter-defibrillator implantation all were higher in the CTS group as well. Cumulative incidence of mortality, however, was similar in both groups.
Ton and colleagues note that although the rate of amyloidosis diagnosis was higher in the CTS group, the absolute risk was extremely low—0.1% versus 0.006% at 10 years—and much lower than the 10% reported in the other recent study. They further observe that several unanswered questions remain, including whether all patients with carpal tunnel syndrome should be tested for tenosynovial amyloid and be further screened for genetic TTR variants and cardiac amyloid if positive.
To TCTMD, Maurer said the explanation for the low rate of amyloidosis in this study may simply be the result of "people just not looking for it," providing even more impetus for appropriate screening.
Who Should Be Tested and How?
In May, two oral formulations of tafamidis (Vyndaqel and Vyndamax; Pfizer) were approved for treatment of TTR amyloid cardiomyopathy. To TCTMD, Maurer said given how effective the drugs are when administered early, "there is no doubt that in position papers or guidelines 10 years from now, there will be an approach to active ascertainment" in patients with carpal tunnel. "The real questions are what does that look like, what is the most cost-effective way to screen people, and what will be the triggers," he added.
Since the Danish study only looked at patients who were undergoing surgery for carpal tunnel syndrome and presumably had severe symptoms, Maurer added that the true incidence of amyloidosis in the overall population of people with the syndrome is unclear, further complicating screening questions.
Ton and colleagues point out that bone tracer scintigraphy is a highly sensitive tool, but it "may not be helpful in early disease when myocardial amyloid deposition is minimal. Cardiac magnetic resonance imaging and echocardiography may not be sensitive enough either. Should everyone suspected of early amyloid cardiomyopathy undergo an endomyocardial biopsy? Do we need to develop new imaging techniques with better tracers that specifically bind to TTR fibrils?"
Maurer is currently a lead investigator for an 800-patient study funded by the US National Heart, Lung, and Blood Institute to screen for amyloid in minority populations with heart failure using Tc99m-PYP imaging. He said it ultimately could lead to development of a risk algorithm to assist in predicting who should be tested and treated, and also could shed more light on the role of carpal tunnel syndrome as a predictor.
"Is screening cost-effective? I have no idea. We all have this belief that carpal tunnel is a red flag [but] lots of people have carpal tunnel who don't have amyloid," he observed, adding that there is no justification, currently, to screen everyone with the syndrome.
"Now, carpal tunnel mixed in with heart-failure syndrome and wall thickness or voltage-to-mass ratio on ECG and echo that's abnormal" start to form a picture of potential risk, Maurer said. "It's all a work in progress."

Disclosures
Fosbøl and Ton report no relevant conflicts of interest.
Maurer reports having served on the advisory boards of Pfizer, Eidos, Akcea, and Prothena; on the steering committee of Pfizer; as a consultant for Ionis; and on the data and safety monitoring board of Prothena.