CDC Says Myocarditis 'Likely' Linked to mRNA Vaccines but Very Rare
CDC vaccine safety advisors say myocarditis risk predominates in males and clusters the first week after second doses.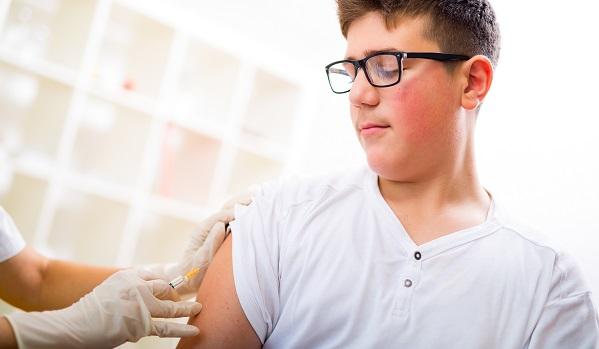 There is a "likely association" between myocarditis and mRNA vaccination against COVID-19 in adolescents and young adults, with most cases occurring shortly after the second dose and in males, according to advisors to the Centers for Disease Control and Prevention (CDC) Advisory Committee on Immunization Practices (ACIP), who met yesterday to review the latest US numbers.
But the risk of myocarditis/pericarditis is just 4.4 cases per million doses following dose 1 and 12.6 following dose 2, experts said. That risk after the second dose ranges from 4.7 cases per million in females to 32 per million in males.
The COVID-19 Vaccine Safety Technical (VaST) Work Group's interpretation of the data to date is that the risk-benefit balance in adolescents and young adults remains favorable. "Currently, the benefits still clearly outweigh the risks for COVID-19 vaccination in adolescents and young adults," summarized Sara Oliver, MD, of the National Center for Immunization and Respiratory Diseases.
The US Food and Drug Administration plans to update product labelling, an agency staffer said during the ACIP meeting.
A Consistent Pattern
Presenting data from the CDC's Vaccine Adverse Event Reporting System (VAERS), Tom Shimabukuro, MD, MPH, of the Vaccine Safety Team, said that as many as 1,226 possible myocarditis/pericarditis cases have been reported through June 11, although many of these have not yet been adjudicated. The median age was 30 in this group, 66% were male, and the median time to symptom onset was 4 days. When VAERS data were limited to subjects 29 and younger (n = 484), 323 met the CDC working case definition of myocarditis or pericarditis (148 cases were still under review at the time of presentation). Of the confirmed cases, 79% were known to have fully recovered at the time of report, while nine patients were still hospitalized.
Next Shimabukuro presented data from the CDC's Vaccine Safety Datalink, a more-rigorous data set including only cases confirmed by chart review or electronic health records. These data revealed a similar pattern, confirming that cases are more commonly seen after the second dose of a mRNA COVID-19 vaccination in adults aged 12 to 39, with higher rates in males than females, and that these events cluster in the first week following vaccination. The overall rate, Shimabukuro said, was 12.6 cases per million, occurring within 21 days of a second dose of any mRNA vaccine.
"The available outcome data indicate that patients generally recover from symptoms and do well," he said.
Weighing the Risks
An open public comment period following the formal presentations offered a window into the fears of parents, allied health professionals, and other members of the public around vaccine safety in younger people, given the lack of long-term data and the fact that kids and young adults have largely avoided severe illness, hospitalizations, and ICU stays seen in older patients with confirmed SARS-CoV-2.
But during her presentation, Oliver reminded the panel that as more older adults have been vaccinated over the last 6 months, adolescents and young adults now make up a growing proportion of cases, reaching 33% of infections in May 2021. In the period between April 1 and June 11, 2021, those aged 12 to 29 had the highest national incidence rates per 100,000 population.
"Since the beginning of the pandemic, at least 7.7 million COVID-19 cases have been reported among persons aged 12 to 29," Oliver said.
She then showed a series of risk-benefit analyses for predicted COVID-19 cases prevented versus myocarditis cases for every million second dose vaccination. In males 12 to 17, for instance, 5,700 COVID-19 cases would be prevented, along with an expected 215 hospitalizations, 71 ICU admissions, and two deaths, at the possible price of 56 to 69 myocarditis cases. In males 18 to 24, prevented cases, hospitalizations, ICU admissions, and deaths would rise to 12,000, 530, 127, and three, respectively, with an expected number of myocarditis cases of 45 to 56.
Corresponding data for females in these age groups showed even greater gains in terms of reducing COVID-19 case counts and outcomes, but with much lower rates of myocarditis (eight to 10 for the 12 to 17 age group, and four or five for the 18 to 24-year-olds).
And there are additional risks to consider, she continued. As of June 2, 2021, 4,018 cases of multisystem inflammatory syndrome in children (MIS-C) have been reported, with 36% seen in persons aged 12 to 20. Moreover, very little is known about post-COVID conditions that arise after infection, even mild and asymptomatic cases. In one study, Oliver noted, half of study participants had symptoms beyond the 1-month mark, ranging from fatigue to insomnia, rhinorrhea, muscle pain, headache, lack of concentration, exercise intolerance, dyspnea, and chest pain.
And of note, COVID-19 itself has also led to an uptick in myocarditis cases.
"There are no alternatives to mRNA vaccines for the foreseeable future in adolescents," Oliver concluded. "Vaccination of students offers an added layer of protection against COVID-19 and can be an important tool to return to 'normal,'" she said. "Higher levels of vaccination coverage can lead to less community transmission, which can protect against development and circulation of emerging variants," in the wider community. Finally, racial and ethnic minority groups that have already faced higher rates of COVID-19 and severe disease would likely also be disproportionately impacted by any changes to vaccine policy.
"Direct benefit-risk assessment shows positive balance for all age and sex groups, with the benefits of vaccination likely underestimated," Oliver concluded. Continued monitoring, however, is warranted.
Doran Fink, MD, PhD, deputy director of the Division of Vaccines and Related Products Applications at the FDA, said during yesterday's advisory meeting that the FDA will be adding formal warnings about the low risk of myocarditis and pericarditis to the labelling for both the Moderna and Pfizer/BioNTech vaccines. Neither vaccine has yet been formally approved by the agency, but instead are available in the United States under the emergency use authorization pathway.
The CDC is also now proposing that anyone who developed myocarditis after a first dose of an mRNA vaccine defer their second dose until more information is known. "However, if the heart has recovered, [patients] could consider proceeding with a second dose under certain circumstances" after discussions with guardians and healthcare providers. Anyone who developed pericarditis after a first dose can still proceed to their second dose after resolution of symptoms, the proposed wording states, again after consultation with clinicians.

Shelley Wood is Managing Editor of TCTMD and the Editorial Director at CRF. She did her undergraduate degree at McGill…
Read Full Bio