Clinicians Get Real on Radiation: 'Don't Do Dumb Things'
Awareness of surroundings and others in the room are key to proper cath-lab radiation safety, a VIVA "roundtable" concluded.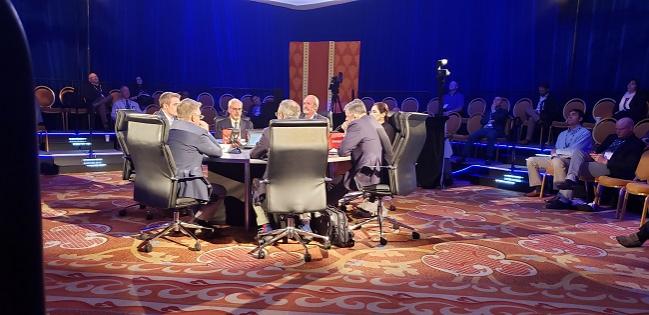 LAS VEGAS, NV—Keeping cath lab staff as well as patients safe and within acceptable levels of radiation is a priority that operators can and should be doing on a daily basis, experts here agreed.
The most crucial message for clinicians is that "they are primarily responsible not only for their own personal safety and the patient's safety, but of everyone in the room," Mark Bates, MD, DSc (West Virginia University School of Medicine, Morgantown), told TCTMD. He co-moderated a roundtable at VIVA 2019 on radiation protection strategies that provided a glimpse of how the future might look.
"I think 10 years from now we're going to be in a position where a lot of procedures in the vasculature are going to be done with minimal radiation exposure as we optimize the existing technology, as well as some of the new laser- or light-augmented three-dimensional imaging," he added.
During his presentation, Bruce H. Gray, MD (Prisma Health Institute, Greenville, SC), invoked the memory and message of Edward 'Ted' Diethrich, founder of the Arizona Heart Institute. Before he died of complications from a radiation-induced brain tumor in 2017, Diethrich championed occupational safety among his peers, highlighting the importance of self-protection against cancer, cataracts, and carotid disease, all of which he developed over his long interventional career.
Beyond thinking about things like frame rates, Gray said, operators should also be more aware of their surroundings in general. "We just kind of walk in and use the room," Gray observed. "Are we aware of what type of maintenance has been done on the equipment that we walk in and use every day?"
Additionally, he encouraged operators to be aware of their trainees and monitor them for excess radiation exposure.
"As experienced interventionists, we see anatomy that we know is going to be a challenge," he explained, "[but] we watch our trainees move through the algorithm and change to different wires and different catheters much slower than what we're used to doing because they need to learn how to do it. Not only are they taking on radiation, but the patients are taking on a lot of extra radiation, too. I think we need to control the time that we allow trainees to perform certain aspects of the procedure."
Panelist Gregory Piazza, MD (Brigham and Women's Hospital, Boston, MA), said one thing that is highly underutilized, but may help in these situations, is simulators.
"You could systematically train your fellows on a simulator with no radiation and only bump them up to actual live cases when they've gotten comfortable," he suggested.
Communication, Visualization, and Behavior Change
Gray noted that while you may have adequate shielding in your cath lab, it won't help if you don't use it correctly. A side drape, for example, that gets in your way and is pushed aside out of annoyance may make a difference in exposure levels for everyone in the room.
"That's really the dumbest thing you could do, so don't do dumb things," he said. Gray added that understanding the effects of scatter on yourself may be a simple as looking at your hands for loss of hair on the fingers and wrists. At his institution Geiger counters are used when X-ray badges indicate elevated radiation exposures for individual operators. "So, you have an auditory signal that's telling you that you're on the pedal," he said, adding that it may help in situations where staff are reaching over the table and may not even realize they are being exposed.
"Somebody else is typically on the pedal when you're reaching over, or they're reaching over. Coordinating care, communicating that the X-ray is on when somebody is reaching or doing something else [over the table] is really so simple, but yet underappreciated," Gray noted.
Constantino Peña, MD (Miami Cardiac & Vascular Institute, FL), added that a project done at his institution indeed showed that real-time radiation dose Geiger counters increased awareness and made radiation more "real" for staff when they were able to see their exposure levels in relation to others. During procedures, they could see on a monitor if they were at a "green" level, which was acceptable, or edging into "yellow" or "red" levels, which prompted them to step back from the radiation source.
"We found those staff doses dropped by 43%," Peña said. Anesthesiologists, in particular, saw significant benefit in terms of lowering their exposures. Not only is the information useful during the procedure but staff also can look at their exposures later, think back to what they were doing, and possibly use that to change behaviors for next time, he added. The next-generation of this type of technology, which Peña showed, looks almost like a video game, displaying the shape of each person in the room as they move and work; each of those shapes is a color that corresponds to their individual radiation dose.
Possibly the most promising method for truly cutting back on radiation may come in the form of fiber optic real shape (FORS) technology that could light up a catheter from inside the body and show it on a screen without using fluoroscopy. Combined with 3-D technology, Peña said, it could remove restrictions that currently hamper operators in situations such as viewing and navigating through tortuous structures.
During the discussion portion of the session, an audience member asked about operator responsibility for circulators who are in and out of the cath lab, often not wearing lead while a procedure is in progress.
"If someone walks in, we basically turn radiation off, and the person that walked in gets the idea real fast that everything is stopping because of them," Peña responded.
Lastly, panelist Maureen Kohi, MD (University of California, San Francisco), noted that operators also should be taking responsibility for trainees who may scrub in and put on lead incorrectly or wear leaded garments that don't fit them correctly and leave them vulnerable to exposure.
"It's really our responsibility to make sure that they get proper protection," she said.

Sources
Gray B. Basic stepwise maneuvers to protect yourself. Presented at: VIVA 2019. November 6, 2019. Las Vegas, NV.

Peña C. Innovations and technologies on the horizon that will reduce radiation risk. Presented at: VIVA 2019. November 6, 2019. Las Vegas, NV.
Disclosures
Gray reports no relevant conflicts of interest.
Pena reports honoraria from Abbott Vascular, Penumbra, CR Bard and Cook Medical; consulting for Cook Medical, Boston Scientific, CR Bard, and Avanos; and research, clinical trial, or drug study funds from BEST CLI (NIH), Endologix, Gore & Associates, and Phillips.