CRT Likely Benefits Broader Group of Patients: Meta-analysis
Pooled data from several pivotal trials suggests more patients with intraventricular conduction delays should get treated.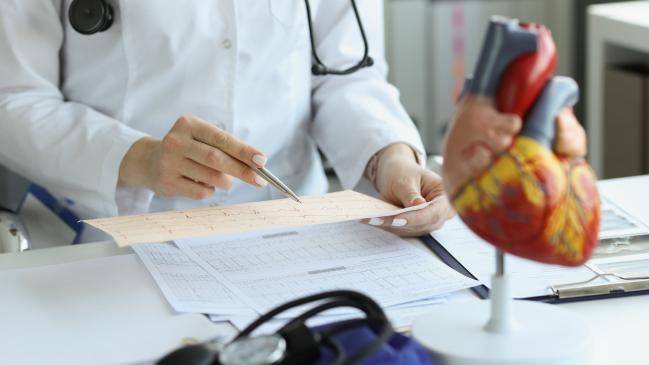 Among patients with a wide QRS, cardiac resynchronization therapy (CRT) seems to help patients with an intraventricular conduction delay (IVCD) as much as it does those with left bundle branch block (LBBB), a meta-analysis suggests.
In contrast, patients with right bundle branch block (RBBB) did not appear to derive a benefit from CRT, regardless of QRS duration.
The findings, researchers say, have implications for guideline recommendations around selection for CRT, which tend to put patients into LBBB and non-LBBB buckets. The latter has typically encompassed patients with IVCD and RBBB.
"We demonstrated that the current practice of lumping together right bundle branch block and IVCD patients is likely not appropriate and needs to be reconsidered in the next iteration of guidelines and also immediately in all of our clinical practices," lead author Daniel Friedman, MD (Duke University Hospital, Durham, NC), told TCTMD.
The study was published online recently in Circulation.
Pooled Data From Eight Pivotal RCTs
It's well known that the benefits of CRT—established in patients with heart failure, reduced LVEF, and a prolonged QRS duration—are dependent on the characteristics of a patient's QRS complex, including both the duration and the morphology. The pivotal trials of CRT included mostly patients with LBBB, and that group is now the one most frequently referred for such treatment.
There is some evidence that patients with other QRS characteristics could benefit, too, but the individual trials were underpowered to assess the effects in smaller but clinically relevant subgroups, Friedman said.
To increase the statistical power needed to investigate CRT within these subgroups, Friedman et al pooled data from eight pivotal trials—MIRACLE, MIRACLE-ICD, MIRACLE-ICD II, REVERSE, RAFT, BLOCK HF, COMPANION, and MADIT-CRT. The analysis included 6,264 patients (median age 66 years; 25% female) who mostly had mild/moderate heart failure symptoms, with 52% and 38% in NYHA class II and III, respectively.
Most (72.6%) had LBBB, 16.3% had an IVCD, and 11.0% had RBBB. Two-thirds had a QRS of 150 ms or longer, and 61% were treated with CRT with or without an implantable cardioverter-defibrillator.
Patients were followed for a median of 24 months, and over that span, CRT was associated with a lower risk of heart failure hospitalization or death (HR 0.73; 95% credible interval [CrI] 0.65-0.84), the primary endpoint.
That relationship varied across subgroups defined by QRS duration and morphology, however. When QRS was 150 ms or longer, CRT was associated with lower risks in patients with LBBB (HR 0.56; 95% CrI 0.48-0.66) or IVCD (HR 0.59; 95% CI CrI 0.39-0.89), but not RBBB (HR 0.97; 95% CrI 0.68-1.34). When QRS was less than 150 ms, CRT was not associated with better outcomes in any morphology group.
The findings were similar when all-cause death was the endpoint.
Time to Change Guidelines?
For Friedman, the results of this meta-analysis should lead to changes in practice guidelines when it comes to patient selection for CRT. "I recognize that that may be controversial, but this is the highest quality of evidence we're going to get for this question. We're not going to be redoing pivotal CRT trials," he said, noting that retrospective data support the findings as well.
Friedman noted that there is a small randomized trial underway to evaluate CRT in patients with an IVCD, called NICD-CRT, which will help fill in some details about treatment in this specific group.
But the data from the current meta-analysis already provide enough support to make changes in who gets CRT, he indicated. "When it comes to considering CRT candidacy, patients with an IVCD of 150 ms or more should be offered CRT in the same way that we are offering CRT for patients with left bundle branch block and a QRS duration of 150 ms or more," Friedman said, calling this a paradigm shift.
Commenting for TCTMD, Jonathan Hsu, MD (University of California, San Diego), said, "This article nicely looks at an oft-neglected group, which is intraventricular conduction delay, and really defines perhaps that they actually can benefit from cardiac resynchronization therapy."
Thus, he said, CRT "should be considered more appropriate in this type of population than perhaps it had been considered before."

Todd Neale is the Associate News Editor for TCTMD and a Senior Medical Journalist. He got his start in journalism at …
Read Full Bio
Disclosures
Primary funding for the study was provided by the National Heart, Lung, and Blood Institute.
Friedman reports having received research support from the American Heart Association, Boston Scientific, Biosense Webster, Merit Medical, Medtronic, the National Institutes of Health, and Abbott; and consulting fees from Abbott, AtriCure, Microport, NI Medical, and Sanofi.
Hsu reports honoraria from Medtronic, Abbott, Boston Scientific, Biotronik, Janssen Pharmaceuticals, Bristol Myers Squibb, Pfizer, Sanofi, Zoll Medical, Hillrom, iRhythm, Acutus Medical, Galvanize Therapeutics, and Biosense Webster; research grants from Biotronik and Biosense Webster; and equity interest in Vektor Medical.