Daniel Shpilsky, MD
The first SHD interventional imaging fellow at his institution, Shpilsky is looking forward to a career in clinical cardiology.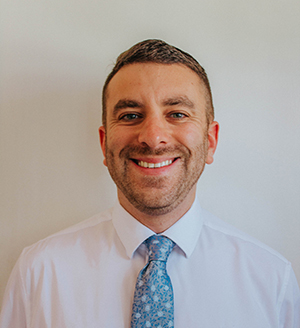 Daniel Shpilsky, MD, is the inaugural structural heart disease interventional imaging fellow at Henry Ford Health System (Detroit, MI). A first-generation American, he grew up primed for a career in the sciences. After studying biology as well as minoring in both Russian and economics at Muhlenberg College (Allentown, PA), Shpilsky graduated from Temple University School of Medicine (Philadelphia, PA). He went on to complete both his internal medicine and cardiology training at the University of Pittsburgh Medical Center, then moved to Columbia University Irving Medical Center (New York, NY) for a 1-year advanced echocardiography fellowship. With only a few months of training remaining, Shpilsky plans to move with his wife to Maine, where he will work as a clinical cardiologist at Maine Medical Center (Portland, ME) with opportunities to do interventional imaging.
What initially interested you in a career in cardiology?
I grew up in the suburbs of Philadelphia as a first-generation American. My dad is from Ukraine, and my mom is from Uzbekistan, and so I grew up with that immigrant mentality. They always encouraged hard work and going into math and science, which are their fields. My dad's an engineer, and my mom works for a pharmaceutical company doing IT. I ended up majoring in biology in college at a small liberal arts school, and as I became more and more interested in biology and biochemistry, I had an inkling that I thought I wanted to do medicine. After graduating, I did a year of research because that was one of the things that had been lacking in my background, and then I applied to medical school. There, I enjoyed the cardiology block because I liked learning about hemodynamics—mostly I thought it was really difficult and I couldn't fully wrap my head around it, so I wanted to understand it.
During my general cardiology fellowship, I started to explore what I wanted to do, working with a couple of people in the echocardiography department just as these emerging transcatheter therapies started to require TEEs. I remember thinking that was very cool, and enjoyed my echo rotation. I worked with some great cardiologists, and had some awesome mentors there including Prem Soman, MD, PhD, João Cavalcante, MD, Matt Suffoletto, MD, and Bill Katz, MD, who would pull up scans and go through them with me as we rounded. I was enamored with it. Katie Berlacher, MD, too, was a huge advocate for me to get into fellowship. My advanced echocardiography year at Columbia was great because I got a lot of additional training and became Level III certified. There, I got exposure to doing complex diagnostic TEEs, learning to both perform and guide echos under the tutelage of some excellent mentors. Then I realized I had only gotten a taste of what I really loved and I wanted to do a little bit more with it in the structural imaging department. I heard that Dee Dee Wang, MD (Henry Ford Health System) was starting this fellowship program, and she welcomed me with open arms. As this field has been growing and expanding, it's been a great opportunity.
What has this year of additional training been like for you?
It's been great. I work primarily with two structural imaging physicians doing a mix of mostly intraprocedural transesophageal echos guiding the procedures as well as working with the interventionalists and learning to speak their language. In addition to learning 2D and 3D echo with respect to procedural guidance, I've also been learning to read cardiac CTs for a range of procedures including TAVI, left atrial appendage occlusion, and starting to get into mitral and tricuspid CTs as well. Then there's also been a little bit of MRI training.
How do you see the field of cardiac imaging changing within the next 5 years?
Interventional imaging—structural imaging, however people want to call it—is growing fast, and interventionalists are starting to appreciate a good imager. As things have gotten more and more complex, there are more advanced things that we can do on a transcatheter basis and having a good imager is crucial. From what I've observed in my fellowship, the interaction that I see between the interventionalist and the imager is almost like a 50/50 relationship: interventionalists can't do their work without the imager. Previously, the terms noninvasive and invasive cardiologist were used, and I feel like those are hopefully going by the wayside as people are realizing the importance of the imager. We don't just provide good images, but we help guide the procedure. It's a work of art to see the imager and the interventionalist communicate with each other. Within the next 5 years, I'm hopeful that more and more of these interventional imaging programs will build up across the country, and that the field grows as the technology improves. I'm hoping more people go into this space as it becomes a more well-known and more respected position.
What would be your advice to someone considering doing an interventional or structural imaging program?
It's first trying to find your niche within cardiology—something that you really enjoy. For me, I was not great in the cath lab. I enjoyed the procedures, doing them and being a part of them, and I wanted to figure out how to be involved without actually being the one at the head of the cath table. My advice would be to find what you're passionate about, and if that is echo and CT imaging, definitely consider looking into these interventional imaging, structural imaging programs. It's a little challenging right now because some are 2-year programs with echo, CT, MRI all integrated into them; some are just CT and MRI; and some are purely interventional echo. Navigating the available opportunities will be challenging, but I would say find a good mentor. See who's doing it at your institution, talk to them, and ask them about the potential pathways to get into what they're doing, their lifestyle, and how they spend their time between clinical duties and their time in the lab. Ask yourself if you simply like reading the studies or do you actually like being in the cath lab? Home in on what it is you like, find somebody who does what you think you might want to do, and build a relationship in that way.
What has been some of the best advice that you've gotten from a mentor?
I was worried about doing all these additional years of training and sacrificing time and family and things like that. But the best advice I received is: don't settle for a career that you're not going to be happy in. If you don't feel fulfilled, go and find that extra year of training, even if it's additional time that you're committing, so that you can craft the job that you're passionate about. You're going to be spending a lot of time doing it, so you want to be able to enjoy what you do. My mentors at the University of Pittsburgh and Columbia University encouraged me to keep going the extra mile to make sure that the training I was getting would make me feel comfortable in the future career I was hoping to create for myself. It launched me into the trajectory of what I ultimately wanted to do.
If you weren't a physician, what else could you see yourself doing?
The safe answer would be something with a science background like engineering, but two other things I enjoy are languages and economics. My parents and grandparents speak Russian, and I was never really good at it, mostly because I think my family focused on my American upbringing. So I grew up speaking English, but I always loved languages and wanted to get back to them. Looking at it again, if I could find some way to incorporate being a linguist—Spanish and Russian are two languages I speak a little bit—with maybe something in international business, economics, or marketing, that would be something I could be interested in.
What his nominator, Dee Dee Wang, MD, says:
The field of interventional imaging is relatively young, and there are very few training programs available that encompass structural CT, interventional imaging, cardiac MRI, and 3D printing into a 12-month program. Dan represents a new generation of interventional imaging physicians who have undergone a formalized advanced fellowship dedicated to training for a career in structural heart interventional imaging. It has been a privilege to mentor Dan, as he has had tremendous growth in his career and interventional imaging skills. Our structural heart disease interventional imaging fellowship program takes great pride in watching him engage and seek out opportunities to participate in the most challenging cases. We see Dan as one of the future leaders in the field of interventional imaging and look forward to partnering with him clinically and academically as he continues to build his career.
*To nominate a stellar cardiology fellow for the Featured Fellow section of TCTMD's Fellows Forum, click here.

Yael L. Maxwell is Senior Medical Journalist for TCTMD and Section Editor of TCTMD's Fellows Forum. She served as the inaugural…
Read Full Bio