Dedicated Structural Heart Training Pathway in the Works for Surgeons
At STS 2020, one physician said he's hopeful that a new fellowship paradigm will take shape within the year.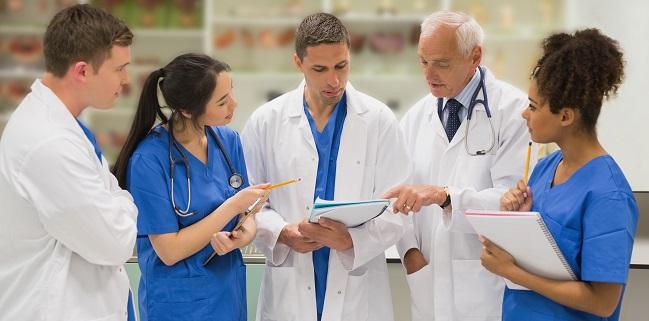 NEW ORLEANS, LA—The best way to prepare cardiac surgeons for professional success in the treatment of structural heart disease is with a dedicated, accredited, multidisciplinary fellowship, according to one expert speaking during a TAVR session at the 2020 meeting of the Society of Thoracic Surgeons (STS).
The myriad issues associated with the current state of training for both surgeons and interventional cardiologists interested in this area have been a hot topic for trainees and practicing physicians alike. Open questions relate to whether these fellowships should become standardized and accredited, how these will be paid for, and what the reasonable expectations for jobs are following training.
While surgeons graduate from residency with a thorough understanding of valvular disease and technical skill, their lack of catheter experience leaves them at a disadvantage for training in TAVR, for example.
"Structural heart disease is now truly a subspecialty based within cardiology and cardiac surgery, and the future requires formal training in a comprehensive manner," said David Fullerton, MD (University of Colorado Hospital, Aurora), co-chair of the American College of Cardiology (ACC) Cardiac Surgery Team Section and executive director for the American Board of Thoracic Surgery (ABTS), during his presentation. "No longer will we as a group be able to rely upon the informal approach that we have relied upon to this point."
Fullerton presented a concept approved by the ABTS to integrate a cardiac surgery track into the traditional cardiothoracic surgical residency for trainees interested in learning structural heart procedures. This would then lead to a dedicated 1-year structural heart fellowships.
"This would offer the advantage of formalizing a curriculum in structural heart disease," he said. "The vision [is that] these training paradigms would be multidisciplinary, training both cardiologists and cardiac surgeons, and have a faculty represented by all corners of the heart team. The rigor of these fellowships would be guaranteed through [Accreditation Council for Graduate Medical Education (ACGME)] accreditation, and the expectation is that the graduates would become eligible for board certification in structural heart disease."
Some concepts to be covered by these programs would be decision-making and patient selection through a heart team approach, formal education in cardiovascular imaging that many surgeons now "simply learn on the fly," and procedural skills. "We have to learn how to manage the various procedural complications that can arise and deal with the nuance of caring for these sorts of patients following the procedure," Fullerton added.
"It's true there are many details that need to be worked out, including how to navigate the need for additional training, cross-training across traditional lines of specialties, [financing] these trainees, and the details of board certification from perhaps the American Board of Thoracic Surgery and the American Board of Internal Medicine," he said. "I would argue that all of these things are doable."
The main advantages to enacting this kind of training paradigm are that it's disease-specific and not procedure-specific, it preserves the concept of the heart team, most of the knowledge and skills needed for it are common to both cardiology and cardiac surgery, and completion would lead to acceptance in all communities by virtue of board certification, according to Fullerton. However, the disadvantages are that it requires an additional year of training, a multidisciplinary mindset, and the creation of a new specialty.
Additionally, "there are more interventional cardiologists than surgeons, and the interventional cardiology community may view this as competition for the procedures that they currently perform," he said. "The fact of the matter is that virtually all surgeons leave a thoracic surgical residency with far fewer wire skills and imaging skills than our colleagues in interventional cardiology."
This is where the cardiac surgery track during residency would come into play. It would "provide them with the important prerequisite skills that a surgeon would require to successfully enter one of these structural heart disease fellowships," Fullerton explained, noting that fellows would spend up to 20% of their time in either the operating room or cath lab preserving the skills they've previously achieved.
Finding an Entry Point
In a discussion following the presentation, audience member Jatin Anand, MD (Duke University, Durham, NC), said he was "really happy" to see societies talking about creating new training pathways. "For a lot of us, TAVR is very accessible," he said. "But with all of the new technologies that are coming, I think I can speak for a lot of the younger generation that are training now that we don't really see a pathway for ourselves into the future. We don't really have an entry point unless you're at one of the few programs like Columbia or elsewhere where you have a mentor and you can join a small niche."
Anand asked: "How close are we to what you describe? . . . It's something I'm really looking forward to maybe getting to be a part of."
"It's hard to know exactly when we'll be able to initiate this, but our goal is certainly within the next year," Fullerton replied. "We've engaged the cardiology community on a regular basis as well as engaging the ACGME, American Board of Medical Specialties, et cetera. So, I'm optimistic that within about the next year this will be formalized and the reality."
Panel co-moderator Ourania Preventza, MD, MBA (Baylor St. Luke's Medical Center, Houston, TX), asked about the cardiology community's reaction to this initiative.
"It's fair to say it's mixed," Fullerton said. "There are many leaders in interventional cardiology that are very enthusiastic about this. It's also fair to say there are some who have reservations about it." Surgeons would also likely have some reservations "if the shoe were on the other foot," with cardiologists seeking to learn SAVR, he added.
However, surgeons should not be "dissuaded" by this hesitancy, he said. "It's important to work together. All of us realize that the future of structural heart disease is a multidisciplinary future and we have a professional obligation to our patients and to the population at large to do the very best we can as a profession. This is a way to do that."
Another audience member, Umraan Ahmad, MD (Mercy Clinic Cardiovascular and Thoracic Surgery, St. Louis, MO), explained how he was fortunate to train in a program where he was able to learn TAVR at a partner site. "I pursued an independent path to get trained, including time in the cath lab," he said. "What I found is that gave me a place at the table when the heart team began existing, because I could speak the language and I gained the skills I needed. . . . As we go to a separate certification for structural heart, are we in some degree surrendering our role? Right now we're at 50/50 with them hopefully at most programs at least on paper. When we have a separate certificate, is it closing our door to what is a large portion of practice?"
Fullerton said only the concept of change has been finalized, not yet the details of how the training paradigm will change. "The notion would be that those that finished the thoracic surgical residency along the cardiac surgery track would finish with the prerequisite skills," he said. "This would allow any graduating cardiothoracic surgeon to step into an environment and say, 'I can participate in the heart team and I can carry my weight.'"
Regarding the board certification process, Ahmad also asked about the potential for grandfathering in surgeons like him with several years of experience treating structural heart disease.
"The grandfathering issue is a very important question," Fullerton said. "Each time the American Board of Thoracic Surgery or the American Board of Surgery has introduced a new certificate, they've incorporated a mechanism by which practicing surgeons could be grandfathered if they so desired. . . . This would likewise be one in which a grandfathering mechanism would be applied."
Competing Skills, Knowledge
To TCTMD, panelist and surgeon Gilbert Tang, MD (Mount Sinai Health System, New York, NY), said he has been part of the ABTS steering committee with Fullerton. "We really strongly believe that surgical trainees who are interested in valvular heart disease should equip themselves with the skill set and knowledge to treat patients with all modalities possible, including medical therapy," he said. "But not to have that knowledge and skill set to be able to do that presents an inherent bias, just like cardiologists. That's where the heart team comes in."
Specific, dedicated training for surgeons in structural heart disease will ultimately lend "a more unbiased view on how to manage the patient in a more holistic manner," Tang continued. "That's really the important aspect of this."
His largest concern lies with the difference in the number of graduating interventional cardiologists versus surgeons. "There will always be an imbalance, and I hope that the surgeons will be more interested in this space and acquiring the skills because, as you can see at this meeting, it's definitely a specialized area," Tang said.
For Toby Rogers, MD (MedStar Washington Hospital Center, Washington, DC), the only interventional cardiologist on the panel, specific structural heart training for surgeons is "desirable." However, he told TCTMD that "we have to be realistic that it's challenging as well that there's a lot of competing fellows in the cath lab who want to learn TAVR, both from an interventional cardiology and a cardiac surgery. And the skills base required is not the same."

Yael L. Maxwell is Senior Medical Journalist for TCTMD and Section Editor of TCTMD's Fellows Forum. She served as the inaugural…
Read Full Bio
Sources
Fullerton DA. Training in SHD for cardiac surgeons. Presented at: STS 2020. January 26, 2020. New Orleans, LA.
Disclosures
Fullerton reports no relevant conflicts of interest.
Preventza reports serving as a consultant to W.L. Gore & Associates, Medtronic, Cook Medical, and Terumo.
Tang reports receiving other research support from Intuitive Surgical and serving as a consultant for Auris.
Rogers reports serving on the speakers bureau for and as a consultant to Edwards Lifesciences and Medtronic as well as being a co-inventor on patents assigned to the NIH.