Diabetic Patients in Middle East, Africa Overburdened by ASCVD
In this understudied population, risk factor control is extremely poor and complications are rampant, the PACT-MEA study shows.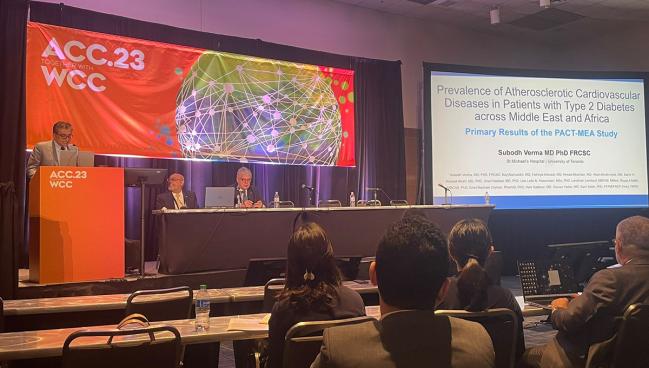 NEW ORLEANS, LA—People with type 2 diabetes mellitus in the Middle East and Africa have a high burden of atherosclerotic cardiovascular disease (ASCVD), as well as a large burden of ASCVD risk factors, including poor blood pressure control and dyslipidemia, according to the results of a new observational study.
Nearly all of the diabetic patients—regardless of ASCVD diagnosis—were considered to be at high or very high risk for cardiovascular events, report investigators.
Presented last week at the American College of Cardiology/World Congress of Cardiology (ACC/WCC) 2023 meeting and published simultaneously in Circulation, the PACT-MEA study helps shed light on the heavy burden of disease in parts of the world that have been underrepresented in clinical research, lead investigator Subodh Verma, MD, PhD (University of Toronto/St. Michael's Hospital, Canada), told TCTMD.
"We need to have more diversity in clinical research. Otherwise, how do you know if it's applicable to the masses?" said Verma.
He described diabetes as a "recalcitrant problem" in the region, with the Middle East and Africa having a disproportionate burden of diabetes and diabetes-related complications. The region also has the highest estimated percentage of diabetes-related mortality among working-age adults in the world. The International Diabetes Federation predicts the burden of diabetes-related morbidity and mortality will only grow in the years ahead, yet there is little high-quality contemporary data about the prevalence of ASCVD in people with diabetes in this region, said Verma.
Painting a High-Risk Portrait
To fill some of those gaps, the PACT-MEA investigators performed a cross-sectional, observational study of 3,726 individuals (mean age 58 years; 53% male) patients with diabetes in Bahrain, Egypt, Jordan, Kuwait, Qatar, South Africa, and the United Arab Emirates (UAE).
The median body mass index was 30 kg/m2, with 9% considered severely obese (class III obesity), and the median duration of diabetes was 10 years. Hypertension and dyslipidemia were extremely common, seen in 71% and 92% of patients, respectively, and 14% reported being current smokers. Microvascular complications were also prevalent, with retinopathy, neuropathy, or nephropathy present in 14%, 25%, and 15% of patients, respectively.
Overall, 20.9% of patients had established ASCVD. The most common type of ASCVD was coronary artery disease (87%), with half of patients having a prior MI and 78% having undergone coronary revascularization. Men were more likely to have ASCVD than women (27% vs 16%). In Bahrain, 37% of diabetic patients had ASCVD, while a little less than one-third had ASCVD in UAE. The lowest prevalence of ASCVD in diabetic patients was seen in Kuwait (19%).
Based on the 2021 European Society of Cardiology (ESC) prevention guidelines, 99% of patients included in the study would be classified as high risk or very high risk for future CVD events.
Yet risk factor control was extremely poor, with not a single patient meeting all seven ESC guideline-recommended criteria for optimal control. Just 37% of patients had HbA1c levels of less than 7%, while only 30% had LDL cholesterol levels of less than 70 mg/dL. Similarly, only 30% had blood pressures of less than 130/80 mm Hg, while a little more than one in seven reported exercising for 30 minutes or more for 5 or more days in the past week. Overall, 37% reported taking a sodium-glucose cotransporter 2 (SGLT2) inhibitor and 13% were on a glucagon-like peptide-1 (GLP-1) receptor agonist.
Reducing ASCVD risk factors in type 2 diabetes is critical, Verma stressed.
"If people do all the right things in terms of hemoglobin A1, get their blood pressure, lipids, and weight at target, exercise 5 days a week, and use either a GLP-1 receptor agonist or SGLT2 inhibitor, you can significantly mitigate their risk of cardiovascular disease," he said. "We found that zero percent—zero—of the patients we studied actually met all of these combined targets."
To TCTMD, Verma said the observational study has some interesting nuances, noting that patients with diabetes are younger than those typically randomized into clinical trials, pointing out that these individuals had lived with the disease for a decade already. The diabetic patients with ASCVD, he added, represent the "tip of the iceberg" because extensive diagnostic imaging, such as CT scans, coronary angiography, or carotid ultrasounds, wasn't performed in these clinic-treated patients.
The new study, he added, provides merely a snapshot of the burden of ASCVD and risk factor control in at-risk patients. The researchers said one of its limitations is the small sample size, noting that prevalence estimates might not be truly representative of a region with millions of people, although the mean ASCVD prevalence and risk estimates were calculated according to each country's population.
Implementation Science
Last year, a study found that many actions recommended in multiple European guidelines, such as directives to provide a pharmaceutical intervention or to order a diagnostic or laboratory test, were not widely accessible in many middle- and lower-income countries.
And while it might make economic sense that some of the more expensive therapies weren't available, many interventions for risk factor control, such as lifestyle changes and generic lipid- and blood pressure-lowering medications, are cost-effective and typically available.
Given the global burden of ASCVD and diabetes, Verma emphasized the importance of implementation science when it comes to the basics. He noted that the ACC/WCC scientific sessions included groundbreaking science, including flashy studies of percutaneous fixes to faulty valves. While he praised these studies, their aims stand in stark contrast to research like PACT-MEA showing that 30% of patients aren't even getting their blood pressures to target.  
The disease burden in Africa and Middle East should be "a call to action," said Verma, adding that knowledge has no value unless it's applied. "We need pragmatic strategies to close the treatment gap."

Michael O'Riordan is the Associate Managing Editor for TCTMD and a Senior Journalist. He completed his undergraduate degrees at Queen's…
Read Full Bio
Disclosures
Verma reports research grants and/or speaking honoraria from Amarin, Amgen, AstraZeneca, Bayer, Boehringer Ingelheim, Eli Lilly, EOCI Pharmacomm Ltd, HLS Therapeutics, Janssen, Novartis, Novo Nordisk, Pfizer, PhaseBio, S & L Solutions Event Management Inc, Sanofi, Sun Pharmaceuticals, and the Toronto Knowledge Translation Working Group.