Diverting or Swirling, New Blood-Flow Tech Shows Promise for CLTI
From deep-vein arterialization to a 3D stent, data presented at VIVA 2021 encourage novel thinking about peripheral vascular management.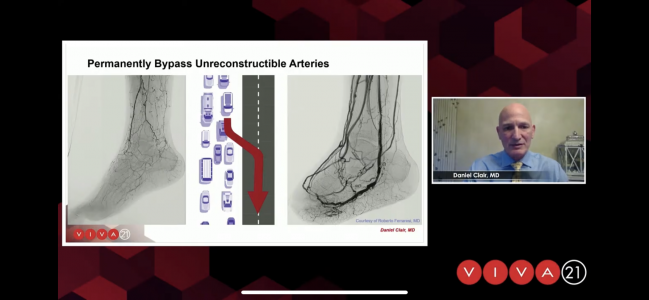 New technologies that divert or improve blood flow offer promising options for patients with chronic limb-threatening ischemia (CLTI), according to two presentations this week at VIVA 2021.
"We know there are a group of these patients who are nonrevascularizable with standard means, either percutaneous angioplasty or surgical bypass, and it's in this group of patients where we'd like to divert the blood flow into the venous system to try and deliver that oxygenated blood to the foot and allow their wounds to heal," noted Daniel Clair, MD (Vanderbilt University Medical Center, Nashville, TN).
Presenting 2-year data from the PROMISE I study of no-option CLTI patients in whom operators utilized a dedicated system for creating the deep-vein arterialization (LimFlow SA), Clair showed a freedom-from-amputation rate of 77%, with 85% of wounds completely healed.
"If these patients made it beyond the first 10 weeks, there were essentially no further amputations after that point," Clair said. "So, this can really be a durable result for these patients, even out to 2 years, to ensure that they maintain their limb."
Although wound size initially increases with this technique, it gradually decreases in size such that more than 90% of the 32 patients had either healed or healing wounds at 2 years, he added. In one example, Clair showed a diabetic patient with a progressive, nonhealing toe ulcer that healed after the deep-vein arterialization procedure and was subsequently amputated, which likely prevented a major below-the-knee amputation.
"Managing these patients early on, you need to direct the flow to the areas needed, and you need to assure that you have enough salvageable tissue to be sure that you can maintain these patients over the long run," Clair added.
On the basis of the results from PROMISE I, he said the PROMISE II trial is now ongoing at 22 sites in the US and Japan.
Peter A. Schneider, MD (University of California, San Francisco), a panelist and investigator of the technology, noted that it will be important for the global researchers of PROMISE II to be able to repeat the successes of the initial trial.
"Our understanding of the venous anatomy has only improved, and with that comes our ability now to select patients, to design the procedure better so that . . . hopefully it can be rolled out to a large population, not just of patients but [also] of doctors who feel confident that they can learn how to do it and do it in high quality," he said.
'Swirling Flow' and MIMICS-3D
Another new technology, meant to be more adaptive to anatomical challenges than standard nitinol stents, focuses on improving blood flow while keeping superficial femoral arteries and/or proximal popliteal arteries open. The hallmark of the BioMimics 3D (Veryan Medical) stent is a 3D helical centerline that promotes swirling blood flow.
After showing good results in RCTs that led to CE Mark approval in Europe and premarket approval in the US, a European registry (MIMICS-3D) was launched at 23 sites with 507 patients and now has 2 years of complete follow-up said Sahil Parikh, MD (NewYork-Presbyterian/Columbia University Irving Medical Center, New York, NY), in his presentation. Approximately one-quarter of the cohort had CLTI. Median lesion length was 13 cm, and one-third of patients had moderate to severe calcification. Technical success was 99%, and procedure success was 98%.
Presenting new subgroup analysis data from the MIMICS-3D registry, Parikh showed that despite more-complex baseline demographics in the CLTI patients—including more diabetes, renal insufficiency, and occlusions—outcomes were similar to those of claudicants. Freedom from clinically driven TLR at 2 years was 84.7% in claudicants and 76.8% in CLTI patients, which Parikh said was not statistically different, although there was a trend toward worse outcomes in the CLTI group, consistent with the complexity of their disease.
"The cohort data from the entire data set align with previous outcomes from the randomized controlled trials and support the hypothesis that imparting nonplanar curvature to the [superficial femoral artery] promotes swirling blood flow and increases wall-shear-stress results and clinical outcomes that are comparable to those of currently approved drug-eluting technologies," Parikh said. "These are compelling data that support the use of BioMimics 3D in a broad array of patients to manage both claudication and CLTI, and there will be ongoing 3-year follow up that should be presented in the coming year."
Co-moderator Tony Das, MD (Baylor Scott & White The Heart Hospital, Plano, TX), said he found the subgroup comparison fascinating for what it didn't show.
"In every trial we've seen in this space, there's always a difference between claudicants and CLTI patients. There's always a difference if you use drugs," he noted. "But in this case, there just wasn't."
Parikh added that even when considering adjunctive drug-coated balloons either pre- or poststent, the researchers saw no significant differences between claudicants and patients with CLTI in freedom from clinically driven TLR or patency.
"It flies in the face of previous data, but it suggests that perhaps biological mechanisms recruited by swirling flow or pro-endothelial health are substantially important," he observed.

Sources
Clair D. 2-Year PROMISE I results with the LimFlow deep vein arterialization system. Presented at: VIVA 2021. October 6, 2021. Las Vegas, NV.

Parikh SA. MIMICS-3D: claudicants and cli patients treated with BioMimics 3D have similar patency at 2 years. Presented at: VIVA 2021. October 6, 2021. Las Vegas, NV.
Disclosures
Clair reports funds to his institution from Abbott Vascular, BD, Boston Scientific, Contego, Endospan, Intact Vascular, LimFlow, Medtronic, P Q Bypass, and Endologix.
Parikh reports consultant fees/honoraria from Abbott, Boston Scientific, Cordis, Janssen, Medtronic, Penumbra, Philips, and Terumo.