Early Bird Bleed Monitoring System Shows Promise in Endovascular Procedures
With electrodes built into a standard sheath, the Early Bird has the potential to reduce life-threatening bleeding, a researcher says.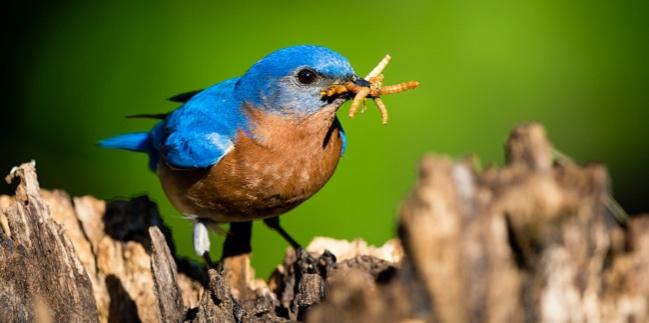 LAS VEGAS, NV—First-in-human data from a novel tool to monitor bleeding show that it has the potential to heighten awareness and prevent or reduce the progression of subclinical bleeding during or immediately after endovascular procedures requiring large-bore access.
"Among a population of all-comer patients undergoing a broad variety of endovascular procedures, the Early Bird bleed monitoring system was safe, easily incorporated in standard flow of work, and demonstrated the capacity to detect bleeding before the progression to a more severe or symptomatic phase," said Philippe Généreux, MD (Morristown Medical Center, NJ), who presented the findings in a featured clinical research session last week at the annual meeting of the Society for Cardiovascular Angiography and Interventions.
The Early Bird system (Saranas) is composed of a standard 30-cm transfemoral sheath, available in 6- or 8-Fr sizes, with two attached electrodes that monitor bioimpedance as well as an activation device that uses visual and audible signals to alert to three different levels of bleeding. The sheath is used like any other and left in the patient for at least 4 but no more than 12 hours following the procedure.
Animal studies showed 100% specificity and sensitivity of the system to detect retroperitoneal bleeds, and the US Food and Drug Administration granted de novo approval of Early Bird in March, Généreux reported.
While overall TAVR complications have gone down in recent years, bleeding still occurs frequently. "The current paradigm actually is to wait for symptoms—the current protocol relies on symptomatology for detection of bleeding, which can take hours," Généreux said. "If we can detect bleeding early in its natural history, we can improve outcomes."
Agreement With CT
For this study, the researchers enrolled 66 patients at five US sites who were undergoing endovascular procedures between August and December 2018. Among the 60 patients who had CT scans both before and after their procedure, 67%, 13%, 8%, and 7% underwent TAVR, PCI, Impella hemodynamic support (Abiomed), and balloon aortic valvuloplasty, respectively, and one patient each underwent MitraClip (Abbott) implantation, transcatheter mitral valve repair, and endovascular aneurysm repair. There was a fairly even split with use of the 6-Fr (53%) and 8-Fr (47%) Early Bird systems, although almost half of the procedures (47%) utilized a 14-Fr index access sheath.
No bleeds were detected by the system in 35% of patients, while level 1, 2, and 3 bleeds were alerted in 33%, 25%, and 7% of patients, respectively. Almost one-third of bleeds (31%) occurred during the procedure, but 69% happened after.
The agreement between the Early Bird system's ability to detect bleeding and CT analysis (primary endpoint) was "almost perfect," according to Généreux. He reported a Cohen's Kappa, which ranges from 0 to 1, of 0.84 overall. Interestingly, CT confirmed that no life-threatening retroperitoneal bleeds occurred in the study population, but only 6% of the population had zero bleeding.
Launching Soon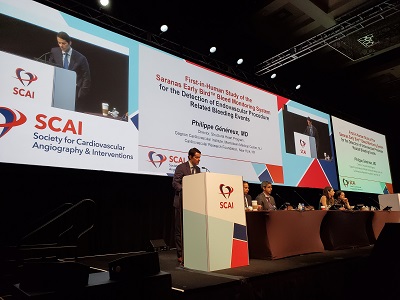 To TCTMD, Généreux explained that bleeding alerts in the study led to an increased level of awareness among the care team, with their most common reactions including physical exam and manual compression. "Everything is integrated into the flow of work. We don't rely only on the device," he said. "If there's one light going off, you go to the patient and respond. But at least identify early, and that's the concept of preclinical notification. That's why the CT showed there's no life-threatening bleeding in this study—we like to believe it's because the system caught it before the healthcare [practitioners]."
During the session, moderator Rajiv Gulati, MD, PhD (Mayo Clinic, Rochester, MN), asked if the system has the capacity to tell the difference between different kinds of bleeds after detection—"for example, a retroperitoneal bleed maybe from an upstream nick of a branch vessel versus a [hematoma]?"
In the current initial version of the device, the electrodes are separated by 23 cm, "so it covers a broad area," Généreux replied. "We don't have the capacity to localize the bleed yet, meaning is it access-related or retro, but this feature could be easily added if you increase the number of electrodes."
Panelist Nadia Sutton, MD (University of Michigan, Ann Arbor), said the Early Bird "seems like a very interesting device" and moreover the fact that CT scans in the study showed that only 6% had no bleeding is "eye-opening."
Sutton said it makes sense that these patients typically lie flat for a couple of hours after procedures requiring large-bore access, but she asked about the implications of leaving the sheath in place longer than that: "Are we going to see this as any impediment to mobilizing the patient?"
At his institution, Généreux said, "we do a lot of early ambulation, but the early ambulation is never before 4 hours. To remove the large-bore TAVR sheath [or] Impella sheath and to be able to assess for 2 to 4 hours the integrity of the closure device, I think, is key. After that, if there's no notification or no progression of bleeding, you can safely dispose the [sheath]. . . . This is where the value is."
The manufacturer plans to officially launch the Early Bird bleeding monitoring system sometime this fall and will maintain a postapproval registry, according to Généreux.
Note: Généreux is a faculty member of the Cardiovascular Research Foundation, the publisher of TCTMD.

Yael L. Maxwell is Senior Medical Journalist for TCTMD and Section Editor of TCTMD's Fellows Forum. She served as the inaugural…
Read Full Bio
Sources
Généreux P. First-in-human study of the Saranas Early Bird bleed monitoring system for the detection of endovascular procedure related bleeding events. Presented at: SCAI 2019. May 22, 2019. Las Vegas, NV.
Disclosures
Généreux reports serving as a consultant to Abbott Vascular, Abiomed, Boston Scientific, Cardinal Health/Cordis, Cardiovascular Systems Inc., Edwards Lifesciences, Medtronic, Opsens, Pi-Cardia, Puzzle Medical, Soundbite Medical, SIG.NUM, Saranas, and TRYTON Medical; receiving speaker fees from Abiomed, Cardinal Health/Cordis, Cardiovascular Systems Inc., Edwards Lifesciences, Medtronic, and TRYTON Medical; receiving research grant funding from Cardiovascular Systems Inc., Edwards Lifesciences, Penumbra, and TRYTON Medical; serving as a proctor for Edwards Lifesciences; and holding equity in Pi-Cardia, Puzzle Medical, Soundbite Medical, and SIG.NUM.