Early ECMO No Better Than Watch-and-Wait Approach in Cardiogenic Shock
The trial of patients with rapidly deteriorating or severe shock suggests ECMO can be held until hemodynamic status worsens.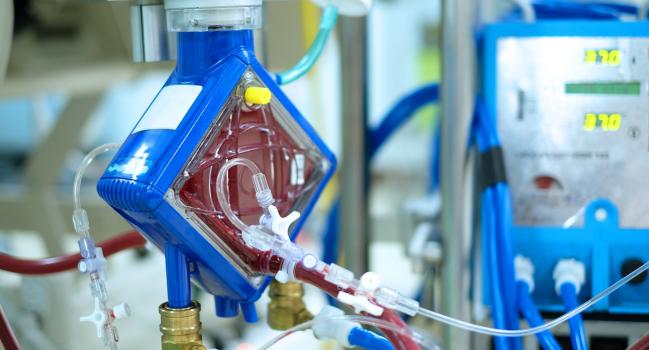 In patients with rapidly deteriorating or severe cardiogenic shock, immediate use of extracorporeal membrane oxygenation (ECMO) does not improve outcomes over an initially conservative strategy with bailout ECMO as needed, according to the first multicenter randomized trial to look at the question.
"Based on the results of our trial, in patients with really severe cardiogenic shock, we can start with a close monitoring of the hemodynamic situation, observe the patients, and if the hemodynamic status starts to worsen, then we can insert the [ECMO] mechanical circulatory support," Petr Ostadal, MD, PhD (Na Homolce Hospital, Prague, Czech Republic), told TCTMD.
Ostadal cautioned that he can't speculate on whether their findings for ECMO do, or don't, extend to other forms of mechanical circulatory support (MCS). Four large ongoing RCTs—EURO-SHOCK, ANCHOR, ECLS-SHOCK, and DanGer—are looking at cardiogenic shock in the setting of acute MI, whereas Ostadal's trial includes various etiologies: STEMI, NSTEMI, decompensation of chronic heart failure, mechanical complications of MI, and "other."
Ostadal presented the ECMO-CS trial in a late-breaking clinical trial session at the American Heart Association (AHA) 2022 Scientific Sessions in Chicago, IL; it was simultaneously published online in Circulation.
The ECMO-CS Trial
Between September 2014 and January 2022, Ostadal et al randomized 122 patients with rapidly deteriorating or severe cardiogenic shock (SCAI stage D-E) at four centers in the Czech Republic to receive immediate veno-arterial ECMO or an initially conservative strategy, of whom five were later withdrawn from the study due to lack of informed consent. The study was investigator-initiated, said Ostadal, and done without industry involvement.
ECMO is aggressive, it has significant risks including stroke and coagulopathy, and it's very resource intensive to maintain ECMO support over time. Larry A. Allen
In the remaining 117 patients, the median age was 67 for the immediate-ECMO group and 65 for the conservative-strategy group. Three-quarters were male. Around half had presented with STEMI, and slightly less than a quarter had decompensation in the setting of chronic heart failure. Median lactate levels in the two groups were 5.3 and 4.7 mmol/L, respectively, at baseline. More than 70% of patients were on mechanical ventilation, more than 80% were given norepinephrine, and dobutamine, milrinone, and vasopressin were commonly used in both groups.
Thanks to worsening of hemodynamic status, defined as a rise in serum lactate by 3 mmol/L above the lowest value during the past 24 hours, ECMO bailout was ultimately used in 39% of the patients randomized to no immediate use of the treatment.
The study's primary endpoint—death from any cause, resuscitated circulatory arrest, and use of another mechanical circulatory support device at 30 days—did not differ between the immediate versus conservative groups (63.8% vs 71.2%; P= 0.21). There also were no differences in the individual components of that composite, serious adverse events, sepsis, pneumonia, stroke, leg ischemia, or bleeding. Adjustment for smoking, which was more common in the conservatively treated patients, produced similar results.
"Even in patients with severe or rapidly deteriorating cardiogenic shock (SCAI stage D-E), early hemodynamic stabilization using inotropes and vasopressors with implementation of MCS only in case of further hemodynamic worsening is a therapeutic strategy comparable to the immediate insertion of ECMO," Ostadal said in a press conference ahead of the AHA session.
Larry A. Allen, MD (University of Colorado, Aurora), commenting on the trial for the media, outlined the therapy's pros and cons.
"ECMO has the capacity to abort multiorgan failure, to stabilize patients who are going into shock, and to further their care and give us time for decision-making. . . . However, ECMO is aggressive, it has significant risks including stroke and coagulopathy, and it's very resource intensive to maintain ECMO support over time," he observed.
Despite the unknowns, ECMO use is expanding thanks to better vascular-access techniques and more-compact devices, Allen added. "So we're seeing more and more ECMO, and yet the data on the use of extracorporeal life support is essentially almost all observational and heavily confounded."
As such, the ECMO-CS data are welcome, he said. Yet, "there are many questions that remain about patient selection, if . . . percutaneous mechanical circulatory support would have been more helpful or operated differently, whether there's a role [for] early left ventricular venting in this population," as well as which background therapies are most helpful.
"But, at the end of the day, ECMO-CS lets us have a cornerstone in the foundation of what we should be doing in cardiogenic shock and gives us a place to start to build from in terms of best practices. I'd say [for] all of us researchers: it's time to get back to work," Allen emphasized.

Sources
Ostadal P, Rokyta R, Karasek J, et al. Extracorporeal membrane oxygenation in the therapy of cardiogenic shock: results of the ECMO-CS randomized clinical trial. Circulation. 2022;Epub ahead of print.
Disclosures
Ostadal reports consulting for Getinge, Edwards, Medtronic, Biomedica, and Xenios/Fresenius and receiving research support from Xenios/Fresenius.