ESC Endocarditis Guidelines Get First Update in 8 Years
New and revised recommendations will help clinicians treat this challenging condition, but there is still a need for RCTs.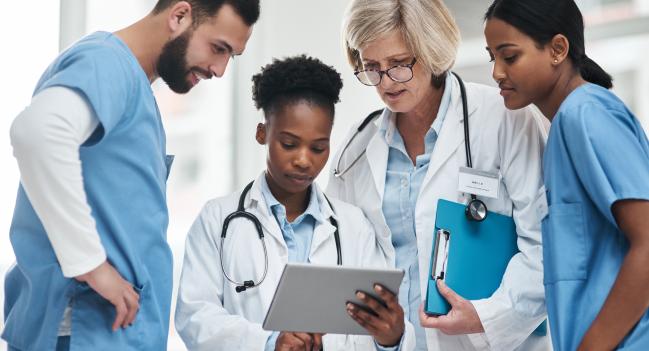 AMSTERDAM, the Netherlands—New developments over the last 8 years have provided the impetus for revamped guidelines on the management of infective endocarditis (IE) from the European Society of Cardiology (ESC), released a week ago during the organization's annual Congress.
Since the last iteration was published in 2015, research has filled in some knowledge gaps in several areas, including prevention, imaging, use of oral antibiotics, timing of surgery, and infections affecting cardiovascular implanted electronic devices (CIEDs), according to Michael Borger, MD, PhD (Leipzig Heart Center, Germany), who chaired the latest effort alongside Victoria Delgado, MD, PhD (Hospital University Germans Trias i Pujol, Badalona, Spain).
To illustrate the interest around the new document, Borger noted that the session at which these guidelines were presented was full.
"This is an uncommon but not rare disease. Every clinician deals with these patients," he told TCTMD. "But it's also associated with high mortality and it's a disease that can present with many, many different clinical features, and therefore the diagnosis of the disease is often very challenging. And that's why I think the session was so well attended. . . . They need assistance in caring for these complex and high-risk patients."
Dozens of New and Revised Recommendations
Endorsed by the European Association for Cardio-Thoracic Surgery and the European Association of Nuclear Medicine, and published in the European Heart Journal, the document contains many new or revised recommendations, including how to preventing IE in various clinical scenarios.
New class I recommendations, for instance, call for optimal preprocedural aseptic measures at the implantation site to prevent CIED infections and for antibiotic prophylaxis in patients with ventricular assist devices.
Several recommendations were strengthened around the use of antibiotic prophylaxis in patients with cardiovascular disease at increased risk of IE who are undergoing oro-dental procedures. Revised recommendations, now class I, advise the use of prophylaxis in patients with previous IE; with surgically implanted prosthetic valves and with any material used for surgical cardiac valve repair; with transcatheter implanted aortic and pulmonary valvular prostheses; and with untreated cyanotic congenital heart disease.
Advice on imaging also was updated, Borger said. Though echocardiography remains the first-line modality, new recommendations cover the use of CT angiography, MRI, and nuclear imaging in the management of IE. "There's been a host of studies that have shown the importance of these modalities in making the diagnosis and also looking for systemic complications of endocarditis," Borger said.
Another area brought up to date covers the use of oral antibiotics, based on data from the POET trial and other studies. "A really important message from the document is that once patients have reached a state of clinical stability, and we define what that stability is in the document, they can be switched to oral antibiotics rather than spending the entire 6 weeks in the hospital, which can be detrimental sometimes for patients," Borger explained.
Two other updated topics highlighted by Borger were CIED-associated endocarditis, which affects a growing patient population, and timing for surgery. For the latter, there are some new recommendations, but more importantly, he said, "we sort of wanted to get the surgeons to accept the message that once there is an indication for surgery, the surgery should be done sooner rather than later."
Compared with the 2015 version, the new document expands on the idea of the "endocarditis team" in two recommendations that have been strengthened to class I. One calls for the diagnosis and management of patients with complicated IE to be done at an early stage in a heart valve center with surgical capabilities and an endocarditis team to improve outcomes. And for patients with uncomplicated IE managed at a referring center, there should be regular communication between the endocarditis team there and one at a heart valve center to improve patient outcomes.
The makeup of an endocarditis team will differ depending on the type of facility, Borger noted, with teams at heart valve centers being bigger and involving a broader array of disciplines, including surgery.
Another key feature of the document is a section about the importance of the patient perspective. "The severity of IE, the complex and comprehensive diagnostics and treatment, as well as the long illness trajectory, put special emphasis on patient-centered care and shared decision-making in IE," the authors say.
Randomized Evidence Lacking
Borger told TCTMD that many of the recommendations in the guideline come in at a level of evidence C, meaning they are based on expert opinion and/or observational data. Although there are a great number of areas in need of additional research, Borger said, one especially important one is the role of oral antibiotics.
The POET trial showed that patients benefit from getting sent home early from the hospital and continuing on oral therapy, but these findings need to be replicated in additional trials, Borger said.
Asked what's holding back research around the management of IE, he pointed to multiple issues, including the heterogeneity of the patient population and the condition's relatively low incidence. "The lack of industry interest in this area also plays a role. Not the only role, but it plays a role," he said.
Nevertheless, despite the need for more-robust research to guide practice, "clinicians across the whole spectrum, from very general GPs to very highly specialized physicians from multiple disciplines, will profit from the fact that it's a very well-written and well-organized document that will definitely help them with their clinical care of these challenging patients," said Borger.

Todd Neale is the Associate News Editor for TCTMD and a Senior Medical Journalist. He got his start in journalism at …
Read Full Bio
Disclosures
Borger reports receiving payments to his department or institution for various activities from Artivion (formerly Cryolife), Abbott, Edwards Lifesciences, and Medtronic.
Delgado reports receiving personal payments for various activities from Medtronic, MSD, GE Healthcare, Novartis, Novo Nordisk, Philips, Abbott Vascular, and Edwards Lifesciences; receiving research funding to her department or institution from GE Healthcare and Edwards Lifesciences; being a member of the American Heart Association; and being senior editor of Circulation.