Extended DAPT May Benefit Patients With CAD and PAD, but With Caveats
Similar to the main DAPT study, a subanalysis of those with PAD found that fewer ischemic events came at the price of greater bleeding risk.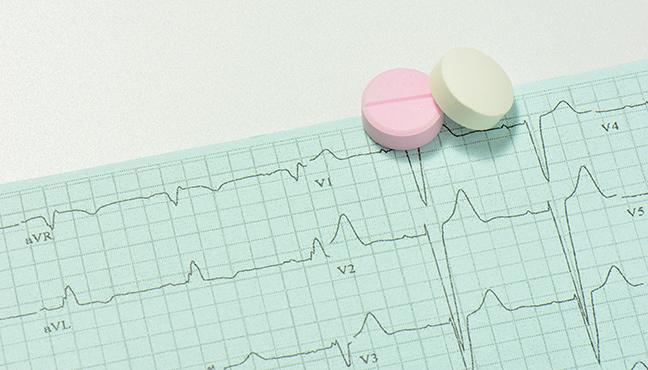 Patients who have both coronary and peripheral artery disease experience consistent reductions in ischemic complications after coronary stent placement when treated with extended dual antiplatelet therapy, but this comes at the expense of increased bleeding, according to an analysis from the DAPT Study.
The findings in the PAD population are similar to those of the main DAPT Study, which found that patients had reductions in the risks of stent thrombosis and MACCE when given DAPT with aspirin and a thienopyridine for 30 versus 12 months as well as an increase in moderate-to-severe bleeding.
The new analysis highlights, among other things, the elevated risk of ischemic events in PAD patients, lead author Eric A. Secemsky, MD, MSc (Massachusetts General Hospital, Boston, MA), told TCTMD. Compared with patients who did not have PAD, those who did had higher 12-month rates of MI/stent thrombosis (6.19% vs 2.67%), MACCE (9.05% vs 4.11%), death (2.98% vs 1.19%), and bleeding events (5.73% vs 2.51%; P < 0.001 for all). Similar rates of adverse outcomes were seen at 30 months and remained significantly higher than those seen non-PAD patients.
"I think it's really important for clinicians to keep in mind that these are not typical patients who undergo coronary stenting," he said. "Their risk doesn't stop at 12 months. Even if they survive to 12 months, we still need to be vigilant about how we manage these patients in the long term."
Published May 1, 2017, in JACC: Cardiovascular Interventions, the DAPT subanalysis looked at the 1,745 patients enrolled in the study who had both CAD and PAD, 645 of whom were free from ischemic and bleeding events at 12 months—a condition for randomization.
As with non-PAD patients, those with PAD who were randomized and received extended DAPT had consistent relative reductions in their risk of MI/stent thrombosis, MACCE, and death.
In an exploratory analysis, Secemsky and colleagues used the DAPT Score to try to identify those likely to experience more benefit than harm with extended-duration dual antiplatelet therapy. They found that those with an elevated DAPT Score (≥ 2) had more ischemic events without any significant increase in bleeding risk, suggesting that they may at least be potential candidates for discussion of extending therapy.
"When it comes to PAD patients, it's not a one-size-fits-all situation," Secemsky noted. "We're extrapolating the DAPT Score to start the conversation about how to identify those who might benefit from this therapy. But the reality is we need to move toward identifying risk factors within the PAD population that will help make the determination of therapy more relevant for them."
Lack of Clear Evidence
In an editorial accompanying the study, vascular surgeons Hans-Henning Eckstein, MD, PhD, and Thomas Stadlbauer, MD (both Technical University of Munich, Germany), say the fact that the DAPT Study was a coronary intervention trial plus the lack of clear evidence on the risk-benefit ratio of extending DAPT in PAD patients make it difficult to draw any conclusions about net benefit.
Even more importantly, Eckstein and Stadlbauer say, the specific combination therapy that may be best for reducing the risk of major thrombotic events such as MI, stroke, and cardiovascular death in patients with PAD and CAD is also still unclear.
More insight, they add, may come from the ongoing COMPASS and VOYAGER PAD studies, both of which are investigating whether a combination of rivaroxaban and aspirin is better in patients with PAD than aspirin alone.

Disclosures
The study was supported by Abbott, Boston Scientific, Cordis, Bristol-Myers Squibb Company/Sanofi Pharmaceuticals Partnership, Daiichi Sankyo, Eli Lilly and Company, Medtronic, the National Heart, Lung, and Blood Institute, and the US Department of Health and Human Services.
Secemsky reports no relevant conflicts of interest.
Eckstein reports research funding grants from Bayer AG.
Stadlbauer reports research funding grants from Bayer AG; and is a lecturer for Bristol-Myers Squibb, Daiichi Sankyo, and Pfizer.