FDA Clears Sentinel Cerebral Protection Device for Use During TAVR
The filter device becomes the first of its kind cleared for use in the United States during transcatheter aortic valve procedures.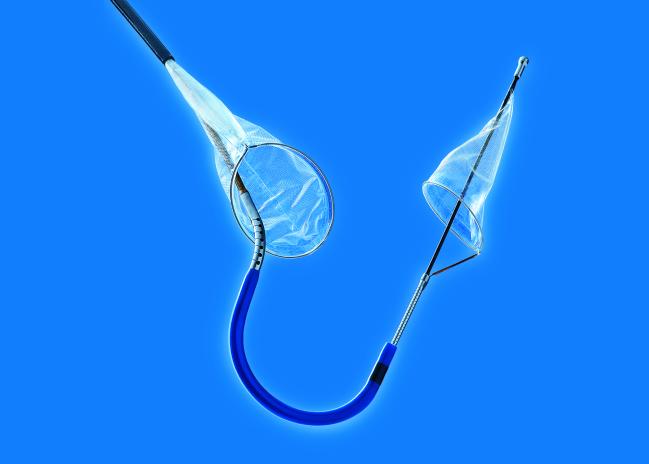 (UPDATED) The US Food and Drug Administration (FDA) has cleared the Sentinel Cerebral Protection System (Claret Medical), a filter device used during transcatheter aortic valve replacement procedures to reduce the risk of stroke caused by embolic debris, the company announced today.
The clearance comes after a mostly positive review by the agency's advisory committee back in February—although that committee took no formal vote. As reported by TCTMD, most panelists agreed that potential benefits of protection using the device outweigh any risks and said that despite the lack of clear clinical benefit —the SENTINEL trial did not meet its primary efficacy endpoint of significant reductions in new brain lesion volume on MRI—they themselves would want to have the device in place if they were undergoing TAVR.
"Intuitively, it seems like a very good thing to me that these [bits of] debris are taken out of the circulation pretty effectively by this filter and I think that's a good thing," FDA advisory panel member Jeffrey S. Borer, MD (SUNY Downstate Medical Center, New York, NY), said during the Sentinel's review. "Even though I really can't interpret what it means, I intuitively believe that the images that were done look better when a filter was used than when a filter wasn't used. . . . I'm troubled that I don't have a clear position that I can take. However, if I had to, if I was being forced to [choose], I'd rather have this thing in than not have it in, if I had to have a TAVR."
The 363-patient SENTINEL trial was conducted at 18 US and European centers and led by Susheel Kodali (NewYork-Presbyterian Hospital/Columbia University Medical Center New York, NY), and Samir Kapadia, MD (Cleveland Clinic, OH). In the trial, patients undergoing TAVR were randomized 2:1 to cerebral protection or no cerebral protection, with further randomization to safety follow-up or MRI and neurocognitive follow-up groups. At 30 days, MACCE rates in the cerebral-protection group were noninferior to the performance goal and not statistically different from those of patients treated without the protection device (7.3% vs 9.9%; P = 0.41). In the MRI group, new lesion volume was numerically lower but not statistically different between the protection and no-protection groups (102.8 mm3 vs 178.0 mm3, P = 0.33). However, after adjusting for baseline lesion volume and valve type, there was a significant reduction in new lesion volume in protected territories (P = 0.02) with embolic protection. Of note, debris was captured in 99% of cases.
Results from SENTINEL were reported at TCT 2016.
With today's news, the Sentinel becomes the first device cleared for stroke protection during TAVR in the United States. According to a press release issued by the manufacturer, the company is also "collaborating with the Centers for Medicare and Medicaid Services (CMS) to develop a pathway to achieve a new technology add-on payment and has already established an ICD code for reimbursement of the Sentinel."
Commenting on the FDA news for TCTMD, Chandan Devireddy, MD (Emory University, Atlanta, GA), observed: "Any TAVR operator who has experienced a patient of theirs suffering a periprocedural stroke knows they would do anything to reliably prevent this rare but dreaded complication. The question is whether the existing SENTINEL data is robust enough to justify routine use."
FDA advisors and others have made much of the fact that the filters appear to be collecting a significant amount of material, something that doesn't sit easily with Devireddy, who pointed to the fact that routine thrombectomy in STEMI was rationalized in a similar manner. "Many operators felt it foolish to conduct further trials evaluating their efficacy when they were 'sure' [that thrombectomy] made a difference. However the TOTAL trial and others flipped the practice quite dramatically."
As such, he added, "It's not a question of whether Claret works in principle. Instead, it's a dilemma between taking more time and resources to conduct further trials and withhold this tool from most operators, or to go with our collective 'gut' and open the catheter off the shelf today. I can think of a few recent high risk cases where I wondered if a SENTINEL would have optimized procedural risk, but it was not available at the time.
"Now, I suspect I will use in carefully selected cases," he continued, "but the coronary thrombectomy story gives me pause before considering use in all TAVR patients. Hopefully, prospective registry data will shed more light and where and when to use Claret."
Photo Credit: Claret Medical

Shelley Wood is Managing Editor of TCTMD and the Editorial Director at CRF. She did her undergraduate degree at McGill…
Read Full Bio