FOURIER in Focus: Costs, Patient Selection, Combination Therapy, and Safety Debated as Lipid Experts Digest the Data
Positive outcomes from the long-awaited evolocumab outcomes trial have established that the field is moving beyond the statin era, experts say.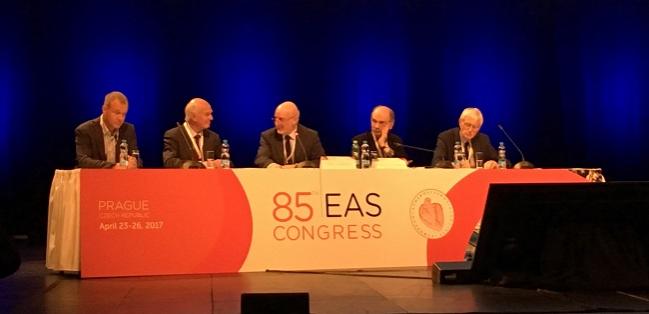 PRAGUE, Czech Republic—In the wake FOURIER's release last month, experts at the 2017 European Atherosclerosis Society (EAS) annual meeting are asking: what will be the impact on cardiovascular disease prevention in practice?
The FOURIER results, which showed a 15% relative risk reduction in hard events with evolocumab (Repatha; Amgen) compared with placebo in patients with preexisting cardiovascular disease, establish that "we really are moving beyond the statin era," said Chris Packard, PhD (University of Glasgow, Scotland), during part of a special "late-breaking news" session devoted to FOURIER. Whether it be with these PCSK9 inhibitors, ezetimibe (Zetia, Merck/Schering-Plough), or other novel agents, adjusting to treating patients with "combination therapy . . . could be part of the mental change that we'll all have to make," he told TCTMD.
Before the findings were known, there was "a sense of over-optimism [about evolocumab] based on some early preliminary analysis of the phase III lipid-lowering trials," Packard commented. While the drug may not have performed as well in all patients as some thought it might, he advised clinicians to "simply take the results and put them into the framework of everything else we know about LDL lowering. At the end of the day . . . we have choices. Combination therapy will become almost the norm as opposed to single therapy."
Refining Patient Selection to Deal With Cost
Cost may be the biggest issue with PCSK9 inhibitors: a yearlong supply of evolocumab costs $14,100, while alirocumab (Praluent, Sanofi/Regeneron) goes for $14,600.
As such, patient selection will be the most important task "that we will face in a world where the payers probably aren't going to let us give these drugs to everybody," Stephen Nicholls, MBBS, PhD (University of Adelaide, Australia), said during the FOURIER session. His best guess is that, at least during the first few years with the new drugs, only patients with established atherosclerotic cardiovascular disease who have a very high LDL cholesterol levels despite therapy will be eligible. As for the other high-risk patients most likely to have recurrent events, he said that he hopes to see more definition of who these people may be from future FOURIER subanalyses.
Likewise, FOURIER senior author Terje Pedersen, MD (Oslo University Hospital, Norway), who also participated in the EAS session, acknowledged that achieving lower LDL-cholesterol levels using other available agents now may be more appealing as a result of trial's findings. "The nice thing about ezetimibe is that it is it's considerably cheaper," he said. Ezetimibe, for example, will be available in Europe as a generic later this year, and one US company is already making a generic version as well. "The price will drop presumably about 90%," he added, making this an attractive and effective option either alone or in combination.
Packard told TCTMD that to really zoom in on who should receive which drugs, "we need to improve our cost-effectiveness analyses, redo all of those, and come to some kind of decision table that says depending on the patient's risk after their initial event, their perceived ongoing risk, and the LDL reduction that they will achieve, these people qualify [for the new PCSK9 inhibitors] and others maybe not."
'No Such Thing Anymore as Too Low Cholesterol'
Indeed, much of the discussion around FOURIER focused on the extent of LDL lowering achieved in the study.
Pablo Corral, MD (FASTA University School of Medicine, Buenos Aires, Argentina), told TCTMD that while PCSK9 inhibitors are not yet available in his country, his most important takeaway from FOURIER is a new way to "think about the patient and the biology of cholesterol."
Corral believes it may be time to adjust what is considered a normal value of LDL cholesterol, perhaps dropping it to the range of between 30 and 50 mg/dL. "I always believed the physiologic number was 30 or 40 mg/dL, but everybody wants evidence," he said. "And now we have evidence. We have evidence that lower is better, lower is best."
Nicholls, likewise, told TCTMD that he was already a "pretty strong believer" in the safety of very low LDL levels before the FOURIER results were published.
Although PCSK9 inhibitors are only available now to patients in Australia with familial hypercholesterolemia, he said his clinic has become more crowded with referrals in the past few weeks "because people are thinking that I would prescribe those agents for their patients" with high LDL. He is "limited" in what he can do for many of them today, Nicholls said, but in some "you start to realize that these patients don't necessarily just have LDL as their issue"—things like high triglycerides or other dyslipidemias that have not received adequate attention in the past.
But other LDL-cholesterol trials are ongoing, and the excitement in the field is allowing him to refer many of his new patients to these studies, Nicholls said. "I think it is bringing patients out of the woodwork, and it's making the coordination of their overall lipid management more effective."
Pedersen, for his part, acknowledged that the safety of aggressive lipid lowering over the long term will still need to be established. "It's true that the study duration was shorter than we have seen in statin trials, for example," he commented. "But having said that, we observed some extremely low levels of LDL cholesterol over 3 years." Indeed, a quarter of patients treated with the PCSK9 inhibitor had an LDL cholesterol level less than 20 mg/dL, he noted.
"It's sufficient to say that this is safe," Pedersen continued. "I don't think we that we can say there's no such thing anymore as too low cholesterol."
Lacking Data in Women
A question from the audience about sex differences among patients receiving evolocumab in FOURIER—there were no signals noted—prompted panelist M. John Chapman, PhD (Pitié-Salpêtrière Hospital, Paris, France), to make a "very important point" about how the threshold for symptomatic disease is generally attained later for women than men.
"One of the reasons biologically is because estrogen drives the expression of the LDL receptor and maintains lower levels in premenopausal females," he said. "One point that we fail to address in trials, and this will have to come, is that the studies using pathology, if you will, looking at progression of coronary disease in females very clearly indicate that there is an acceleration of the atherogenic process in postmenopausal females with rapid formation of lipid-rich vulnerable plaques.
Since only about a quarter of the patients in FOURIER were women, "this is an area that we haven't sufficiently focused upon," Chapman added.

Yael L. Maxwell is Senior Medical Journalist for TCTMD and Section Editor of TCTMD's Fellows Forum. She served as the inaugural…
Read Full Bio
Disclosures
FOURIER was sponsored by Amgen.
Packard reports receiving grants from MSD; receiving honoraria from MSD, Roche, Sanofi, Regeneron, Amgen, Pfizer, and Daiichi-Sankyo; and serving as a consultant to Pfizer, Sanofi, and Regeneron.
Chapman reports receiving research grants and/or consulting for and/or receiving speaking fees from Amgen, Kowa Europe, MSD, Pfizer, Sanofi and Regeneron, Servier, and Unilever.
Nicholls reports consulting for AstraZeneca, Amgen, Anthera, Boehringer Ingelheim, CSL Behring, Eli Lilly, Esperion, Merck, Takeda, Roche, Kowa, LipoScience, Novartis, and Sanofi-Regeneron and conducting clinical trials for Amgen, Anthera, AstraZeneca, Eli Lilly, Novartis, Cerenis, The Medicines Company, Resverlogix, InfraReDx, Roche, Sanofi-Regeneron, and LipoScience.
Pedersen reports serving as executive committee co-chair for the FOURIER study and receiving speaker honoraria from and serving as a consultant for MSD, Amgen, Sanofi, and Boehringer Ingelheim.
Corral reports connections to Sanofi and Amgen.