HF Deaths on the Rise in Young Adults, US Data Show
Black patients were found to be at greatest risk, with healthcare access and structural racism at the forefront of the disparity.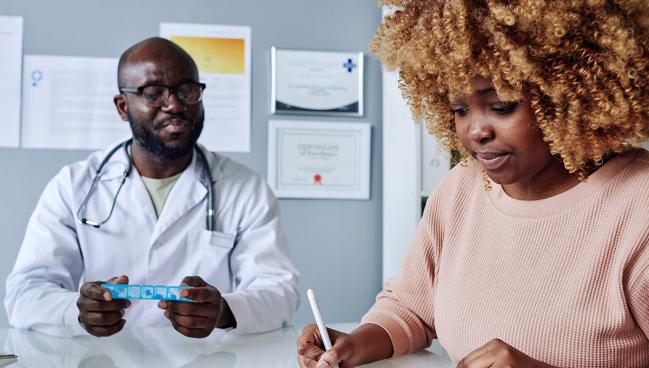 Deaths related to heart failure (HF) are on the rise among adults aged under 45, particularly if they're Black, according to a new analysis of US trends covering a 20-year period.
After years of remaining fairly stable, in 2012 HF-related mortality began increasing rapidly among younger Americans of all racial and ethnic groups. Compared with young white adults, however, their Black counterparts had a threefold higher overall risk of age-adjusted HF mortality. Disparities also were seen between geographic regions of the United States, including a swath of southeastern states that stood out for having significantly elevated HF mortality burdens among younger residents.
"The reason we did this study was that we started seeing a lot of patients in cardiac CCU who are young. Right now, we have three patients who are between 30 and 41, and they are in cardiogenic shock," senior study author Muhammad Shahzeb Khan, MD (Duke University School of Medicine, Durham, NC), told TCTMD. While most of them have comorbidities including family history, obesity, diabetes, and hypertension, they are not the population that comes to mind first when thinking about HF and related mortality, he added.
"I think the main message is that prevention and screening for heart failure needs to be done at a much earlier age [so that] we are not diagnosing all of this at a later stage, when it is far advanced," Khan said.
Michelle Kittleson, MD, PhD (Cedars-Sinai Medical Center, Los Angeles, CA), who was not involved in the study, said the richness of the data from the US Centers for Disease Control and Prevention (CDC) and the long-term perspective add needed context to the emerging story of what is happening among these young HF patients.
Right now, we have three patients who are between 30 and 41 and they are in cardiogenic shock. Muhammad Shahzeb Khan
"You cannot change what you do not document," Kittleson told TCTMD. "So now that we have this documented, the next question is why is this happening and what do we do about it." Both the researchers and Kittleson say it cannot be discounted that the increase in electronic health record diagnosis of HF during the study period could have led to increased reporting on death certificates that may not accurately reflect the mortality trends.  
"We'll certainly have to accept that, because the one benefit of large registries is the power to detect differences, but the one downside is the clarity and the accuracy of the data may not be perfect. That being said, this does track with an increase in heart failure incidence and heart failure hospitalizations in young adults," said Kittleson.
Understanding the Trends
For the new study, published online ahead of print in JAMA Cardiology, lead author Vardhmaan Jain, MD (Duke University School of Medicine), Khan, and colleagues leveraged CDC's Wide-Ranging Online Data for Epidemiologic Research (WONDER) platform to analyze 61,729 HF-related deaths in US adults aged 15 to 44 years (62% men; 36% Black; 10.8% Hispanic).
There was an increase in the age-adjusted mortality rate for HF from 2.36 per 100,000 persons in 1999 to 3.16 per 100,000 persons in 2019 for the group as a whole, with the majority of the percentage change occurring between 2012 and 2019. For men, the age-adjusted mortality rate for HF increased from 2.82 to 3.98, and for women it increased from 1.87 to 2.33. While young white and Hispanic adults had age-adjusted mortality rate increases from 1.62 to 2.04, and 1.83 to 2.45, respectively, young Black patients had an increase from a higher starting point of 6.41 per 100,000 persons in 1999, reaching 8.58 by 2019.
Geographically, the greatest burden of age-adjusted HF mortality was seen in Oklahoma, South Carolina, Louisiana, Arkansas, Alabama, and Mississippi, with Mississippi being the highest of all at 7.98 deaths per 100,000—about six times higher than many states in the northeast.
Young patients pass the eyeball test much better and won't show their sickness to the same extent as older patients who present with heart failure. Michelle Kittleson
The study authors cite insurance issues, including being under- or uninsured, as partial contributors to the increases seen.
"If you're diagnosed with heart failure at a young age, you need to take guideline-directed medical therapy, which is pretty expensive," Khan said. "It's very easy to say perhaps these patients are noncompliant, but maybe they can't afford it."
The other overriding issue is structural racism, which has been shown repeatedly to be a barrier to healthcare access and quality, with Black patients being less likely than white patients to be admitted to hospitals for the same complaint, less likely to receive advanced HF therapies, and less likely to be admitted to CCUs, Khan noted.
Young Patients Often 'Look Better'
While the issues leading to these poor outcomes in young HF patients are multifactorial and not easy to address, Khan said it's clear heightened awareness is needed among physicians and patients that even those who haven't reached middle age can and do die from rapidly advancing HF.
"There's very little work being done on this population," he observed, adding that patients such as those in the study are rarely included in HF trials, registries, or even post hoc analyses.
Kittleson noted that the most recent HF guidelines from the American College of Cardiology, American Heart Association, and Heart Failure Society of America include primary prevention of HF (stage A) and pre-HF (stage B).
"This is a really extraordinary paper that highlights [the importance of] targeting those people who have the risk factors, and managing those risk factors so they never get to structural heart disease or symptomatic heart failure," she said. Kittleson also stressed the importance of not being falsely reassured by age or appearance of younger patients.
"We all know, as clinicians who care for patients with heart failure, that young patients will 'look better.' They'll pass the eyeball test much better and won't show their sickness to the same extent as older patients who present with heart failure," she said. "They can look okay and then all of a sudden they crash. As a clinician you have to use your tools. A little bit of subtle tachycardia might tell you something is not right with a young patient who otherwise passes the eyeball test. There's something about those young bodies that compensate until they fall off a cliff."

Disclosures
Khan reports grants from American Heart Association and the National Institutes of Health outside the submitted work.
Kittleson reports no relevant conflicts of interest.