High-Sensitivity Troponin T Assay Picks Out Low-Risk Patients in US Emergency Departments
Assays like this are potential game changers, but they should be implemented carefully in the United States, one expert says.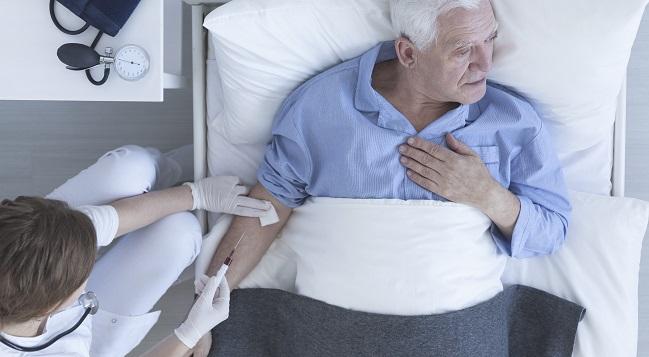 The only US Food and Drug Administration (FDA)-approved high-sensitivity cardiac troponin T assay is able to accurately rule out acute MI in patients presenting to the emergency department with suspected ACS and can identify a subset with a very low rate of adverse cardiac events over the next 30 days, according to the first such analysis performed in the United States.
Test results below the 99th percentile on the fifth-generation Elecsys Troponin T STAT assay (Roche) at both presentation and 3 hours later ruled out acute MI with a negative predictive value of 99.2% and 30-day events with a negative predictive value of 99.3%, researchers led by W. Frank Peacock, MD (Baylor College of Medicine, Houston, TX), report in a study published online December 13, 2017, ahead of print in JAMA Cardiology.
Slightly more than three-quarters of patients would have been ruled out solely based on the assay results at presentation and 3 hours.
"We have a good large trial [showing] that if you have access to this assay, you have a strategy now that you can send most of the people from your emergency department home," Peacock told TCTMD. "They do not need to be sitting in your ER or in the hospital catching diseases. They can go home and then [be] followed up as an outpatient. That is the practice-changing consequence of this trial."
Exposing people to hospitals, charging them extra money because we have crappy troponins in the United States, is what we've been doing for years. W. Frank Peacock
Currently, he pointed out, hospitals without access to high-sensitivity troponin assays often will admit patients with suspected ACS for further testing and then discharge them the next day. "Exposing people to hospitals, charging them extra money because we have crappy troponins in the United States, is what we've been doing for years," he said, adding that now, "We've changed the game."
Coming to America
High-sensitivity troponin assays have been available for years in many parts of the world, but the FDA waited until the beginning of this year to allow the first one to be marketed in the United States. Roche's fifth-generation troponin T assay remains the only high-sensitivity assay available to American clinicians.
Peacock said the FDA balked at approving high-sensitivity assays because it was overly concerned about false-positives, and the result was substandard troponin testing in US emergency departments. "You can go to any third-world country and get a better troponin than the United States has," Peacock said. "Our troponins are bad. They are not even good compared to the rest of the world."
That has changed with the arrival of the first high-sensitivity assay, with more from other manufacturers expected to follow.
Because information about the clinical use of high-sensitivity troponin testing has come from outside of the United States, primarily Europe, data from US centers are needed, and the study by Peacock et al helps fill the void.
The investigators performed a prospective, observational study at 15 US emergency departments between 2011 and 2015, while the assay was still investigational in the US. The analysis included 1,690 patients 21 and older who presented with suspected ACS. Blood samples were collected at presentation, 3 hours, 6-9 hours, and 12-24 hours.
The upper reference level, or 99th percentile, of the Roche troponin T assay was determined to be 19 ng/L in a separate cohort of healthy US adults (22 ng/L for men and 14 ng/L for women). The limit of quantification is 6 ng/L.
Overall, 10.3% of patients had an adjudicated diagnosis of acute MI, and the assay results below the 99th percentile at presentation and 3 hours ruled out the diagnosis with a high negative predictive value for both men and women.
The same was true when looking at 30-day adverse cardiac events (death, MI, or urgent revascularization). Patients who could not be ruled out on the basis of serial troponin results had a 30-day event rate of 2.8%, whereas those who could be ruled out had an event rate of 0.7%.
Peacock et al also evaluated the utility of troponin testing at a single time point. Using the 99th percentile (19 ng/L) as the cutoff, a single measurement at presentation could not accurately rule out acute MI. However, the negative predictive value of a single measurement taken at 3 hours was 99.3%. Although there were seven false-negatives, none of those patients had additional events through 30 days of follow-up.
They then evaluated use of the limit of quantification (6 ng/L) as the cutoff. A single measurement below this threshold at baseline had a negative predictive value of 99.4% for acute MI, ruling out the diagnosis in 50.3% of patients. At 3 hours, the negative predictive value of a single measurement below that cutoff increased to 99.7%, ruling out acute MI in 48.7%.
Peacock stressed that these numbers apply only to the Roche assay used in this study and to populations similar to the one studied here. In particular, the median time from symptom onset to presentation was 2.9 hours, so the results are not applicable to early presenters, he said.
Proceed With Caution
Commenting for TCTMD, Frederick Korley, MD, PhD (University of Michigan Medical School, Ann Arbor), who wrote an editorial accompanying the study, said the findings give an idea about how implementation of high-sensitivity troponin testing will work in the United States as it gets rolled out.
Both he and Peacock indicated that uptake has been slow, however. Peacock said the biggest issue is that centers not currently using Roche machines to perform lab testing—including troponin and others—are not likely to switch because it would be a multimillion-dollar endeavor. But, he added, for hospitals using Roche machines already, switching over to high-sensitivity troponin testing would be easy.
In his editorial, Korley advises a cautious approach to introducing high-sensitivity assays. He told TCTMD that his center will be switching over in the new year. Preparations have included discussions involving clinicians from multiple specialties, including emergency medicine, cardiology, and internal medicine. "It's important to have all the relevant specialties at the same table talking about how to implement this assay most effectively," he said.
A potential concern associated with the more sensitive testing, Korley said, is that it's going to increase the number of patients with detectable troponin elevations, which could be the result of dozens or hundreds of causes other than acute MI. Currently, there is not solid evidence to guide management of these patients.
In addition to determining what should be done with this group, several other issues still need to be worked out as high-sensitivity troponin testing is introduced, he added. Questions remain about what cutoffs should be used, whether different thresholds are needed for men and women, and how patients presenting early after symptom onset should be handled.
Nevertheless, "the use of high-sensitivity troponins to improve emergency department evaluation of chest pain and suspected heart attack is promising, and based on this study we can see the promise of decreasing the time to making that decision of whether that patient has a heart attack or not," Korley said. "This could potentially lead to a quicker turn out of patients who are seeking emergency department care."
In his editorial, Korley says that if the results reported by Peacock et al are validated, introduction of high-sensitivity troponin tests "could be the game changer we have been waiting for."

Todd Neale is the Associate News Editor for TCTMD and a Senior Medical Journalist. He got his start in journalism at …
Read Full Bio
Disclosures
The study was sponsored and funded by Roche Diagnostics, Penzberg, Germany.
Peacock reports receiving grants from Roche during the conduct of the study; grants and personal fees from Roche and Alere; and personal fees from Abbott, Beckman, and Prevencio unrelated to the study.
Korley reports having consulted for Roche Diagnostics and Abbott Laboratories.