IN.PACT Global Registry Shows Continued Safety, Efficacy at 4 Years for Paclitaxel DCB
Although the registry has had some stumbles, including issues with missing data, it supports a sustained treatment effect.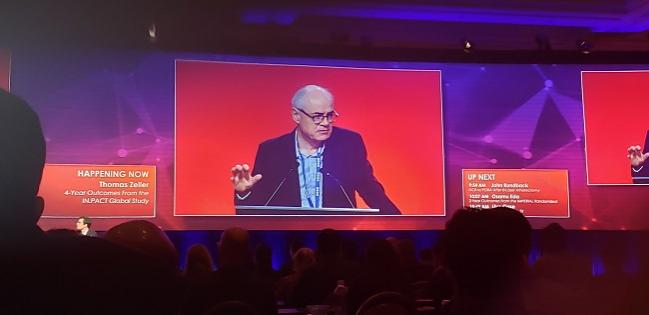 LAS VEGAS, NV—As it edges toward its 5-year follow-up mark, the IN.PACT Global registry shows that nearly 75% of patients remain free from clinically driven target lesion revascularization and more than 80% are alive following treatment with a paclitaxel-based DCB for PAD.
"Robust real-world data continues to demonstrate durable results, indicating this DCB as a viable solution for the treatment of femoropopliteal disease," said Thomas Zeller, MD, PhD (Universitäts-Herzzentrum Freiburg-Bad Krozingen, Germany), in a late-breaking trial presentation here at VIVA 2019.
Earlier this year, Medtronic announced that some mortality data on patients treated in IN.PACT Global were not included in publications of the 2- and 3-year follow-up. The company blamed a "programming error" and worked with the US Food and Drug Administration to reconcile the omissions, which likely might never have been found had it not been for increased scrutiny of paclitaxel-based DCB and DES trials brought on by the Katsanos meta-analysis in late 2018. That meta-analysis found a mortality signal across multiple studies that has continued to elude investigators, industry, and regulatory officials.
Asked by TCTMD if he's confident that the 4-year report is complete as far as patient data, Zeller said, "As far as I know, it's even more than 90%, so it's a very robust data set."
Freedom from clinically driven TLR in the 1,406-patient cohort was 73.4% at 4 years, a slight dip from the 76.9% figure that was reported for the 3-year follow-up. Taken as a whole across the 4 years, it represents the smallest annual decline in TLR so far for the IN.PACT Global group, suggesting that freedom from reintervention is flattening as follow-up gets longer. Among patients who did require reintervention, the average time to first clinically driven TLR was 570 days.
The cumulative incidence of the composite safety endpoint was 71.9%. Further analysis found that clinically driven TLR accounted for the majority of the major adverse clinical events at 27.5%, with major target limb amputation accounting for only 1.1%. Composite safety consisted of freedom from device- and procedure-related mortality through 30 days, freedom from major target limb amputation, and clinically driven TVR through 48 months. The rate of freedom from all-cause death was 83.5%. Additionally, a Kaplan-Meier analysis showed the estimate of freedom from clinically driven TLR at 4 years to be 74.5% for patients with claudication and 64.8% for those with critical limb ischemia.
In a press conference prior to his presentation, Zeller noted that among the adjudicated deaths, there is no clustering of disease or deaths, which he said makes him concerned about recommendations from the FDA to follow even single-arm registries such as IN.PACT Global out to 5 years to shed more light on the mortality signal. Without a control group, he added, there is no clear way to make sense of the impact of paclitaxel, if any, on deaths.
In an interview with TCTMD, FDA medical officer Donna Buckley, MD, clarified that the administration is simply trying to look across devices and platforms as much as possible, and is committed to following the recommendations made at their advisory committee meeting in June.
"As has been noted in our prior communications, we prioritized the randomized data as being a little bit more instructive in terms of signal detection, but after our panel meeting it seemed clear that there were quite a few questions that still remain, and we're looking at just about everything to see what it can and can't tell us given certain limitations," Buckley said.
Limus vs Paclitaxel: Is This The Future?
Given the paclitaxel controversy and the interest in pursuing other drugs to use with balloon technologies, Zeller's second presentation here adds evidence toward an emerging role for sirolimus-eluting technologies. In the 50-patient German SELUTION SFA trial, the sirolimus-eluting DCB (MedAlliance, Switzerland) met its primary endpoint, with late lumen loss of 0.19 mm at 6 months. Primary patency by the intention-to-treat analysis was 81.7% at 2 years and freedom from clinically driven TLR was 87.5% at 2 years, with no primary TLR events beyond 11 months. Throughout the study, patients demonstrated improvements in Rutherford classification, ankle-brachial index, and walking impairment.
On the important issue of mortality, there were no deaths in the cohort out to 24 months. "It's definitely not a conclusion that sirolimus is protective against dying during follow-up; however, at least there is no safety signal coming from this small study," Zeller said.
Following his presentation, though, session co-moderator Krishna J. Rocha-Singh, MD (St. John's Hospital, Springfield, IL), expressed skepticism about the safety conclusion, noting that "7 years ago we didn't think there was going to be a safety signal" with paclitaxel.
Zeller told TCTMD that randomized trials of the SELUTION device "are in the pipeline," although the key question that remains is what should be comparator: plain old balloon angioplasty or paclitaxel.
"I believe it must be paclitaxel because we have to compare against the most-effective treatment we do have," he said, adding that scrutiny from the FDA will likely be very high for this and any other limus-based device due to the paclitaxel controversy.

Sources
Zeller T. 4-year outcomes from the IN.PACT Global study. Presented at: VIVA 2019. November 5, 2019. Las Vegas, NV.

Zeller T. A novel sustained limus release eluting balloon: 2 year data from the SELUTION SFA trial. Presented at: VIVA 2019. November 5, 2019. Las Vegas, NV.
Disclosures
Zeller reports receiving honoraria from B. Braun, Medtronic, WL Gore, Veryan, Boston Scientific, Gore & Associates, Spectranetics, and Biotronik; and consulting for Bayer, Medtronic, WL Gore, Veryan, Boston Scientific, Vesper, and Intact Vascular.