Large US Study Links Air Pollution to Heart, Lung Diseases
In an analysis focused on fine particulate matter, nitrogen oxide, and ozone, even low-level, long-term exposure upped CVD risk.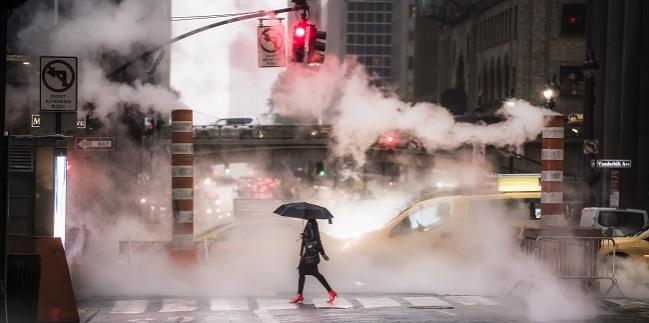 Filling an evidence gap, new research shows long-term exposure to air pollutants in the United States is a likely cause of cardiovascular and respiratory hospital admissions, and that this is happening at pollution levels deemed to be safe by national environmental standards.
And while the link between pollution and cardiovascular disease has been documented elsewhere in the world, the current study represents one of the largest US studies to explore a broad array of airborne pollutants in relation to both heart and lung disease.
"There is some literature out there, but it's largely in other parts of the world; in the US, there are fewer studies looking at cardiovascular outcomes, specifically, and air pollution, particularly with long-term exposure to air pollution," lead investigator Mahdieh Danesh Yazdi, PharmD, MPH, PhD (Harvard TH Chan School of Public Health, Boston, MA), told TCTMD.
Unique to this study, Danesh Yazdi stressed, is that they examined three different types of pollutants—fine particulate matter (PM2.5), nitrogen dioxide (NO2), and ozone (O3)—as well as used an additive model to look at change in risk.
"This has an advantage over the multiplicative models that are traditionally used in these kinds of studies, in that you can use it directly to estimate how many cases are attributable to the exposure of interest—in this case air pollution—so you can actually quantify the number of individuals affected every year per unit change of the pollutant," she said. "That makes it very real for people and it allows them to understand in terms of actual people affected how exposure to these pollutants changes the risk of admissions for cardiovascular disease."
Long-term Exposure
The study cohort consisted of more than 63 million fee-for-service Medicare beneficiaries age 65 and older across the contiguous US between 2000 and 2016. Environmental exposure data was derived from a range of machine-learning algorithms based on land use, chemical transport, meteorological factors, and satellite measurements to estimate daily pollutants per square kilometer over time. Exposure was then linked to patients admitted to the hospital for myocardial infarction; atrial fibrillation and flutter; ischemic stroke; and pneumonia, with the researchers using residential zip codes to assign location.
All types of hospital admissions were significantly increased with long-term exposure to PM2.5, an association that was most pronounced for stroke, which rose in tandem with exposure levels. For example, each one-unit increase in fine particulate matter exposure translated into 2,536 cases of ischemic stroke admissions per year. Cumulative NO2 exposure was particularly linked with risk of hospital admissions for ischemic stroke and atrial fibrillation. Ozone exposure was strongly associated with pneumonia admissions, although, as the authors point out, there are no national guidelines stipulating safe or unsafe O3 thresholds over the long-term.
"Pollutants have different types of toxicities" to explain the different health effects, said Danesh Yazdi. Fine particulate matter are solids, whereas NO2 and ozone are gases, she explained, "so the permeability in organ systems is different." But even at low concentrations, all three pollutants were harmful for the outcomes studied.
The US Environmental Protection Agency (EPA) sets standards for the annual allowable emissions for six pollutants, three of which were studied by Danesh Yazdi et al. For their study, they used the even lower emissions cutoffs than the EPA, consistent with the more-conservative thresholds set by the World Health Organization, "and we still found harmful effects," she remarked. "The EPA does actually periodically review its guidelines, and it recently decided that it wasn't going to change the PM2.5 standards. But the research doesn't really support that decision, because we are finding adverse health effects at levels below what the EPA has set."
It's possible, however, that the new Biden administration "will take a look again," she said.
She hopes the study will help raise awareness among patients that air quality is an important risk factor and help physicians understand that this is an issue they can raise not only with their patients, but also on an advocacy level.
"This is one area in which they can absolutely advocate for their patients in terms of maintaining the air quality where people live, because a lot of people don't have a choice in that matter—there's a lot of environmental justice issues tied into that," Danesh Yazdi observed. "Ultimately policy makers will be looking to physicians for their opinion on the health effects of air pollution."

Shelley Wood is Managing Editor of TCTMD and the Editorial Director at CRF. She did her undergraduate degree at McGill…
Read Full Bio
Disclosures
Danesh Yazdi reports no conflicts of interest.