Live From Denver: TCT 2017, Day Three
This blog aims to capture headline news, as it breaks, plus random tidbits from the ground at TCT 2017. It will be updated throughout the day.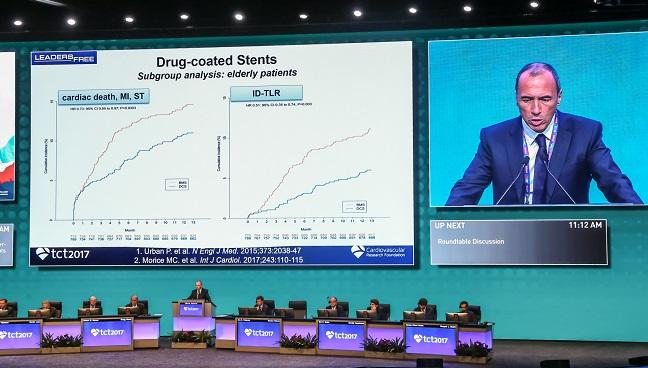 1:00, November 1, 2017: Making Progress with Mitral Valves
The entire "First Reports" session following the late-breakers was dedicated to mitral valve replacement and repair. Mayra Guerrero, MD, led off with 30-day outcomes from the MITRAL trial, which enrolled patients with severe mitral valve disease secondary to mitral annular calcification (MAC) or failed surgical rings, using valves designed for the aortic position. As she showed here, the valve-in-ring procedure is feasible (100% success in this series) and associated with low 30-day mortality, with technical success improving over time, particularly with newer generation devices. In the MAC group, these patients remain challenging, she said, but outcomes are improving compared with early first attempts, and better understanding of the role of pre-emptive alcohol septal ablation is improving success rates.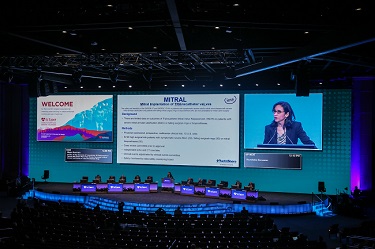 Next, the main arena saw early results for two dedicated mitral valve replacement devices: INTREPID 30-day results and TENDYNE 1-year results. TCTMD's coverage of these trials will be online soon; the INTREPID results were published simultaneously in the Journal of the American College of Cardiology.
#TCTDenver TMVR w/ Intrepid valve feasible in high- or extreme-risk patients for conventional MVR. #JACC https://t.co/BEMqXEjqdF @PSorajja pic.twitter.com/ZlCCgEP1g5

— JACC Journals (@JACCJournals) November 1, 2017
Following those, we saw preliminary study results for two mitral-valve repair technologies: the 30-patient, CE Mark TRACER study using the Harpoon neochordal repair device and the MAVERIC trial studying the ARTO transcatheter annuloplasty ring device.
For TRACER, presenter James S. Gammie reported that off-pump use of the Harpoon ePTFE anchoring technology in 28 significantly reduced mitral regurgitation (MR) to none or trace in 86% of the cohort.
In MAVERIC, presented by Stephen Worthley, use of the ARTO transcatheter annular reduction therapy system, reduced MR Grade, anteroposterior diameter, NYHA class and regurgitant volume at 6 months among the 45 patients with functional MR treated in this study.
"We've seen a range of newly emerging mitral therapies, which is quite frankly a field that is just starting to emerge," said Gary Mintz, MD, who moderated a morning press conference. Interest in these advances is growing, he added. "As I walked past the MV sessions yesterday, was that they were standing-room only, flowing into the corridor, which is totally different from what we saw last year at TCT, and the year before."
11:40, November 1, 2017: DAPT Duration in STEMI and ACS
Two further late-breakers looked at DAPT duration in STEMI patients. The first, DAPT-STEMI, a randomized trial of 6 versus 12 months of DAPT in 870 STEMI patients and found no benefit of continuing DAPT out to 12 months for an endpoint of all-cause mortality, any MI, any revascularization, stroke, or TIMI major bleeding at 18 months.
Main arena right now DAPT STEMI, less endpoint reached in the single APT group. #TCTDenver pic.twitter.com/nFEIDUnE3b

— Dr. Eduardo Galvan (@CardioMty) November 1, 2017
"This trial, for the first time showed that, in the modern DES era, event free STEMI patients do not benefit from a prolonged DAPT beyond 6 months as currently recommended, and sets the stage for further dedicated research in this important topic," said Elvin Kedhi, MD. It will take time to change mind-sets, he added during a morning press conference, noting that trialists had trouble enrolling patients whose primary care doctors typically advised them to stay on long-term DAPT. In fact, investigators had initially hoped to study 3-month versus 12-month DAPT duration, he said, but faced too much resistance to reducing DAPT duration, so settled on 6 months.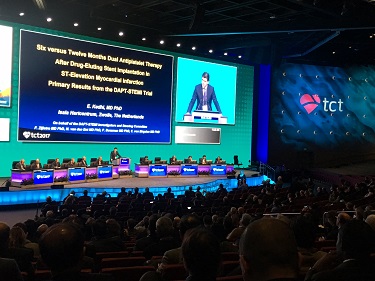 The next late-breaker, however, had no such problem (although presenter Harry Suryapranata, MD, acknowledged in a morning press conference that enrollment had been slow in the first 6 months). REDUCE compared 3-month to 12-month DAPT in 1496 ACS patients. At 12-months follow-up, no differences were seen in the composite primary endpoint of all cause death, MI, stent thrombosis, stroke, TVR or bleeding (BARC II, III, V), and no differences seen for individual components either.
"The REDUCE trial is the first study restricted to ACS patients, comparing a short 3-month vs a standard 12-month DAPT," Suryapranata concluded. "The main finding of the present study is that among ACS patients treated with the COMBO stent, 3-month DAPT is not inferior to 12-month DAPT. . . . Therefore, a shorter DAPT strategy could be considered, if necessary, even in ACS population."
During the press conference, however, Dean J. Kereiakes, MD, cautioned that a lack of statistical power makes it impossible to dismiss concerns about a difference in important events, particularly since the rate of stent thrombosis in REDUCE was three times higher in the shorter-DAPT arm (1.2% versus 0.4%, P=0.08).
REDUCE prospective, multicenter randomized study shows 3 mo DAPT not inferior to 12 mo DAPT for ACS pts treated with COMBO Stent #TCTDenver pic.twitter.com/lreEplQiHP

— C. Michael Gibson MD (@CMichaelGibson) November 1, 2017
11:00, November 1, 2017: SENIOR
The first trial in Wednesday's Late-Breaking Clinical Trial session was SENIOR, a 1,200 patient trial testing DES versus bare metal stents in patients aged 75 and older. As presenter Olivier Varenne, MD, told the press earlier today, his center had previously been using new generation bare metal stents in elderly patients, rather than DES, out of bleeding concerns associated with DAPT.
At one year, the primary end point of MACCE had occurred in 11.6% of the patients randomized to DES and in 16.4% of patients randomized to BMS, despite the fact that DAPT use had been similar in both groups. The difference, noted Varenne, was driven by differences in repeat revascularizations.
"I really do strongly believe the BMS should no longer be used as a strategy to reduce DAPT duration in elderly patients," Varenne concluded.
Full story to follow soon.
Senior trial, positive, DES best BMS. Less ID-TLR. Oliver Varenne concluded that BMS should not be longer choose in elders. @TCTConference #TCT2017 @PCRonline @secardiologia @shci_sec pic.twitter.com/n0gVXg6CUS

— Luis Ortega Paz (@Ortega_Paz) November 1, 2017
10:30, November 1, 2017: Celebrating Innovation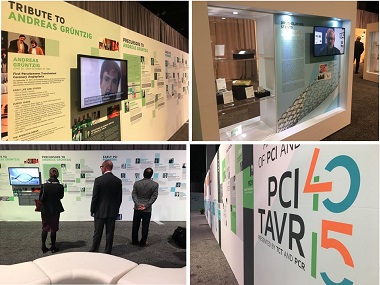 I realized with a start that it was Day 3 (3.5 really) of TCT 2017 and I hadn't yet stopped by the PCI 40/TAVR 15 exhibit, which closes today at 2:00PM. I'm glad I squeezed a visit. I know many of the people who have worked for months to pull this together and they did a beautiful job.
A s a journalist, I'm drawn—we all are—to stories where devices do unexpectedly well, or ones that go horribly awry. Seeing the exhibit was a reminder of just how far these technologies have come and the individuals who poured their passion into bringing their ideas to life.

Shelley Wood is Managing Editor of TCTMD and the Editorial Director at CRF. She did her undergraduate degree at McGill…
Read Full Bio