Live From Denver: TCT 2017, Day Two
This blog aims to capture headline news, as it breaks, plus random tidbits from the ground at TCT 2017. It will be updated throughout the day.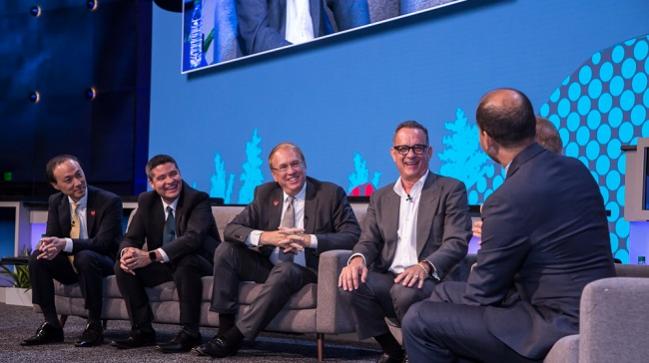 October 31, 2017, 12:00 - PARTNER 2/SAPIEN 3 Cost Efficacy
The third and final late-breaker was comprised of a cost-efficacy analysis from the PARTNER 2/SAPIEN 3 trials. Primary results from both were first unveiled at ACC 2016. Presenting the cost-efficacy data here was David J Cohen, MD.
TAVR is an "economically dominant strategy" compared with surgery, said Cohen, after listing the significant reductions in hospital length-of-stays and net costs with both valve types. At 2 years, the total price of surgery was more than $6,000 above TAVR with Sapien XT ($114,132 vs $107,716; P = 0.01), with the most substantial cost differences seen in the first 6 months. With Sapien 3, total costs over 1 year were more than $15,000 less for TAVR than surgical AVR.
"These findings suggest that TAVR should be the preferred strategy for such patients, based on both clinical and economic considerations."Fortunately, at least at this point, surgeons are involved in all of these procedures, at least in the United States . . . Medicare has the mandate that all of these probecueres be done by a heart team and as we've been talkinga bout at this meeting for the last 5 years, I think that's a good thing.  . . I don't see a lot of surgeons that are putting up a fight.
"Wow!" commented press conference chair Ori Ben-Yehuda, MD (Cardiovascular Research Foundation, New York, NY). "It's good news for patients, it's good news for the economy and for us taxpayers."
TCTMD's full story can be found here.
October 31, 11:20 - ABSORB III and IV
Earlier this month, I asked TCT course director Gregg Stone, MD (NewYork-Presbyterian/Columbia University, New York, NY), who is also chair of the ABSORB clinical trial program, whether he thought people were still interested in hearing ABSORB results, given that the manufacturer, Abbott, has halted sales of the device and its problems have been repeatedly documented. His answer: yes. And, judging by the numbers in the Main Arena following the live case this morning, he may have been right. First up, Stephen Ellis, MD (Cleveland Clinic, OH), presented the 3-year results from ABSORB III, having presented the 2-year results earlier this year at ACC 2017. By way of reminder: 3 years is the point at which complete scaffold resorption is supposed to have happened.
Stephen Ellis looks remarkably somber as he begins Absorb III 3-year results #TCTDenver pic.twitter.com/3oNYg51jbh

— Sukh Nijjer (@SukhNijjer) October 31, 2017
This is not, presumably, the calm seas Ellis could have hoped for when he commented at ACC 2017 that the 2-year data "calms the water," because the rate of scaffold thrombosis between years 1 and 2 was just .3% with the Absorb stent—lower than that seen in other trials. Between 1 and 3 years in the new data released today, however, rates of device thrombosis were 0.8% with Absorb versus 0% with Xience (P = 0.02). For the entire follow-up period, target lesion failure (the primary endpoint) was 13.4% for BVS-treated patients versus 10.4% of Xience-treated patients, a difference that skirted statistical significance at P = 0.06. Between 1 and 3 years, these numbers were 7% and 6%, respectively (NS). Of note, a full 55% of scaffold thromboses occurring before 1 year happened in the 19% of patients whose vessels were smaller than those for which the device is intended. But by contrast, 90% of the very late scaffold thromboses occurred in patients with appropriately sized vessels. Patrick Serruys, session moderator, observed: "What is striking from me is the window between 30 and 36 months where you see this increase of scaffold thrombosis and that is kind of déjà vu." Ellis in response noted that the number of patients is small, and he's not quite sure why the clustering of events is coming at this time.
3 fold increase in stent thrombosis in 3 yr absorb analysis #TCTDenver main risk of TLF in small vessels pic.twitter.com/UIMQHcGeFf

— Mamas Mamas (@mmamas1973) October 31, 2017
This issue of appropriate vessel sizing was front-and-center in the second late-breaker of today's morning session, ABSORB IV, this one presented by Stone himself. ABSORB IV is the 2,604-patient trial being conducted at 147 sites in five countries. In the 30-day results unveiled today, target lesion failure was 5% for the BVS compared with 3.7% for the Xience, which met the criteria for noninferiority. Ischemia-driven target vessel revascularization was 1.2% versus 0.2% for the two devices, respectively (P = 0.003) and device thrombosis was 0.6% versus 0.2% (P = 0.06). That's despite very high rates of pre- and postdilatation, and a low proportion of small vessels treated, which many observers, including Stone himself, had hoped might close this gap further. "These results are largely consistent with those from earlier ABSORB trials, and highlight the need for continued advancements in device technology and standardized technique to further improve the early safety profile of BVS," Stone observed in a press conference earlier today.
TCTMD's full story, including 4 year results from ABSORB II, here.
More no bueno news for #BVS #ABSORB #TCTDenver pic.twitter.com/LHHZ3qidl0

— R. Jay Widmer (@DrArgyle) October 31, 2017
Let's see what #ABSORB IV shows - They excluded small vessels QCA <2.5mm and included ACS and used BVS technique #LBCT #TCTDenver pic.twitter.com/A9lQsO8CmY

— Dr. Sheila Sahni (@DrSheilaSahni) October 31, 2017
October 31, 2017, 9:00 AM - Tom Hanks Take Homes
Here's one of the most inflammatory statements I'll make today: I'm not a massive Tom Hanks fan, at least not Tom Hanks the actor. My husband thinks this can be overcome, with therapy (marathon sessions of Big and Turner and Hooch). I've been stubbornly treatment nonadherent.
I did, however, go to the Tom Hanks event at TCT 2017 last night, partly because he seems like a nice man, who has used his powers for good, and partly because he's just published his book of short fiction, Uncommon Type, which intrigues me. He thinks he can write? I decided I'd find out for myself.
The good news is, I don't need to go to therapy. The 7-minute montage of clips from Hanks classics that opened the evening's entertainment was enough to remind me that at least some of his oeuvre, I can get behind. The bad news? Hanks has a stent in his LAD, although presumably that's good news for those who gathered in the Bellco Theater last night. So maybe the bad news is that we don't know the brand, which would have been interesting. The stent, we learned, was put there by Michael S. Lee, who was up on stage with Hanks, Hanks himself cheerfully admitting he'd been calling his doctor by the wrong name: Peter instead of Michael. He apologized for this in front of 3,000 chuckling doctors.
@tomhanks recounts his story of his LAD PCI and how much better he was going #RadialFirst instead of femoral! #TCTDenver pic.twitter.com/vHrNWKDvQ4

— Chandan Devireddy MD (@drdevireddy) October 31, 2017
Hanks did a couple things that will stay with me. For one, he rolled with the format: a celebrity actor on stage with five celebrity cardiologists, grinning goofily, ear to ear. There were some awkward moments. After the first 20 minutes of questions had been dominated by TCT Course Directors Gregg Stone and Martin Leon, Hanks pointed at Ajay Kirtane, Juan Granada, and Michael Lee and asked: what are these other three guys doing here?
Some of the questions, too, swerved towards fawning (Q: "Of all your movies, which ones are your favorite?" A: The good ones.") and—in this humble journalist's opinion—there were some lost opportunities for follow-up questions, based on some of Hanks' initial responses. But Hanks fielded all of it with wit and thoughtful consideration, getting laughs from the tired crowd as he swiveled his head from one side to the other, joked about aortas, and pandered to the #radialfirst crowd by thanking Lee for not "going through the groin."
Biggest laugh line of the night so far. @tomhanks asks "what are these other 3 guys doing anyway?" referring to @ajaykirtane, @jgranadacrf, & Michael Lee. They're famous in our world Tom!! pic.twitter.com/uBO6MS6AWA

— Jay Giri (@jaygirimd) October 31, 2017
At one point Hanks talked about what it's like to act in a theatre, rather than for film, and the joy of following a story from start to finish, every night, rather than filming pieces of a movie that only get assembled chronologically during production. I could see people in the audience nodding their heads at this one. I was reminded of times I've heard interventional cardiologists explaining what drew them to the field, that they loved the idea of a procedure that they started and finished in a single sitting (or standing) that yields immediately obvious benefit. A PCI or a TAVR, presumably, has all the elements of a good, fast-paced plot: tension, rising action, and a satisfying denouement.
Hanks did something else that had echoes earlier in the day at TCT 2017. For almost every question about himself, Hanks swiftly rattled off the names of directors, producers, or writers who'd been there with him, behind the scenes, overshadowed by the Hanks wattage, but to whom he gave full credit. Earlier that day, Elazer Edelman, MD after receiving his Career Achievement award had done something similar. In his concluding remarks, Edelman asked all of his students and post-docs in the Main Arena audience to stand and be applauded. Part and parcel, he seemed to be implying, of his own success.
The TCT Career Achievement Award goes to Dr. Elazer Edelman. #TCTDenver #TCT2017 pic.twitter.com/Wzb7qGxkvy

— Ashley Lyles (@AshleyLyles1) October 30, 2017
#TCTDenver I think I have Hanks-over, what an enjoyable night! pic.twitter.com/IyI9sUxGKI

— Juan Granada (@jgranadacrf) October 31, 2017

Shelley Wood is Managing Editor of TCTMD and the Editorial Director at CRF. She did her undergraduate degree at McGill…
Read Full Bio