Live From Denver: TCT 2017, Day One
This blog aims to capture headline news, as it breaks, plus random tidbits from the ground at TCT 2017. It will be updated throughout the day.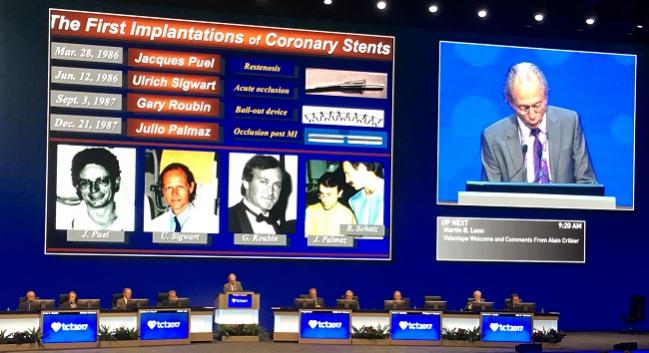 11:40 DKCRUSH-V
The third and final late-breaker in today's session DKCRUSH-V, also addressing left-main interventions, but specifically comparing the double kissing (DK) crush two-stent technique compared with provisional stenting (PS) in the treatment of true distal bifurcation lesions in this arterial bed. A full 482 subjects from 26 countries in five countries (China, Indonesia, Thailand, Italy, and the US) were randomized in the study.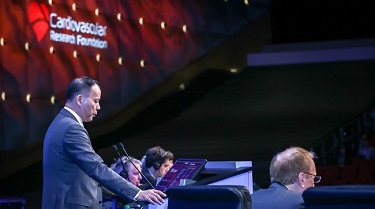 As, Shao-Liang Chen, MD, PhD (Nanjing First Hospital, China) announced this morning, target lesion failure (cardiac death, target-vessel myocardial infarction, or clinically-driven target lesion revascularization) at one year was more common among patients treated with the provisional stenting than with the DK crush technique, 10.7% vs 5.0%, P = 0.02). Other endpoints also favored the DK technique . "These results indicate that double kissing crush may be a better option for these patients, Chen said.
Technique, however, will be paramount if other centers what to replicate these results, expert said. "You really have to have excellent wiring technique," Mehran said during a press conference. "It's really a more advanced complex procedure, and I don't know that a learning curve has been established anywhere. . . . You shouldn't undertake a procedure in which you are uncomfortable with multiple wiring and rewiring of the crushed stent."
Read the full story here.
People better learn the technique... but also opens the door for dedicated bifurcation DES #TCTDenver https://t.co/JioBeBIl8F

— Ajay Kirtane MD SM (@ajaykirtane) October 30, 2017
11:20 EXCEL QoL
The EXCEL trial was one of the heavy-weight trials at last year's TCT meeting. This year, Suzanne Baron, MD (Saint Luke's Mid America Heart Institute, Kansas City, MO) and colleagues unveiled the quality of life substudy from the trial. As previously reported by TCTMD, EXCEL randomized 948 patients with left main coronary artery disease to PCI with Xience and 957 patients to CABG. The primary endpoint—a composite that included all-cause mortality, stroke, or MI at 3 years—occurred in 15.4% of patients treated with PCI and 14.7% of patients treated with CABG (P = 0.02 for noninferiority).
For the QoL study, 1788 of the original 1905 patients participated in QoL assessments at baseline, 1, 12, and 36 months using the Seattle Angina Questionnaire, the SF-12, the Rose Dyspnea Scale, the Patient Health Questionnaire-8, and the EQ-5D.
As Baron showed here, PCI was, not surprisingly, associated with better QoL than CABG, but these differences were largely attenuated by 12 months and no longer significant at 36 months.
"This is a longer journey with CABG," Baron observed during a morning press conference.
Roxana Mehran, MD (Icahn School of Medicine at Mount Sinai, New York, NY), who chaired the press conference, had an additional point to make: "Guidelines are usually driven by clinical endpoints not quality of life, but hopefully we can change that."
Read the full story here.
John Spertus emphasized that @US_FDA will start to recognize QOL scales like SAQ for measuring device performance. #TCTDenver pic.twitter.com/YIimKK30ct

— SCAI Now (@SCAI) October 30, 2017
11:00 CULPRIT-SHOCK
"Keep it simple. That's the take-home message from our study."
That's how Holger Thiele, MD (Heart Center Leipzig, Germany), concluded his remarks to the press earlier today after presenting the CULPRIT-SHOCK results. This was the prospective randomized, multicenter trial of 706 patients with multivessel disease and cardiogenic shock randomized to multivessel PCI, or culprit lesions PCI, with the option to stage subsequent procedures. Of note, half of patients enrolled in the trial had required resuscitation prior to randomization and 28% received some form of hemodynamic support.
As Thiele showed during the opening late-breaking clinical trial session, 30-day mortality or severe renal failure requiring dialysis—the trial's primary endpoint—occurred more frequently in patients randomized to immediate multivessel PCI, compared with culprit lesion PCI (55.4% vs 45.9%, P = 0.01). Deaths were also higher in the multivessel PCI group: 51.5% vs 43.3%, P = 0.03), but not for renal replacement.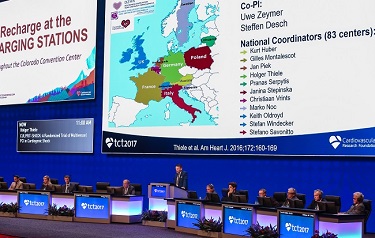 No significant differences were seen in terms of time to hemodynamic stabilization, length of intensive care unit stay, or catecholamine therapy needs or duration.
"This seems like a clear case where less is more," David Cohen, MD (Saint Luke's Mid America Heart Institute, Kansas City, MO) observed.
"This is a landmark study and absolutely will change practice in the US," Cindy Grines, MD (Northwell Health, Northshore University Hospital, Manhasset, NY), told the press. Many cardiologists "jumped on the bandwagon" and switched practice to favor multivessel revascularization following trials that studied a mixed AMI population. "Right now I would say we should take a big step back and only treat the culprit lesion," in cardiogenic shock patients, she said.
Read the full story here.
As @BillONeillMD said, 1 thing CULPRIT-SHOCK showed was w ~50% mortality in cardiogenic shock patients, we need better treatments #TCTDENVER https://t.co/etWqb1qxks

— Angioplasty.Org (@angioplastyorg) October 30, 2017
9:00 AM: Memory Lane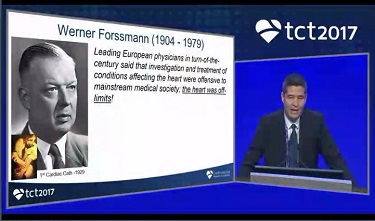 A special opening session kicked things off at TCT 2017 to commemorate 40 years of PCI and 15 years of TAVR, with introductory lectures by Juan Granada, MD (Cardiovascular Research Foundation, New York, NY) and Phillipe Gaspard, MD (Clinique du Tonkin, Lyon, France).
The rest of the session became a bit of a meander down memory lane by many of the faces we've been seeing for years at this meeting, sharing memories of Andreas Gruentzig and Julio Palmaz.
Past, present, and future of #InterventionalCardiology, TCT and CRF by @jgranadacrf#TCTDenver pic.twitter.com/9u0elqGTKU

— William Suh, MD (@willsuh76) October 30, 2017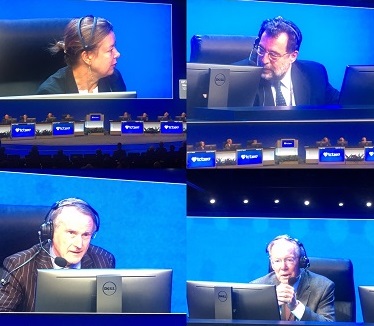 The TAVR anniversary got a little less play here, in part because the live-case prior nibbled into the session, but also because Alain Cribier, invited to attend, could not travel for 'health reasons'—news that produced a bit of a ripple through the main arena. But Hélène Eltchaninof, MD (Hospital Charles Nicolle, Rouen, France), who was also part of that initial case, gave a bit of an overview of the first patient treated, a 57-year-old in whom surgery was not an option.
Fantastic to see this! Historical review of #PCI #inspirational #CAD #Cardiology #TCTDenver @TCTMD @PCRonline @crfheart @SCAI https://t.co/QUs4Zw0jBg

— Dr Sam Raza (@SamRRazaMD) October 30, 2017

Shelley Wood is Managing Editor of TCTMD and the Editorial Director at CRF. She did her undergraduate degree at McGill…
Read Full Bio