Lorundrostat, an Aldosterone Synthase Inhibitor, Passes Phase II Hurdle
The novel antihypertensive safely lowered BP, with greater effects in patients with obesity. A phase III trial is being planned.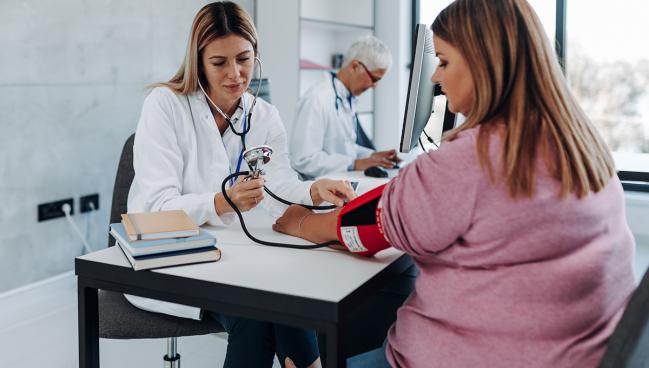 Lorundrostat, a novel aldosterone synthase inhibitor, reduces blood pressure among patients with uncontrolled hypertension on at least two drugs, according to results from the phase II Target-HTN trial.
The two highest doses provided reductions in automated office systolic BP from baseline to week 8 (primary endpoint) that were roughly 8- to 10-mm Hg greater than what was seen with placebo, Luke Laffin, MD (Cleveland Clinic, OH), reported over the weekend at the American Heart Association's Hypertension Scientific Sessions in Boston, MA. Reductions were even greater among patients with obesity and those also taking a thiazide-type diuretic.
There were few safety events, with three patients (2%) developing hypotension and six (3.6%) having serum potassium levels above 6.0 mmol/L; all of the latter cases resolved by adjusting the dose or stopping treatment. No patients had cortisol insufficiency, and none died.
The results, published simultaneously online in JAMA, "will require further confirmatory studies," Laffin and his colleagues write.
The company developing lorundrostat, Mineralys Therapeutics, has another phase II trial—ADVANCE-HTN—already ongoing. Unlike the participants in Target-HTN, who could be taking any combination of two or more antihypertensives at baseline, those in ADVANCE-HTN will receive lorundrostat or placebo on top of standardized background therapy.
There is also a phase III trial in the planning stages, Laffin told TCTMD. And the outlook is positive, he said: "I think that this is a promising new class of drugs, not only for hypertension, where there's a need for innovation, but it could also be used in things like heart failure and chronic kidney disease, as well, because we know that aldosterone has a negative impact on the vasculature and a negative impact on the kidneys. So the sky's the limit with this new class of medicines."
A Need for New Antihypertensives
The global prevalence of hypertension, along with obesity, continues to rise, while at the same time, BP control rates have been slipping, even before the COVID-19 pandemic. "We know that what we're doing isn't working right now and we may need to take other approaches," Laffin said.
That potentially includes novel antihypertensive agents, an area that hasn't seen any new drug classes approved in nearly 15 years. "So I think there is clearly a role for newer, potentially more effective medications," Laffin said.
Lorundrostat belongs to a class of agents called aldosterone synthase inhibitors, which aim to mitigate the adverse BP effects of excess aldosterone production. Other medications that impact aldosterone production—the mineralocorticoid receptor antagonists (MRAs)—block the receptor, whereas aldosterone synthase inhibitors, including the investigational baxdrostat (AstraZeneca), stop production further upstream. This different mechanism of action is expected to prevent some of the antiandrogenic or progestogenic-related side effects seen with MRAs, including gynecomastia and erectile dysfunction, Laffin said.
Target-HTN, conducted at 43 US sites, was a phase II trial designed to inform dose selection for future studies. Investigators enrolled adults with uncontrolled hypertension (automated office systolic BP ≥ 130 mm Hg) who were taking at least two antihypertensive agents at maximally tolerated doses. There was an initial cohort of 163 patients who had suppressed plasma renin activity (1.0 ng/mL/h or less) and elevated plasma aldosterone (1.0 ng/dL or more). They were randomized to placebo or to one of five lorundrostat doses (12.5, 50, or 100 mg once daily or 12.5 or 25 mg twice daily).
An additional 37 patients without suppressed plasma renin activity were included in an exploratory manner; they were randomized 1:6 to placebo of lorundrostat 100 mg once daily.
Among the 200 total participants, the mean age was 65.7, and 60% were women. Nearly half had a body mass index (BMI) of at least 30 kg/m2, and 42% were taking at least three antihypertensives at baseline. The mean BP at baseline was 142/82 mm Hg for the cohort with suppressed plasma renin activity and 139/79 for the other cohort.
After 8 weeks of treatment in the cohort with suppressed plasma renin activity, least-squares mean reductions in automated office systolic BP from baseline were 11.9, 13.7, and 5.6 mm Hg with the 100-mg, 50-mg, and 12.5-mg once-daily doses of lorundrostat, respectively. Those figures were 11.1 and 11.3 mm Hg for the 25-mg and 12.5-mg twice-daily doses. Placebo-treated patients had a mean reduction of 4.1 mm Hg.
The doses that showed significant placebo-corrected drops in BP were the 50- and 100-mg doses (by 9.6 and 7.8 mm Hg, respectively).
Among those without suppressed plasma renin activity, lorundrostat 100 mg once daily reduced mean systolic BP by 11.4. mm Hg, similar to what was seen with that dose in the other cohort.
Exploratory subgroup analyses suggested that there were greater benefits of lorundrostat among patients with obesity and in those taking thiazide-type diuretics as part of their background therapy.
In terms of safety, Laffin said the investigators anticipated that lorundrostat would raise potassium but that it didn't increase very much. Adverse events were in line with what would be expected, he said, noting that a small decrease in renal function was observed, similar to what is seen with any medications that impact blood flow to the kidney.
A 'New Dawn'
Commenting for TCTMD, Wanpen Vongpatanasin, MD (UT Southwestern Medical Center, Dallas, TX), clinical chair of the Hypertension conference, said she is "generally happy" about this emerging new class of drugs in the context of declining BP control rates. "We need all the tools we can get to treat hypertension to the target," said Vongpatanasin.
The BP-lowering effect of lorundrostat appeared to be comparable to—and perhaps slightly better than—that of the MRAs, she said. And the safety picture, without excessive hyperkalemia, "is encouraging," she added.
Taken together, the results are supportive of moving lorundrostat into phase III, Vongpatanasin said.
Discussing the results in an accompanying JAMA editorial, Bryan Williams, MD (University College London, England), says, "More than 70 years after the first isolation of electrocortin, there is a new dawn for therapies targeting aldosterone. There is now real potential to provide better-targeted treatment for patients in whom aldosterone excess is known to contribute to their clinical condition and influence their clinical outcome, notably those with difficult-to-control hypertension, obesity, heart failure, chronic kidney disease, and the many with yet-to-be-diagnosed primary aldosteronism."

Todd Neale is the Associate News Editor for TCTMD and a Senior Medical Journalist. He got his start in journalism at …
Read Full Bio
Disclosures
The trial was funded by Mineralys Therapeutics.
Laffin reports that the Cleveland Clinic, his employer, was a study site for the Target-HTN trial and that C5Research, the academic research organization of the Cleveland Clinic, receives payment for services related to other Mineralys clinical trials. He also reports personal fees from Medtronic, Lilly, and Crispr Therapeutics, grants from AstraZeneca, and stock options from LucidAct Health and Gordy Health.
Vongpatanasin reports no relevant conflicts of interest.
Williams reports being the unremunerated chair of the steering committee designing a phase III trial of the aldosterone synthase inhibitor baxdrostat for AstraZeneca.