Mavacamten Slashes Need for Septal Reduction in Obstructive HCM: VALOR-HCM
The novel cardiac myosin inhibitor could be the missing piece for targeted HCM treatment, several physicians say.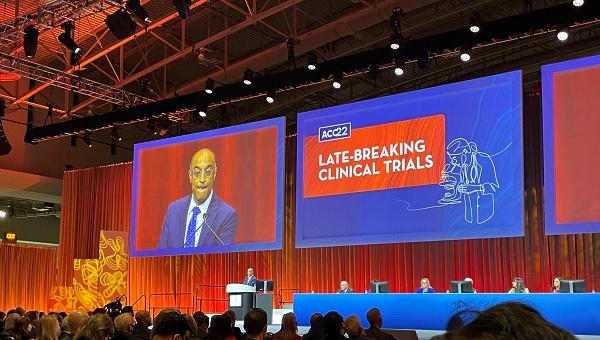 WASHINGTON, DC (UPDATED)—Among patients with obstructive hypertrophic cardiomyopathy (HCM) who are candidates for surgical or interventional septal reduction therapy (SRT) despite being on maximally tolerated medical therapy, adding the novel, targeted myosin-inhibitor drug (Bristol Myers Squibb) for 16 weeks significantly reduces the need for such therapy compared with placebo, according to results of the VALOR-HCM trial.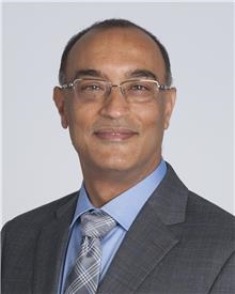 The results, presented today at the American College of Cardiology (ACC) 2022 Scientific Session, bolster those seen in the EXPLORER-HCM trial, which showed the potential of adjunctive mavacamten in patients with obstructive HCM to increase peak exercise capacity and improve postexercise left ventricular outflow tract (LVOT) gradient, peak VO2, and NYHA class through 30 weeks. Additional data have shown the drug's ability to greatly improve quality of life through 38 weeks.
Unlike in EXPLORER-HCM, the 112 patients randomized to mavacamten or placebo in VALOR-HCM were "maxed out on medical treatment and their backs were against the wall to a point where the next stop was surgery or interventional procedure," Milind Y. Desai, MD, MBA (Cleveland Clinic, OH), who presented the findings, told TCTMD.
"These findings certainly add a lot to . . . the mavacamten story," he continued. "VALOR adds to the fact that in this group of highly symptomatic patients, at least for the duration of the trial, . . . it can give an alternative option to patients to delay surgery, defer surgery, or in some cases completely avoid surgery."
This is a remarkable study that, if confirmed in larger ones, would change the lives for potentially thousands of patients in the US alone. Paul Sorajja
Until now, "we have been repurposing drugs that we have for other causes," like beta-blockers, calcium channel blockers, and disopyramide, to treat obstructive HCM, said Michael Papadakis, MD (St George's, University of London, England), who was not involved with the study. Mavacamten, which decreases the number of myosin-actin cross-bridges and reduces excessive contractility, was specifically developed for patients with HCM and given the designation of breakthrough therapy by the US Food and Drug Administration.
"It was about time that we got something new in our armamentarium, and we look forward for it to be approved as a medication and hopefully start using it with our patients," Papadakis told TCTMD.
Also commenting on the findings for TCTMD, Paul Sorajja, MD (Minneapolis Heart Institute, MN), told TCTMD in an email that "this is a remarkable study that, if confirmed in larger ones, would change the lives for potentially thousands of patients in the US alone. It is noteworthy that the data in VALOR-HCM are internally consistent, with benefits for patients seen objectively and subjectively, across laboratory findings, echo data, and clinical symptom improvement."
The FDA will make a decision on mavacamten this month, the fast-tracked drug has a Prescription Drug User Fee Amendment (PDUFA) date of April 28, 2022.
Most No Longer SRT Eligible
For the study, Desai and colleagues included 112 patients (mean age 60 years; about half women; 85% white) with obstructive HCM—with maximum septal wall thickness on echocardiography ≥ 15 mm or ≥ 13 mm with family history—who continued to have severe symptoms (92.9% NYHA class III or higher) despite maximally tolerated medical therapy (46% on beta-blockers; 20% on disopyramide). All were enrolled at one of 19 high-volume US centers and had been referred for SRT (87% to myectomy) within the prior 12 months and were actively considering scheduling the procedure.
Notably, for the 56 patients who were randomized to receive mavacamten, dosing started at 5 mg once daily and was either up or down titrated at 8 and 12 weeks based on core lab-measured LVEF, LVOT gradient at rest, and Valsalva provocation. "This is how we would be managing patients in real life," Desai explained.
After 16 weeks, only 17.9% of patients treated with mavacamten remained guideline-eligible to receive SRT (defined as LVOT gradient of ≥ 50 mm Hg and NYHA class III-IV) compared with 76.8% of the placebo arm (primary endpoint; P < 0.0001).
Additionally, each of the secondary endpoints of postexercise LVOT, NYHA class, Kansas City Cardiomyopathy Questionnaire (KCCQ) score, and NT-proBNP and troponin levels were all improved with mavacamten versus placebo (all P < 0.001). Specifically, 63% and 27% of patients in the study, respectively, saw improvements by one and two NYHA classes.
There were no severe adverse events noted with mavacamten, with only two patients needing to temporarily stop the drug due to EF falling below 50%. Desai noted that there were no permanent discontinuations needed due to EF falling below 30%. A handful of patients in the study arm reported nausea and a rash.
Desai said it was meaningful that only a total of four patients from the entire study—two from each group—opted to proceed with SRT. "The point here is: if given a choice, patients, at least in this study, were more likely to choose medical therapy over an invasive procedure," he said.
If performed in an experienced center, SRT is a "very safe and excellent procedure," he acknowledged. However, average US mortality with SRT is 5.9% and can range up to 16% at low-volume centers. With as many as 20 million HCM patients in the world, Desai argued that "it is an issue of superior outcomes and access to those superior outcomes. And there's just not enough centers."
In discussion following the presentation of the VALOR-HCM results, Lynne Warner Stevenson, MD (Vanderbilt University Medical Center, Nashville, TN), called the design of the study "brave."
"You picked a subjective endpoint, but you took the risk and you jumped to the top of the pyramid because you answered in one step the question of 'What does this actually mean to the patient?" which often takes much longer," she said. "Fortunately, it is validated by the objective evaluation of the LVOT gradient, as well as the BNP, because demonstrating they no longer would've met criteria for SRT."
Although, she continued, 16 weeks was "pretty quick" to reach their "ambitious" endpoint given existing concerns about a new medication that decreases contractility. She asked: should clinicians use as similar uptitration schedule once mavacamten is available for widespread use? 
"Like anything new that comes to the market, there has to be the appropriate amount of trepidation, the appropriate amount of judicious observation of abnormal signals that needs to happen," Desai responded. Because they studied a clinically relevant endpoint, he said, after the drug is approved, patients would need to be monitored serially to assess ejection fraction as well as clinical LVOT measurements.
Similarly, Michael Mack, MD (Baylor Scott & White Heart Hospital, Plano, TX), also praised the authors for an "incredibly impressive trial" during the discussion. Long-term, he asked, whether macavamten should be thought of as "background therapy" before undergoing any intervention "now that we have surgery, alcohol septal ablation, and maybe now even radio frequency ablation from China."
Desai said it "needs to be tested in a trial fashion, but the answer is yes. Everybody should be offered background therapy before you offer them an intervention."
'Real-world Scenario'
The value the VALOR-HCM trial brings above what has been previously published is that it presents more of a "real-world scenario" in terms of the kind of patients included, as well as how mavacamten was dosed, Papadakis said. Specifically, EXPLORER-HCM excluded patients on disopyramide due to concerns about drug-drug interactions affecting QT interval.
"What that means in practice is that, if it gets approved, that I will have patients in my clinic on beta-blockers in combination with disopyramide potentially," he said. "And then I can add mavacamten on top of that if they remain symptomatic and monitor the result. And if they got a very good result, that potentially one could contemplate leaving them on mavacamten and gradually trying to withdraw the rest of the treatment."
It's going to be difficult, obviously, to investigate whether it can actually change the course of the disease, even in people who don't have LVOT obstruction and in younger individuals. Michael Papadakis
Desai acknowledged a couple limitations of the study in that, like EXPLORER-HCM, the VALOR-HCM trial was conducted mostly in white patients who were treated at established centers, although he did point to the fact that women and men were equally represented.
"Unfortunately, this reflects the reality of practice in the USA," he said. "But HCM, as best we can tell, is an equal-opportunity offender based on ethnicity. Time will tell, and expansion into a broader group of patients will shed future light."
Papadakis agreed that future research should look at how mavacamten works in other racial/ethnic groups, especially since Black patients tend to "exhibit greater hypertrophy," for example. But he acknowledged the difficulty of performing trials in inherited conditions like HCM as opposed to heart failure or CAD, "because you need to select [patients] carefully and the condition is obviously not as frequent. It's also very difficult to test hard outcomes."
Once mavacamten is used in clinical practice, "we will learn more from keeping those patients on registries and trying to collect data around the world," Papadakis added. "We can't afford to miss that opportunity because obviously there's a need to collect more data. We need to assess things like mortality. . . . It's going to be difficult, obviously, to investigate whether it can actually change the course of the disease, even in people who don't have LVOT obstruction and in younger individuals. That would obviously revolutionize treatment of hypertrophic cardiomyopathy."
Desai noted that 95% of the patients in VALOR-HCM have consented be followed for about 128 weeks.
For now, he said, "this is a clarion call, as far as I'm concerned, for the community to understand and improve our diagnostic capabilities in the context of HCM and understand the therapeutic options available," he said. "And in the context of something like mavacamten, obviously it is a new drug, so like anything new, there will be some trepidation, but what it will do is elevate the confidence of various folks to be able to prescribe this medication.

Yael L. Maxwell is Senior Medical Journalist for TCTMD and Section Editor of TCTMD's Fellows Forum. She served as the inaugural…
Read Full Bio
Sources
Desai MY. Myosin inhibition to defer surgical myectomy or alcohol septal ablation in obstructive hypertrophic cardiomyopathy: results of the VALOR-HCM Trial. Presented at: ACC 2022. April 2, 2022. Washington, DC.
Disclosures
The VALOR-HCM study was funded by MyoKardia, a wholly owned subsidiary of Bristol Myers Squibb.
Desai reports serving as a consultant for Bristol Myers Squibb and Medtronic.
Papadakis reports serving as a consultant for Bristol Myers Squibb for projects related to HCM (not mavacamten) and receiving research grants and collaborating closely with the charitable organization Cardiac Risk in the Young, which supports cardiac screening of young individuals.
Sorajja reports no relevant conflicts of interest.