#MedBikini vs JVS: Paper Spurs Debate Over Sexism, Social Media in Medicine
A study seeking to gauge "unprofessional" conduct among vascular surgeons prompted #SoMe backlash, and a retraction.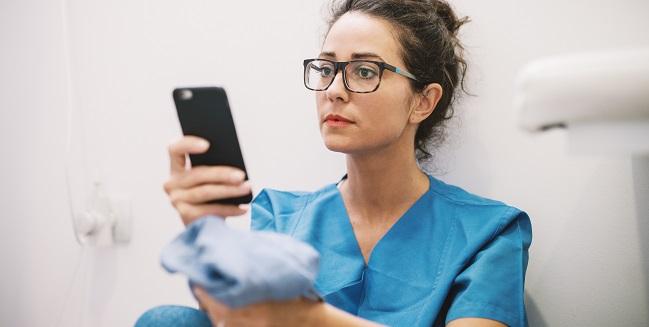 (UPDATED) What should be considered "unprofessional" content for physicians posting about their private lives on social media?
A study that set out to quantify professionalism among vascular surgeons prompted an online rebellion and the paper's retraction. Still, the #MedBikini backlash continues, with advocates demanding changes to entrenched, conservative views about what it means to "look like" a physician and raising parallel questions about not only burnout but also powder-keg sociopolitical themes that intersect with human health.
The paper zeroes in on "inappropriate attire," which the authors define as "pictures in underwear, provocative Halloween costumes, and provocative posing in bikinis/swimwear." Other "potentially" problematic posts, according to lead author Scott Hardouin, MD (Boston University School of Medicine, MA), and colleagues, were pictures of the doctors holding alcohol and airing controversial political, religious, or social opinions. The latter, they write, were "largely limited to comments centered around specific stances on abortion and gun control."
Speaking with TCTMD, Toniya Singh, MBBS (St. Louis Heart & Vascular, MO), chair of the American College of Cardiology's Women in Cardiology Council, described these criteria as "nebulous." A person could be holding alcohol when photographed at a work-related event, she pointed out. And in terms of clothing, "what is inappropriate to one person may not be inappropriate to another person."
Essentially what they're asking, Singh observed, is for "physicians to censor themselves from just doing things that normal people get to do."
The study was published online late last year by the Journal of Vascular Surgery (JVS) but went viral after it appeared in the journal's August 2020 issue.
Londyn Robinson, who attends the University of Minnesota Medical School, takes credit for creating the #MedBikini hashtag that spread across the internet from Twitter to other platforms like Instagram and Facebook. One week after her July 23 tweet, a Google search shows more than 350,000 hits for the hashtag—most often women, but sometimes men, are posting photos of themselves poolside or otherwise enjoying life away from healthcare.
At least in some cases, she says, med school students and residents have been targeted by their programs for taking part in this online activism. "It's not irony that someone posting in swimwear to protest . . . one of the most misogynistic & unethical articles is scoffed at. It is peak patriarchy," she writes.
Most salient among the responses to the JVS paper was pushback on sexist standards for attire, with notable contributions from cardiologists.
"Stop the misogyny," Martha Gulati, MD (University of Arizona, Phoenix), urged online.
Erin Michos, MD (Johns Hopkins University, Baltimore, MD), tweeted: "I'm here in support of my female vascular surgery colleagues because (gasp) #WomenInCardiology also wear bikinis on family vacations. Women doctors are like real people. Having some fun in our free time does not make us unprofessional. Wellness makes us better doctors."
Sameer Bansilal, MD (Icahn School of Medicine at Mount Sinai, New York, NY), gave his two cents, calling for more vascular surgeons to get on social media and for the American Medical Association to "relook at what constitutes unprofessional behavior. Stop muddling work & life in the name of 'higher standard.'"
Others also questioned why those in the medical profession should be neutral on issues so pertinent to public health.
The calling out of "controversial [viewpoints] really got me," said Singh. "We live in a free country and we're allowed to have opinions. And controversial based on whose opinion?" This study could have unexpected ramifications if employers or nomination committees look to it as a standard of what behavior is acceptable and "use that to cause trouble for people," she commented.
Kusum Lata, MD (Sutter Health, Stockton, CA), told TCTMD that as an interventional cardiologist she often encounters sexism in her work but is still surprised to see this study make it to print. "I was shocked, actually," she said. "Promoting, publishing, and prioritizing [this research] is making it more evident how much bias [there is]."
The sexist imagery is what will stick in people's minds, though the other policing of online activities also is a problem, Lata observed. Appearance is being "given precedence over education, commitment, dedication," which she said are much better attributes than lifestyle and clothing. 
To improve the situation, Lata advised that first the root causes must be identified: "It's hard to find a cure when don't know the diseases we have." Also key will be ensuring that open-minded people of underrepresented groups are in leadership roles, where their strengths can be recognized by positive attributes like being "brave" or a "risk-taker" rather than "intimidating" or "bossy," Lata said, adding that this will pave the way for young physicians entering medicine.
Authors Respond
In their paper, Hardouin et al say their intent was to see whether early-career vascular surgeons had an online presence that might hurt job prospects and reputation among peers. But they also caution that patients might be put off by too many revealing details.
To this point, some physicians on Twitter had a very different take on how shared humanity can affect the doctor-patient relationship.
Concerning to many is the study's methodology—the researchers compiled a list of graduating vascular surgery trainees for 2016-2018 by using the Association of Program Directors in Vascular Surgery (APDVS) directory, created "neutral" accounts to gauge what these individuals made public, and had three men in their 20s and 30s "screen" the content of the trainees' social media.
This content was judged by two standards, they write. "Clearly unprofessional content included: Health Insurance Portability and Accountability Act violations, intoxicated appearance, unlawful behavior, possession of drugs or drug paraphernalia, and uncensored profanity or offensive comments about colleagues/work/patients." Only 3.8% of the vascular surgeons crossed this line. The less-egregious posts, seen on 25% of accounts, were considered "potentially unprofessional" and were most commonly related to holding alcohol or speaking political opinions.
The aforementioned concerns—and the discovery that the researchers didn't obtain approval from the APDVS to use their database—are what inspired the Journal of Vascular Surgery to retract the paper and issue an apology, its editors say.
Apologies also have come from several of the investigators themselves, including the paper's lone female co-author.
In reply to the mea culpa, Asif Qasim, MB BChir, PhD (King's College Hospital, London, England), was blunt: "The fundamental failures relate to the idea that professional behavior at work should be the same outside work. . . . It suggests you and others judge colleagues on this private behavior which is none of your concern."
Alik Farber, MD (Boston University School of Medicine), the paper's senior author, also tweeted about his regrets.
Researcher Jeffrey J. Siracuse, MD (Boston University School of Medicine), according to HuffPost, said in a Twitter thread that the intention of the paper had been "to empower surgeons to be aware and then personally decide" what to post online. But this isn't what happened, he acknowledged, noting that "we were wrong not to have considered the inherent gender bias and have certainly learned from this experience. . . . I am sorry that we made our young surgeons feel targeted and that we were judgmental."
Siracuse's account has since been deleted.