Most US Safety-Net Hospitals Don't Offer Coronary CT Angiography
This is a "call to action" to bring CCTA to more of these centers, which treat patients with the least resources, a researcher says.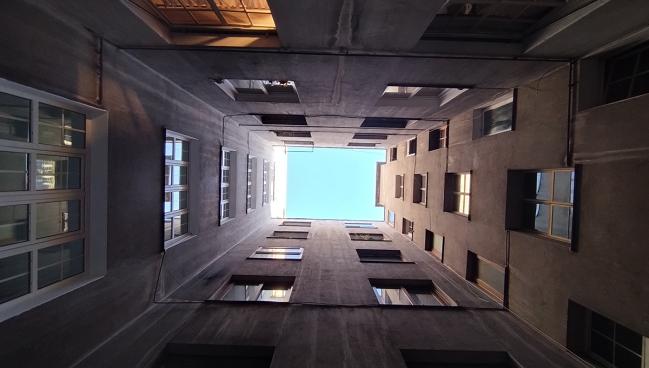 BOSTON, MA—Despite holding a prominent place for the evaluation of patients with acute or stable chest pain in the latest US guidelines, coronary CT angiography (CCTA) is not offered in most safety-net hospitals, which treat underserved Americans, researchers have found.
Of 391 such centers, only 46% offer the imaging modality, Jonah Delshad, DO, and Amgad Makaryus, MD (both from Nassau University Medical Center, East Meadow, NY), reported at the recent 2023 Society of Cardiovascular Computed Tomography (SCCT) meeting.
"We weren't surprised that it was less than half, but we thought it would actually be a bit lower," Delshad told TCTMD. "It's still saddening to see that it's less than half of the hospitals offering this."
The study is "call to action" to get CCTA in more of these centers, "which take care of the sickest of the sick with the least resources" and also tend to treat higher proportions of patients from racial/ethnic minority groups, Makaryus said in an interview. "This is going to need the support of the medical community, the regulatory community, and the insurance community . . . to actually make sure that we're able to provide this class 1A-indicated imaging modality for the assessment of our patients."
For Renée Bullock-Palmer, MD (Deborah Heart and Lung Center, Browns Mills, NJ), who practices in an underserved part of southern New Jersey, this "was an eye-opening study and one that was not terribly surprising."
Declining reimbursements for CCTA, as well as the expense of buying scanners and getting service lines up and running, present obstacles for safety-net hospitals—and indeed, all hospitals—looking to offer this imaging to their patients, she commented to TCTMD.
Although Bullock-Palmer, who is a member of the SCCT education committee, also indicated that the proportion of safety-net hospitals offering CCTA was perhaps higher than expected, she said the study still highlighted "that there's a lot more work to be done in this space." With more than half of centers not providing CCTA, "that means that for those patients who are presenting with chest pain, they don't even have that option to them," she said.
Smaller, Rural, Nonacademic Hospitals Fare Worse
Bolstered by trial evidence, the use CCTA received class 1A recommendations for both acute and stable chest pain in the 2021 US guidelines. Even so, many hospitals still do not have CCTA capabilities, and that might be a particular problem at safety-net hospitals, which "tend to suffer from increased healthcare disparities that makes the timely and appropriate diagnosis of cardiovascular diseases even more essential," Delshad and Makaryus write.
To assess nationwide availability, they identified safety-net hospitals—those that met criteria from the Lown Institute or were among the top 20% of centers based on dual-eligibility ratio (proportion of patient stay days eligible for both Medicare and Medicaid coverage)—and had their team call to confirm whether they offered CCTA.
We're just trying to get people to adopt this more and become more comfortable with the test, and hopefully get it out to more hospitals. Jonah Delshad
Availability of the imaging modality varied widely based on the size of the hospital, ranging from just 7.7% of centers with six to 49 beds up to 88.9% for those with 400-plus beds. CCTA also was more likely to be found in academic versus nonacademic centers (97% vs 41%) and those located in urban versus rural settings (57% vs 22%; P < 0.001 for all comparisons).
Makaryus pointed to several potential obstacles standing in the way of broader availability of CCTA at safety-net hospitals, including the expense of purchasing the equipment and maintaining the infrastructure needed to perform the scans; declining reimbursement of CCTA in recent years; lower availability of training and expertise in this type of imaging, not only in terms of physicians but also in terms of technologists and nurses, which influences accreditation; and the established referral patterns for cardiologists and other physicians.
To that last point, Makaryus said, "I think sometimes the lack of familiarity or the lack of comfort with CT plays a role in terms of referring patients for these imaging tests" versus others, like nuclear stress tests. He described himself as a multimodality cardiac imager, adding, "I think it's very important that we have cardiologists, radiologists, and physicians in general who are well versed in all the imaging modalities, because what I always tell my fellows and my residents in teaching is: it's always the appropriate test for the appropriate patient at the appropriate time."
Advocacy, Education, Training Needed
To start bringing CCTA to more centers, advocacy will be needed to make sure the modality is appreciated by regulators, payers, and others as a key part of the diagnostic armamentarium in cardiology, Makaryus said. Education of those who might not be aware of the prominent place CCTA has in the chest pain guidelines will be critical, too, he added.
We really need to make this modality available to everyone. Renée Bullock-Palmer
Moreover, Makaryus said, "we need to expand the training, not just for physicians but also for the other individuals involved in the actual performance of the study." Though fellowship programs expose trainees to CCTA, he noted, the depth of the training could be enhanced.
A big part of increasing adoption of CCTA will be establishing strong connections across disciplines involved in imaging, he indicated: "The hospitals where the cardiovascular CT program is very successful are those hospitals where the collaboration between the radiology team and the cardiology team is very solid."
By releasing this study, Delshad said, "we're just trying to get people to adopt this more and become more comfortable with the test, and hopefully get it out to more hospitals."
And Bullock-Palmer agreed with that goal. "We really need to make this modality available to everyone," she said.

Todd Neale is the Associate News Editor for TCTMD and a Senior Medical Journalist. He got his start in journalism at …
Read Full Bio
Sources
Delshad J, Makaryus AN. Less than half of safety-net hospitals across the US provide CCTA for the evaluation of cardiac patients. Presented at: SCCT 2023. July 29, 2023. Boston, MA.
Disclosures
Delshad and Makaryus report no relevant conflicts of interest.