My Five Takeaways From TCT 2022
Highlights from the Boston meeting for this cardiology fellow included simulation learning, attending a debate, and networking.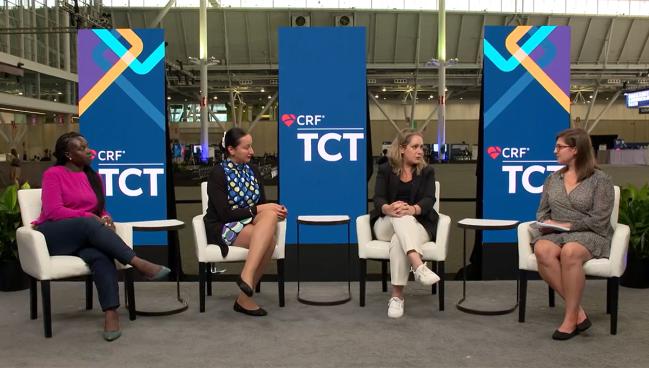 It's clear the cardiology community has begun to transition back from virtual to in-person conferences, and as a rising interventional cardiology fellow, I couldn't be more thrilled. Last month, I attended TCT 2022 for my first live conference since the pandemic began. Upon returning to Manhattan after my experience in Boston, it was clear that I learned not only plenty of new evidence but also gained many practical skills. Here are my top five takeaways from the meeting:
Simulation learning is the new "see one, do one, teach one"
In recent years, simulation-based training has emerged as a cornerstone in procedural education, with the goal of standardizing clinical training and improving patient safety. Many have compared the role of this training to models used in the aviation industry. In interventional cardiology–where technical proficiency is key for the management of high-acuity patients–simulation allows trainees to build these skills in a safe, closely monitored environment. It was no surprise to me, then, that TCT 2022 had a surplus of hands-on, interactive sessions aimed at simulating essential techniques such as IVUS, OCT, intracardiac echocardiography, and rotational atherectomy. One of my favorite experiences was using an all-in-one transseptal radiofrequency (RF) puncture and balloon system, an innovative device that is making its debut in structural heart & EP labs across the US.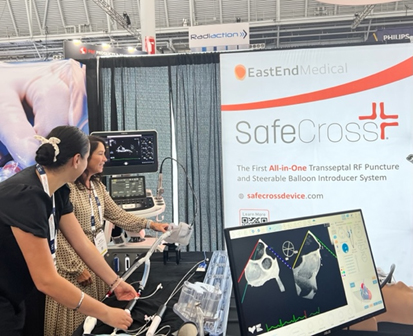 Seize the opportunities to network—even digitally
When I used to think of the traditional definition of networking, I'd imagine a prototypical "cocktail hour" before an academic meeting. In the period of social media and #CardioTwitter, however, the modes for networking have expanded, so that you can meet others and exchange ideas through digital platforms. During TCT 2022, it was remarkable to see how fellows, attendings, and researchers used Twitter to interface in a virtual exchange of ideas and a cross-institutional "meeting of the minds." It was the epitome of how medical media has become a powerful platform to stay in touch with professionals you meet at conferences.
Imaging and physiology guidance are the future of PCI in the era of ISCHEMIA
In the era of ISCHEMIA, physiologic testing has played an important role in when to pursue PCI in patients with stable CAD. After the release of the REVIVED-BCIS2 trial this past August, it remains to be seen whether physiologic testing such as iFR/FFR may play a greater role in these decisions, particularly in heart failure patients with extensive CAD.
In a fiery debate a TCT 2022's Coronary Theater, CHIP experts tackled the question: should intravascular imaging and/or physiologic testing be used in every coronary case?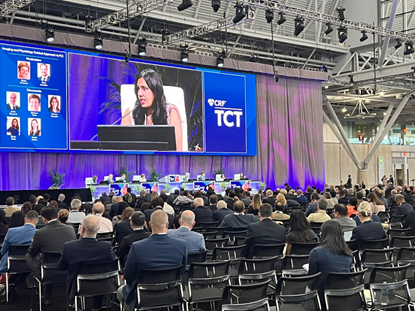 Concluding with an audience poll, the expert panel conceded that intravascular imaging has great potential to improve the safety and success of PCI. Margaret McEntegart, MD, PhD, added that "with imaging, you know when you've done enough" during a PCI, with regards to plaque debulking, post-dilation, and luminal gain.
As a fellow, I have been fascinated by how diagnostic tools such as FFR and IVUS can shape our management of patients with stable CAD. After attending this panel, I suspect that over time these techniques will become ubiquitous across cath labs and interventional cardiology training programs.
From calcium scores to high-sensitivity CRP, primary prevention needs to play a greater role in cardiology
In an impactful talk preceding his receipt of the TCT Career Achievement Award, Valentin Fuster, MD, PhD, noted that "everything happens before the age of 40," namely, that the mechanisms for atherosclerosis begin early in life and have a cumulative effect on the lifetime risk of CAD. The idea that atherosclerosis begins in adolescence underscores the need for primary prevention.
According to Reza Mohebi, MD, who also presented during the meeting, over the next four decades, we can anticipate a nearly 42% increase in the prevalence of ischemic heart disease in the US. The alarming burden of cardiovascular disease has spurred the development of noninvasive risk-assessment tools such as the coronary artery calcium score.
I have often used the calcium score to provide my own patients with a noninvasive, objective form of risk stratification. Furthermore, the calcium score can help us better identify patients who may benefit from preventative therapies such as statins, low-dose aspirin, and aggressive lifestyle modification.
In a powerful keynote speech, Clyde Yancy, MD, also highlighted that cardiovascular risk assessment may be particularly critical in women. During his talk, Yancy discussed how women are less likely to receive timely preventative care due to often unrecognized social determinants of health – such as socioeconomic status, race, and gender.
This session made me think about the women I take care of in clinic, many of whom are medically underinsured, non-English speakers, and have limited access to transportation. Thus, when my patient misses an appointment, it is often the culmination of many social challenges such as lack of childcare or ability to take time off from work. Yancy's session enforced the need for us as cardiologists to take a thorough social history, to better understand our patients' unique, often unstated healthcare challenges.
Mentorship is essential, and the time to diversify the mentorship pool is now
Recent research has underscored the need to expand the mentorship pool in cardiology, particularly in female trainees. Cardiologists have responded to this need by creating platforms such as Women As One. As a New York American College of Cardiology (ACC) Women in Cardiology (WIC) mentor and aspiring medical educator, I was thrilled to speak about this topic during an all-star female panel for TCTMD's Fellows Forum, led by Yael Maxwell. We discussed the role of an effective mentor in medical training, the evolving landscape for women in cardiology, and the need to expand the mentorship pool within the field.
As we continue the conversation on a larger scale, I believe we will make strides toward fostering greater diversity, equity, and innovation within the cardiology community.

Navjot Kaur Sobti, MD, is a third-year general cardiology fellow at NewYork-Presbyterian/Weill Cornell Medical Center (New York, NY), where she…
Read Full Bio