Myocarditis, Pericarditis Rare After COVID-19 Vaccination: EMR Data
The incidence is slightly higher than previously reported by the CDC, but investigators say the risks remain extremely small.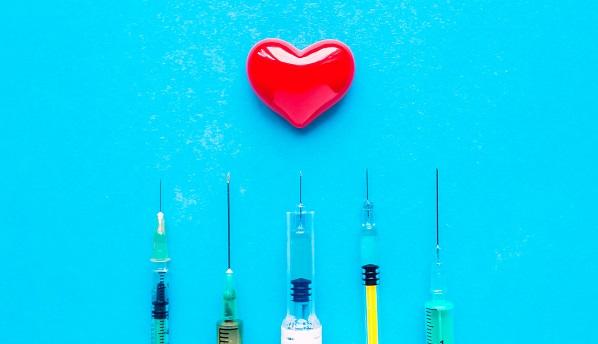 Electronic medical records (EMRs) obtained from 40 US hospitals are pointing to higher than previously reported risks of myocarditis and pericarditis following vaccination for COVID-19. Still, researchers say, the vaccines are safe and effective.
Among 2,000,287 people receiving at least one COVID-19 shot, there were 20 documented case of myocarditis, or 1.0 case per 100,000 vaccinations. Similarly, there were 37 cases of pericarditis, or 1.8 cases per 100,000 vaccinations.
George Diaz, MD (Providence Regional Medical Center, Everett, WA), who led the new analysis, said that while the number of vaccine-related cases seen in the EMRs is higher than what had been reported by the Centers for Disease Control and Prevention (CDC), myocarditis and pericarditis remain rare.
"[With] our findings, although they showed a little bit of an increased risk of the disease compared with the CDC, the reassuring part is that if you got myocarditis or pericarditis, it was a short-lived syndrome and most people recovered," Diaz told TCTMD. "I would hope that physicians can have a discussion with their patients and really reassure them that these are safe and effective vaccines."
To put the hazard in perspective, he noted that the risk of being struck by lightning is roughly one in 15,000. "So [myocarditis] is almost ten times rarer," said Diaz. "If people are worried about these adverse effects after vaccination, then they shouldn't be stepping outside their house because of the risk of being struck by lightning."
Myocarditis Occurs Earlier, Pericarditis Later
Several reports to date have shown a higher-than-expected rate of myocarditis or pericarditis following SARS-CoV-2 vaccination, particularly with the mRNA-based vaccines from Pfizer/BioNTech and Moderna. In June, the CDC, based on observational data from the US Food and Drug Administration's Vaccine Adverse Event Reporting System (VAERS) and Vaccine Safety Datalink, confirmed an association between COVID-19 mRNA vaccines and myocarditis/pericarditis, particularly in young males, a few days after receiving the second dose.
The overall incidence of myocarditis, at that time, was estimated to be 4.8 cases per 1,000,000 vaccinations. The CDC, along with the US Department of Health and Human Services and a wealth of professional societies, issued a statement in late June stressing that the vaccines remain safe and that the benefits far exceed the small risk to the heart.
To TCTMD, Diaz said they began their study before the CDC data were known. At that time, only individual case reports were available, and the CDC had not yet made announcements about the potential risks. Locally, Diaz and colleagues had observed an increase in cases of myocarditis after vaccination, which led them to analyze their database, one that included 40 hospitals that are part of the Providence healthcare system in Washington, Oregon, Montana, and Los Angeles County in California.
With myocarditis, 11 cases occurred following the Moderna vaccine and nine cases occurred in patients who received the Pfizer/BioNTech vaccine. For those who developed pericarditis, 23 patients received Pfizer/BioNTech, 12 received Moderna, and two received the Janssen/Johnson & Johnson vaccine.  
Compared with pericarditis cases, myocarditis occurred earlier after vaccination (median 3.5 vs 20 days) and in younger subjects (mean age 36 vs 59 years). Both myocarditis and pericarditis occurred mostly in male patients (75% and 73%, respectively).
If people are worried about these adverse effects after vaccination, then they shouldn't be stepping outside their house because of the risk of being struck by lightning. George Diaz
For the 20 patients with myocarditis, 16 cases occurred after receiving the second dose. In total, 19 were admitted to hospital and all were discharged after a median of 2 days. For the four patients who developed myocarditis after a first dose, two went on to have a second vaccination without a worsening of symptoms. A little more than 3 weeks after symptom onset, 13 patients had symptom resolution while seven were improving.
Among the 37 individuals with pericarditis, 15 cases occurred after the first vaccination and 22 after the second. In total, 13 of these patients were admitted to hospital and none to the ICU. At 28 days follow-up, seven patients had no symptoms and 23 were improving.
While the incidence was higher than previously reported by the CDC, Diaz said that might be the result of actively searching for cases in the EMRs as opposed to voluntary reporting in VAERS. Additionally, one of the strengths of their data is that researchers were able to tease out myocarditis and pericarditis separately based on the patient charts, something that isn't always possible in adverse event reporting.
"They're different syndromes," said Diaz. "Myocarditis occurs relatively quickly after vaccination. Pericarditis, which appears to be more common, looks to be a syndrome mostly affecting older people, and later after vaccination."
Regardless, Diaz stressed that both myocarditis and pericarditis remain rare side effects, noting that cases can infrequently occur after a number of other vaccines, such as for smallpox. "We're not sure what's exactly being triggered, but thankfully it appears to be short-lived and generally resolves and people get better," he said.    

Michael O'Riordan is the Associate Managing Editor for TCTMD and a Senior Journalist. He completed his undergraduate degrees at Queen's…
Read Full Bio
Disclosures
Diaz reports clinical trial research support from Gilead Sciences, Regeneron, Roche, Boehringer Ingelheim, and Edesa Biotech and scientific advisory board membership for Safeology.