More Evidence Links Myocarditis to mRNA COVID-19 Vaccines
The benefits are thought to outweigh the risks, but the data still "emphasize the need for us to be vigilant," one expert says.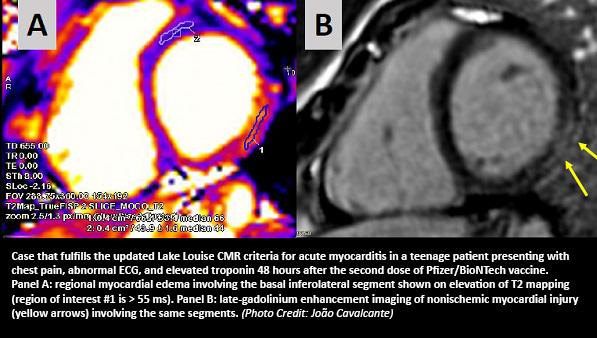 Two new case series published Tuesday in JAMA Cardiology support a temporal link between second doses of the mRNA-based COVID-19 vaccines and the development of acute myocarditis within 4 to 5 days.
While the consensus remains that vaccine benefits outweigh the risks, more experts are calling for vigilance and some are suggesting it may be prudent to delay the second dose for young people.
Similar to prior studies, the reports show that affected patients tend to be young and male; to present with chest pain, abnormal ECG findings, and elevated troponins; to have findings on cardiovascular magnetic resonance (CMR) imaging consistent with acute myocarditis; and to have a relatively mild clinical course. No alternative explanations for the observed myocarditis were found.
A causal relationship has not yet been established between the mRNA vaccines and myocarditis, though advisors to the US Centers for Disease Control and Prevention (CDC) concluded last week that there is a "likely association."
Han Kim, MD (Duke Cardiovascular Magnetic Resonance Center, Durham, NC), lead author of one of the new case series, said the possibility of a causal link is strengthened by the timing of the myocarditis, which occurred no later than 5 days after vaccination in both studies. If it were due to chance, myocarditis would be just as likely 30 days after getting the shot as it would be days after immunization, he noted.
It's important for physicians to realize that this is a possible side effect of COVID-19 vaccination so they can treat it appropriately, but they should also recognize that it appears to be a rare occurrence when considering how many people have received the shots, Kim told TCTMD. In addition, it has to be placed into the context of the more than 600,000 Americans who have died from COVID-19 itself, he added.
Thus, the risk of myocarditis should not be a major discouraging factor when it comes to COVID-19 vaccination, Kim stressed. "We are currently living in a pandemic, and the most effective way of limiting infection and transmission of the virus is the COVID-19 vaccinations. The vaccines have proven themselves to be quite safe. That's not to say that complications from vaccinations are not possible; however, in the case of myocarditis, the symptoms and consequences are generally self-limited within a short window."
The Cases
Kim et al provided information on four patients who developed acute myocarditis 1 to 5 days after receiving a second dose of either the Moderna of Pfizer/BioNTech vaccine (two patients each). All were referred for CMR imaging at Duke University Medical Center and were included in a prospective outcomes registry.
Three of the patients were men between the ages of 23 and 36, and the fourth was a 70-year-old woman.
All presented with severe chest pain, abnormal ECG findings, and elevated troponins; testing for COVID-19 was negative in the three patients who received it. CMR findings were typical for myocarditis and included regional dysfunction, late gadolinium enhancement, and elevated native T1 and T2.
That's not to say that complications from vaccinations are not possible; however, in the case of myocarditis, the symptoms and consequences are generally self-limited within a short window. Han Kim
The patients' clinical courses were "uneventful," with no arrhythmias or heart failure developing. Conservative treatment included colchicine in three patients, nonsteroidal anti-inflammatory drugs in two, and corticosteroids in one. All were discharged after 2 to 4 days in the hospital.
For context, the investigators note that the total number of myocarditis cases at their center during the study period (February to April 2021) was higher than the total number seen during the same 3-month period in each year going back to 2017.
Nevertheless, they say, "since we have identified four patients with myocarditis following vaccination, this indicates that if COVID-19 vaccination is associated with myocarditis, it is quite rare."
Findings were generally consistent in a look at confirmed myocarditis cases that occurred between January and April 2021 among US military members who received one of the mRNA vaccines, reported by researchers led by Jay Montgomery, MD (Walter Reed National Military Medical Center, Bethesda, MD). All 23 patients were men, with a median age of 25 years (ranging from 20 to 51); 16 received the Moderna shot and seven received the Pfizer/BioNTech shot.
All of the men—who were previously healthy, had a high level of fitness, and had no known history of cardiac disease or significant CV risk factors—presented with acute chest pain and elevated troponins within 4 days of vaccination. Abnormal ECGs were seen in 83%, and four patients (17%) had LV dysfunction.
Twenty of the men developed myocarditis after receiving their second vaccine dose. All three of those who had the complication after their first dose had recovered from a confirmed SARS-CoV-2 infection more than 2 months earlier. Of those tested for COVID-19, all were negative.
As seen in the Duke series, CMR imaging revealed findings consistent with clinical myocarditis.
The men received supportive care and had either recovered or were recovering at the time of the study report, Montgomery et al say. Cardiac symptoms resolved within 1 week for 16 patients, with ongoing chest discomfort in the other seven.
Considering that the military administered about 2.8 million doses of mRNA vaccine during the study period, the number of myocarditis cases was small, the investigators note, but it was still higher than expected. "Vigilance for rare adverse events, including myocarditis, after COVID-19 vaccination is warranted but should not diminish overall confidence in vaccination during the current pandemic," they say.
Some Caution for Adolescents
Commenting for TCTMD, João Cavalcante, MD (Minneapolis Heart Institute – Abbott Northwestern Hospital, MN), said that any case series published so far highlights that there seems to be a clear myocarditis signal associated with the vaccines from Moderna and Pfizer/BioNTech. His group, led by Kirsten Shaw, MD (Abbott Northwestern Hospital), published an "imaging vignette" detailing four myocarditis cases related to mRNA vaccination in JACC: Cardiovascular Imaging earlier this month.
"What these reports emphasize is that this seems to be an uncommon event, but much greater than what they anticipated [based on] the limited number of patients that were enrolled into the initial approval studies," he said.
Cavalcante said this is especially important in the younger population—specifically, those younger than 18—and it raises questions about whether recommendations regarding vaccination should be reconsidered. The CDC continues to recommend that everyone 12 and older should be vaccinated, but when it comes to getting a second dose after myocarditis develops following a first dose, "I don't think that this is prudent at the present time," Cavalcante said.
All of the case series on myocarditis following mRNA vaccination reported up to this point "emphasize the need for us to be vigilant," he said, noting that some patients have mild LV dysfunction that might require medical therapy. The series also highlight the importance of consistent imaging and clinical follow-up of these patients to ensure that they recover. It's possible that some patients will have lingering issues, Cavalcante said. "I suspect based on some of the history that we have had of viral myocarditis that some of these patients might have some cardiac fibrosis that . . . might have some other consequences down the road."
Overall, "I think this is a very safe and effective vaccine," Cavalcante said. But it could be that not all young people need a second dose because they have such a strong immune response to the first one, he suggested. "I think kids should be vaccinated. It's safe. But perhaps until we have some further guidance, I would delay the second dose." He noted that there have not been reports of myocarditis following mRNA vaccination out of the United Kingdom, and pointed to the longer interval between doses—10 to 12 weeks—as a potential explanation.
Don't 'Interrupt the March Toward Maximal Vaccination'
In an accompanying editorial, David Shay, MD (CDC, Atlanta, GA), and colleagues note that details from published case reports, including a recent one in Pediatrics, suggest an immune-mediated mechanism to explain the relationship between mRNA vaccination and myocarditis, although the exact mechanisms remain unknown.
"Further investigation is critical and should be informed by the fact that most cases occurred following the second dose of a two-dose series, some in patients with a history of prior COVID-19 infection," they write.
Myocarditis following COVID-19 vaccination is rare, Shay et al write, although more-definitive data on incidence is forthcoming from large, population-based systems for monitoring vaccine adverse events. In the meantime, they say, all possible myocarditis cases should be reported to the Vaccine Adverse Event Reporting System (VAERS).
"At present, the benefits of immunization in preventing severe morbidity favors continued COVID-19 vaccination, particularly considering the increasing COVID-19 hospitalization rates among adolescents reported during spring 2021," the editorialists write.
In a separate editorial, members of the JAMA Cardiology editorial board, led by Ann Marie Navar, MD, PhD (UT Southwestern Medical Center, Dallas, TX), an associate editor, say the case series indicate both that the systems set up to monitor vaccine safety are working and that there is a need for further investigation.
"The editors recognize that publication of these data may contribute to additional public concern regarding immunization because reports of myocarditis following COVID-19 mRNA vaccination have already been reported in the news and in peer-reviewed publications," Navar et al write. "Furthermore, concerns regarding vaccine safety are the most common reason cited for lack of vaccination."
But, they add, "clinicians discussing immunization with patients should recognize that these case series suggest that the symptomatic events consistent with myocarditis are still very rare and appear to be self-limiting. Given the risks of COVID-19, including the risk of myocarditis from COVID-19 infection, the editors do not believe these case reports are sufficient to interrupt the march toward maximal vaccination against SARS-CoV-2 as expeditiously as possible."

Todd Neale is the Associate News Editor for TCTMD and a Senior Medical Journalist. He got his start in journalism at …
Read Full Bio
Disclosures
Kim, Montgomery, and Shay report no relevant conflicts of interest.
Navar reports grants from Janssen and personal fees from Janssen, AstraZeneca, Sanofi, and Pfizer.