New PCSK9 Inhibitor Halves LDL: Will Protracted Dosing Make a Difference?
Recaticimab, a novel, long-acting agent injected once every 3 months, was tested in patients already maxed out on statins.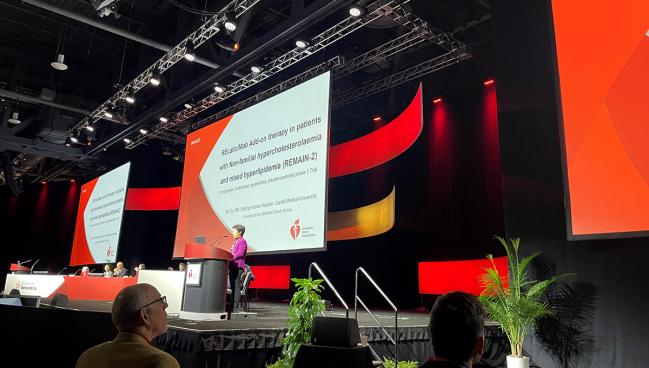 PHILADELPHIA, PA—A novel, long-acting PCSK9 inhibitor that is injected just once every 3 months can reduce LDL-cholesterol levels by more than 50% compared with placebo in patients already taking other lipid-lowering medications, the REMAIN-2 trial shows.
The hope is that more flexible dosing would help with patient compliance with this class of medication, said Xin Du, MD (Beijing Anzhen Hospital, Capital Medical University, China), who presented the results for recaticimab (Jiangsu Hengrui Pharmaceuticals) here at the American Heart Association 2023 Scientific Sessions. There are two other monoclonal antibodies that inhibit PCSK9 on the market—alirocumab (Praluent; Sanofi/Regeneron) and evolocumab (Repatha; Amgen), which are dosed every 2 to 4 weeks. But as many as 40% of patients started on a PCSK9 inhibitor stop taking it within months of starting treatment, Du noted.
REMAIN-2, a phase III trial conducted at 62 sites in China, enrolled 692 adults with nonfamilial or mixed hypercholesterolemia who were not reaching their lipid-lowering goals, despite taking moderate or high-intensity statins and at least one other lipid-lowering drug. After a run-in period that included lifestyle and diet interventions, patients were randomized to one of three different doses of recaticimab or placebo.
By week 24, recaticimab had reduced LDL cholesterol by 53.4% to 62.2% across the different doses versus placebo, with reductions remaining roughly similar across dosing regimens through week 48. While the number of placebo-treated patients reaching LDL goals remained in the low to mid-teens, 85% to 95% of recaticimab-treated patients, depending on dose, reached these goals within 24 weeks. Similar success was seen in patients with and without atherosclerotic disease at baseline.
Other lipid parameters—non-HDL cholesterol, apolipoprotein B, and lipoprotein(a)—also declined significantly from baseline on the different doses, with no such drops seen in placebo-treated patients. Adverse events were rare, and the agent was well tolerated.
"REMAIN-2 demonstrated the long-term efficacy and safety of add-on recaticimab as an effective therapeutic option with an infrequent dosing interval in patients with non-FH and mixed hyperlipidemia inadequately controlled on stable statin therapy," Du concluded. A separate study of this agent in heterozygous familial hypercholesterolemia is also in the works, she added, with results coming soon.
Does Dose Frequency Make a Difference?
What's not clear is whether having a longer-acting PCSK9 agent will have any impact on improving patient compliance—to date, price has been a far bigger barrier to patients and physicians, while for physicians, the prior authorization paperwork has been a major disincentive to prescribing.
"There are so many layers to this," Karol Watson, MD, PhD (UCLA Health, Los Angeles, CA), told TCTMD. "In general, I've learned that people will do things that are cheap, easy, and advantageous, and you have to have at least two of those. The currently developed therapies are not cheap. Some would say that an every-2-weeks subcutaneous injection is not easy. And the one big thing is the dramatic reduction in LDL that patients see—they love that, but that's only one of three things. I think we need to get to cheap and easy."
A more-protracted administration schedule for the drugs "might make it easier, so you might get closer to getting two of those three," she added, "but it might also make it worse. We don't know what the effects of this infrequent dosing are. I know I have many patients I ask to come back and see me in 3 months, and they just don't."
Watson pointed out that inclisiran (Leqvio; Novartis), a small-interfering RNA-based therapy that inhibits the intracellular synthesis of PCSK9, is dosed just twice per year, but uptake has been patchy. Here, too, price has been a critical limiting factor, despite launch plans that included strategies for reducing costs.
Donald Lloyd-Jones, MD (Northwestern University Feinberg School of Medicine, Chicago, IL), also speaking with TCTMD, said the hope is that if another PCSK9 inhibitor enters the field, that might help drive costs down, although that remains to be seen.
"I hope it will be able to create competitive pricing, because there are huge access problems due to costs [and] due to the barriers that practitioners need to clear to even get the prescriptions," Lloyd-Jones said. "And then the copays are sometimes astronomical. That not only creates access problems, it creates real disparity problems, so we're not making this available to the people who need it the most, who are at the highest risk."

Shelley Wood is Managing Editor of TCTMD and the Editorial Director at CRF. She did her undergraduate degree at McGill…
Read Full Bio
Sources
Du X. Recaticimab add-on therapy in patients with non-familial hypercholesterolaemia and mixed hyperlipidemia (REMAIN-2). Presented at: AHA 2023. November 12, 2023. Philadelphia, PA.
Disclosures
Du reports research funding from Sanofi, AstraZeneca, and Bayer.