No Advantage With Hybrid Revascularization for Multivessel Disease: HREVS
The study was small and used a surrogate endpoint, so the true value of hybrid revascularization won't be known until a large-scale study is done.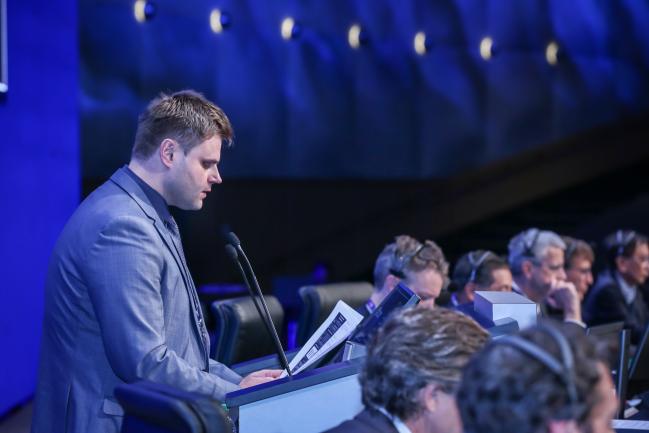 DENVER, CO—Hybrid revascularization, one that combines bypass grafting with PCI, fails to reduce myocardial ischemia and major adverse cardiovascular and cerebrovascular events when compared with coronary artery bypass graft surgery and PCI alone, according to the results of the small Hybrid Revascularization Versus Standards (HREVS) study.
Presenting the results today at TCT 2017, lead investigator Roman Tarasov, MD (State Research Institute for Complex Issues of Cardiovascular Diseases, Kemerovo, Russia), said they found "no evidence of benefit" with the hybrid revascularization approach, at least in the short term, for the treatment of patients with multivessel disease.
Further studies, including larger randomized trials, are needed to determine the clinical role of hybrid revascularization, he added.
Such trials are currently underway. The US National Institutes of Health-funded HYBRID trial, a 5-year study led by John Puskas, MD (Icahn School of Medicine at Mount Sinai, New York, NY), and Gregg Stone, MD (Columbia University Medical Center, New York, NY), is currently enrolling patients. In that study, more than 2,300 patients with multivessel disease will be randomized to the hybrid revascularization approach or PCI alone, although the results won't be available for a few years.
The HREVS Trial
HREVS, which was presented during a First Reports session, included 155 patients with multivessel coronary artery disease considered by the multidisciplinary heart team to be candidates for CABG surgery, PCI, or hybrid revascularization.
In total, 50 patients were treated with CABG surgery, 53 with PCI, and 52 with the hybrid revascularization approach that included minimally invasive direct coronary artery bypass (MIDCAB) followed by PCI 1 to 3 days after the procedure. Importantly, the hybrid technique included grafting the left internal mammary artery (LIMA) to the left anterior descending (LAD) artery and drug-eluting stents for the remaining vessels. 
Regarding the primary endpoint of residual myocardial ischemia assessed by SPECT at 12 months, which Tarasov said is an index of revascularization quality and a marker of long-term clinical outcomes, there was no significant difference between the three treatment groups. The study was underpowered for clinical endpoints, but there were no statistically significant differences at 30 days. There was more bleeding in the CABG-treated patients, an unsurprising finding, said Tarasov.
Holger Thiele, MD (Heart Center Leipzig, Germany), who was not involved in the study, told TCTMD hybrid revascularization is not frequently performed in Europe, noting there are limited data supporting its use. "It's not common," he said. "If you discuss a patient with the heart team, it's usually black or white—we do surgery or we do PCI."  
An Idea Around for 20 Years
Chairing the morning press conference where the HREVS results were first presented, Roxana Mehran, MD (Icahn School of Medicine at Mount Sinai, New York, NY), said the potential utility of a hybrid revascularization approach has been discussed for more than 20 years.
"We knew, before drug-eluting stents came around, that the best therapy to protect the patient is a LIMA to the LAD," she said. "That's what the surgeons told us. That's why we always continue to think about repeat revascularization and worry about new lesions, especially in the LAD. We also know vein grafts don't have the same durability. So the best of two worlds is a LIMA to the LAD and drug-eluting stents in the non-LAD distribution."
That said, a hybrid approach is complex, as physicians must grapple with the appropriate antiplatelet regimen, as well as other logistical and procedural issues. Still, with the introduction of the heart team, there are discussions to provide the best care from both worlds—surgical and interventional—to patients, said Mehran.
David Cohen, MD (Saint Luke's Mid America Heart Institute, Kansas City, MO), one of the panelists discussing HREVS during the morning press conference, agreed with Mehran, stating that the approach has always made "conceptual sense." He added that the benefits of the hybrid technique utilizing the LIMA to LAD are unlikely to emerge for some time after coronary revascularization.
"It's 10 years, 20 years," said Cohen. "It's going to take something on that order to really show the benefit of that approach."

Michael O'Riordan is the Associate Managing Editor for TCTMD and a Senior Journalist. He completed his undergraduate degrees at Queen's…
Read Full Bio
Sources
Tarasov R. HREVS: a randomized trial of PCI vs CABG vs hybrid revascularization in patients with coronary artery disease. Presented at: TCT 2017. October 30, 2017. Denver, CO.
Disclosures
Tarasov reports no conflicts of interest.
Thiele reports no conflicts of interest.
Mehran reports grant/research support from Abbott Vascular, CardioKinetix, Spectranics, AstraZeneca, Bayer, Israel Deaconess, BMS, CSL, Behring, Eli Lilly, Novartis, OrbusNeich, Medtronic, Claret Medical, Janssen, and Osprey Medical; consulting for Abiomed, The Medicines Company, Boston Scientific, Shanghai Braccosine, CSI, and Medscape; and equity in Claret Medical and Elixir.
Cohen reports research grant support from Edwards Lifesciences, Medtronic, and Boston Scientific; consulting income from Edwards Lifesciences and Medtronic.