No Angina? No Benefit to PCI Pre-TAVR: ACTIVATION
The long-running ACTIVATION trial offers a negative result that should have a positive impact on practice, says Simon Redwood.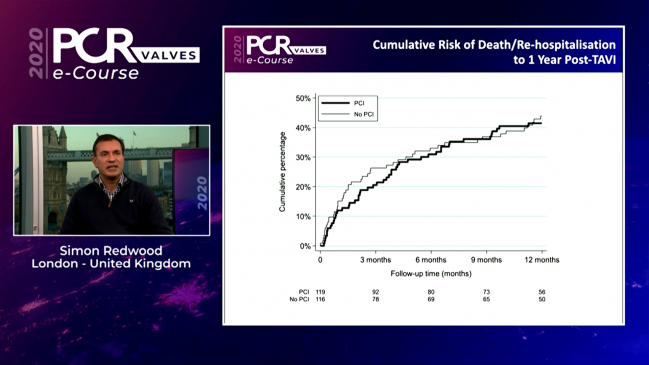 Performing PCI prior to TAVR if a patient is found to have at least one significant coronary stenosis does not improve their chances of surviving or staying out of hospital over the next 12 months, according to the first randomized trial to address this question.
Simon Redwood, MBBS (King's College London, England), presented the results of the ACTIVATION trial earlier this week at the PCR Valves e-Course 2020.
"There hasn't been any consensus on what is best," Redwood told TCTMD. "Lots of structural operators have been awaiting the results of this trial for a long time."
Practice varies considerably from center to center, he added. "Some people will stent any significant coronary disease pre-TAVI, as a routine, and some people won't even do an angiogram. My view is that if the patient does not have significant angina then we should not routinely be stenting coronary disease pre-TAVI, except in specific situations."
Actively Looking for CAD Pre-TAVR
ACTIVATION was conducted at 17 sites in the UK, France, and Germany and enrolled patients with severe, symptomatic aortic stenosis as well as at least one proximal stenosis of 70% or greater in a major epicardial coronary artery suitable for PCI. More than two-thirds of patients had single-vessel disease and most of the rest had two-vessel CAD. Exclusions included patients with active bleeds, recent ACS, left main disease, or class III-IV angina.
I think this is probably one of the rare examples where being a negative trial is actually going to have a positive impact on how we manage these patients. Simon Redwood
Enrollment ran from late 2012 until January 2019 when, said Redwood, practice changed at his facility—total trial participation at 235 was shy of the 310 originally planned for the study. Over the last 3 to 4 years, he said, centers like his have increasingly felt that the aortic stenosis, and not the coronary disease, was the dominant pathology, so they had ceased doing preprocedure angiograms.
One year after TAVR, the primary endpoint of death/rehospitalization had occurred in 41.5% of the patients who underwent preprocedure PCI and in 44% of patients who did not. That event rate was similar, although the bar set for noninferiority was not met, Redwood noted. A total of 16 deaths occurred in the PCI group compared with 14 in the no-PCI group. Rehospitalizations were 41 and 39, respectively.
Bleeds, however, were more common in the PCI group: 44.5% versus 28.4% (P = 0.02). The majority of that difference was in less severe bleeds, said Redwood, with no significant difference in major bleeding.
Elaborating after his presentation, he noted that the difference in bleeds was likely due to the use of postprocedure dual antiplatelet therapy. "The majority of that higher bleeding was in the first 30 days after the TAVI procedure, so it's earlier, which supports it being due to the antiplatelets," he clarified.
Practice-Changing
In the discussion following Redwood's presentation, both moderators pushed back on Redwood's conclusions.
ACTIVATION, said Anna Sonia Petronio, MD (Azienda Ospedaliero Universitaria Pisana, Pisa, Italy), "was very interesting and a little bit surprising, because we keep doing prior PCI to TAVI in routine, everyday work."
The patients in this trial, however, were relatively old—83 to 84 years—with a high or intermediate risk for TAVR. As such, she asked, would these findings still apply to younger patients, at lower risk for TAVR, who might have many more years for ischemic cardiomyopathy to evolve?
There is not "a phenomenal amount of data" for younger patients, he conceded, but Redwood said in his mind the findings would still apply: "As long as their angina is not their predominant symptom, then in my opinion usually the aortic stenosis is the dominant pathology and we shouldn't be treating coronary disease. And this trial supports that."
One exception to this rule might be a patient with severely impaired left ventricular function, in whom the functional impairment seems more likely due to the coronary disease and not the aortic stenosis, Redwood explained to TCTMD.
Jeroen Bax, MD, PhD (Leiden University Medical Center, the Netherlands), a session co-moderator, raised the question of treating disease down the road, when the implanted valve might pose problems for coronary access.
"It depends on which valve is used, and it depends of course on the anatomy—the height of the coronaries and the size of the sinuses," said Redwood. "But on the whole there's less trouble getting into the coronaries with the Sapien balloon-expandable valve [Edwards Lifesciences] and perhaps with the Symetis valve [Symetis SA] than there is with CoreValve [Medtronic], but of course it is very operator dependent and dependent on individual skills and preferences. From a personal perspective, I don't find it an issue postprocedure, but I predominantly use the Sapien valve."
Pushed by Bax to say if he was tempted to just do a PCI to avoid future problems, Redwood was blunt.
"I don't," he said, not in the absence of significant angina. "I think you have to have a good reason to intervene on the coronaries and I wouldn't routinely do it."
Speaking with TCTMD, Redwood stressed that he'd never encountered a patient in whom he couldn't access the coronaries to treat significant CAD after a TAVR, even with the Evolut device (Medtronic), which he called "a little bit more tricky," noting that "it takes a little bit more skill."
He asserted that ACTIVATION should change practice for centers still performing PCI pre-TAVR. "I think this is probably one of the rare examples where being a negative trial is actually going to have a positive impact on how we manage these patients, particularly the elderly," Redwood said. "The last thing you want to do is subject the elderly to dual antiplatelets for a prolonged length of time, and that was highlighted in the trial."

Shelley Wood is Managing Editor of TCTMD and the Editorial Director at CRF. She did her undergraduate degree at McGill…
Read Full Bio
Sources
Redwood S. The percutaneous coronary intervention prior to transcatheter aortic valve implantation trial: ACTIVATION. Presented at: PCR Valves 2020. November 22, 2020.
Disclosures
The trial was supported with funding from Edwards Lifesciences and Boston Scientific.
Redwood reports speaker fees from Edwards Lifesciences and serving as an international advisory board member for Medtronic.