No Benefits, Higher Costs With IVC Filters in Catheter-Directed Thrombolysis for DVT
Used in 34% of catheter-based lytic procedures, IVC filters did not reduce in-hospital mortality, but instead drove up costs and hospital stays.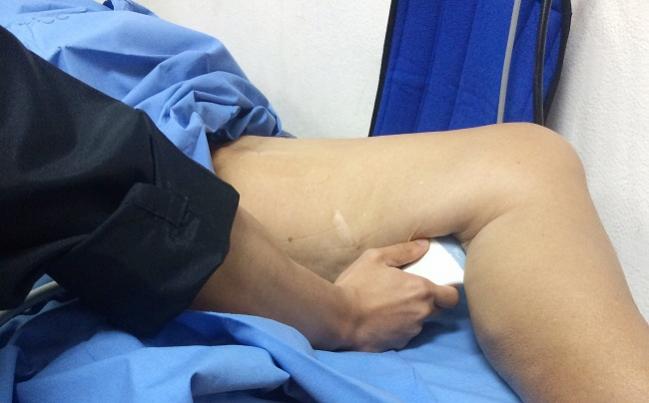 More than one-third of patients undergoing catheter-directed thrombolysis of deep vein thrombosis receive an inferior vena cava (IVC) filter, yet placement of the device is not associated with a reduction in mortality, according to the results of a new analysis.
Instead, use of an adjunctive IVC filter with catheter-based lytic therapy was associated with a significant increase in costs, including longer hospital stays, as well as an increase in the formation of hematomas.   
"It didn't make any difference," senior investigator Riyaz Bashir, MD (Temple University Hospital, Philadelphia, PA), told TCTMD, referring to clinical outcomes. "In fact, it cost a lot of money to the healthcare system to put the filters into this subgroup of patients. Each year, we would have saved $25 million just in this subgroup of patients alone. Overall, in the DVT patients, it costs us $750 million in the US to put these filters in. That cost doesn't include the cost of taking the filters out or treating the complications of these filters, which can be enormous."
In an editorial, Mark Crowther, MD, and Andrea Cervi, MD (McMaster University, Hamilton, Canada), also note that catheter-directed thrombolysis is increasingly used despite the limited data supporting its long-term benefit. And "in a remarkable confluence of two controversial interventions," IVC filter placement and catheter-directed thrombolysis have merged in the treatment of patients with proximal DVT, they point out.
"The remarkable increase in the frequency of use of both catheter-directed thrombolysis and IVC filter placement that has occurred over the last two decades lacks reliable supportive evidence of safety or efficacy," write Crowther and Cervi. They call for enhanced regulatory oversight of devices, not unlike those to evaluate drug therapy, and for urgent action regarding the use of both interventions, "particularly in light of their cost, complexity, and potential toxicity."
DVT Subgroup Undergoing Catheter-Directed Thrombolysis
The new study, published in the July 23, 2018, issue of JACC: Cardiovascular Interventions, is an analysis of patients with proximal or caval DVT treated with catheter-directed thrombolysis included in the National Inpatient Sample (NIS) database. To date, there have been limited long-term data to support the use of catheter-directed thrombolysis, and as such, the procedure remains relatively controversial. Data from the ATTRACT trial, which included patients with proximal DVT, showed no benefit of catheter-directed thrombolysis on the incidence of postthrombotic syndrome when compared with anticoagulation therapy.
To TCTMD, Bashir said the study did suggest a benefit in a subgroup of patients with iliofemoral DVT, and it is this population who typically receive catheter-based lytic therapy. With thrombolysis, operators will sometimes implant an IVC filter at the time of the procedure to prevent procedure-related clot migration. The thinking is that "if anything were to break loose from the femoral or iliac vein or the inferior vena cava, it would cause a pulmonary embolism," said Bashir. "By putting the filter in, it makes intuitive sense that it would prevent a pulmonary embolism from happening."
Between 2005 and 2013, 138,049 patients with a principal discharge of proximal or caval DVT were identified in the NIS database. Of these, 7,119 patients underwent catheter-directed thrombolysis and 2,421 (34%) received an IVC filter. Use of catheter-directed thrombolysis for DVT steadily increased throughout the study period, from 2.3% in 2005 to 8.1% in 2013. Use of the IVC filter was unchanged over time.
In a propensity score-matched analysis comparing individuals undergoing lytic therapy with and without an IVC filter, there was no significant difference in the rate of in-hospital mortality. Nor were there any differences in the risks of gastrointestinal bleeding, procedure-related hemorrhage, intracranial hemorrhage, or the need for blood transfusion. Patients who received an IVC filter did have higher rates of hematoma formation (3.4% vs 2.1%; P = 0.009).
In terms of hospitals resources, use of the IVC filter was associated with a longer stays—mean of 7.3 days versus 6.9 days (P = 0.048)—and higher in-hospital charges. The in-hospital charge for those who received an IVC filter was $104,049 and $92,881 for those who did not (P < 0.001).
Overall, "an incredible amount of healthcare resources are being spent on these IVC filters," said Bashir, "and it appears they're not really doing a great job, particularly in patients who can tolerate blood-thinning medications." Bashir said he frequently encounters patients who have had problems with IVC filters, including those with the entire vena cava being filled with thrombus. These patients appear in rough clinical shape and the available treatments are often ineffective. He noted IVC filters are used very infrequently in the DVT setting in Europe, with less than 1% receiving the adjunctive filter.
"Practicing physicians treating patients should be very, very careful putting these IVC filters in because for the vast majority of patients they are unnecessary," said Bashir. "We don't think there is a strong reason for us to be putting them in unless the patient is actively bleeding."
In their editorial, Crowther and Cervi agree, stating that the current analysis, when combined with other clinical trials, provides "moderate-quality evidence" that IVC filters simply aren't useful in patients undergoing catheter-directed thrombolysis therapy for DVT.

Michael O'Riordan is the Associate Managing Editor for TCTMD and a Senior Journalist. He completed his undergraduate degrees at Queen's…
Read Full Bio
Disclosures
Bashir reports confounding and holding equity in Thrombolex.
Crowther reports serving on the monitoring boards for Bayer and Daiichi-Sankyo and reports personal funding from and serving on the advisory boards for Shionogi, OctaPharma. and BMS Canada. He reports owning stocks in Alnylam and receiving institutional funding from Bayer, Leo, and Heart and Stroke Foundation.