ONCO DVT Supports 12 Months of Preventive DOACs in Cancer Patients
Whether the results apply to non-Asian populations and those at higher bleeding risk is unclear, says Teresa López-Fernández.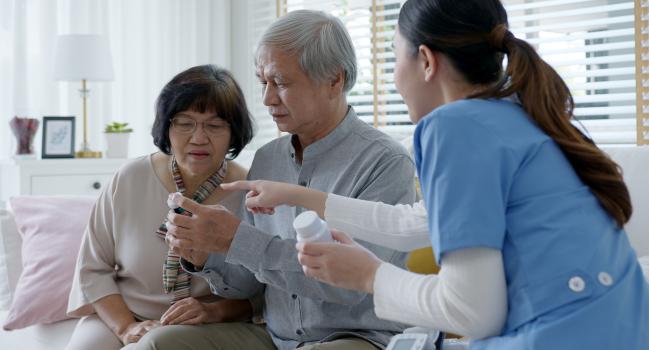 Giving the direct oral anticoagulant (DOAC) edoxaban for 12 months rather than 3 months is better for preventing thrombotic events in patients with active cancer and isolated deep-vein thrombosis (DVT), the ONCO DVT study suggests.
A symptomatic recurrent venous thromboembolism (VTE) event or VTE-related death occurred at a rate of 1% in patients on prolonged edoxaban versus 7.2% in those on the shorter drug course (OR 0.13; 95% CI 0.03-0.44).
While prolonged therapy did result in a slightly elevated risk of major bleeding, the difference was not statistically significant, noted Yugo Yamashita, MD (Kyoto University, Japan), who presented the study in the final Hot Line session of the European Society of Cardiology (ESC) Congress 2023 in Amsterdam earlier this week. The results were simultaneously published in Circulation.
"The main clinical message is that the risk of symptomatic recurrent VTE in cancer patients with isolated distal DVT could be high without anticoagulation therapy [and] could be effectively prevented by anticoagulation therapy," Yamashita told TCTMD in an email.
He further noted that with guidelines only weakly recommending anticoagulation beyond 3 months for isolated distal DVT patients with active cancer, "the current results could change guidelines and clinical practice."
The ESC guidelines on cardio-oncology, published last year, recommend apixaban, edoxaban, or rivaroxaban for symptomatic or incidental VTE in patients with cancer without contraindications and note that prolonging anticoagulation beyond 6 months should be considered in selected patients with active cancer including metastatic disease, said Teresa López-Fernández, MD (La Paz University Hospital, Madrid, Spain), who served as the discussant for the study.
Additionally, the European Society for Medical Oncology guidelines state that extended anticoagulation may be considered if the risk of recurrence outweighs bleeding complications, she added. However, none of the recommendations specifically reference cancer patients with DVT.
"This study supports the need for extended anticoagulation in these cases when active cancer is ongoing," López-Fernández said, but "we need to be cautious and try to really understand . . . the bleeding risk of these patients, particularly because it's not always easy to transfer the results from an Asian population to other populations." She also said more research is needed to understand if similar results can be obtained with other DOACs and in cancer patients with more elevated bleeding risks.  
GI Most Common Site of Major Bleeds
The ONCO DVT investigators enrolled 601 patients (mean age 70.8 years; 72% female) from 60 institutions in Japan who were randomized to 60 mg per day of edoxaban for 3 months (n = 305) or 12 months (n = 296). All had isolated distal DVT and active cancers, with the most common being gynecologic (28%), followed by lung (11%) and colon (10%). The mean body mass index was 22, and the mean body weight was 55 kg.
In those randomized to 3-month edoxaban, 77% of patients required a 30-mg dose due to low body weight as did 73% of those randomized to 12 months of therapy. The 120-day incidence of persistent discontinuation of edoxaban was 20.6% in the 12-month group, with bleeding events and cancer progression being the most common reasons; and 86.3% in the 3-month group, with per-protocol discontinuations in most of those.
Major bleeding, a secondary endpoint, occurred in 9.5% of those in the 12-month group and 7.2% of those in the 3-month group (OR 1.34; 95% CI 0.75-2.41). The most common site of major bleeding was the lower gastrointestinal tract. There were 53 patients with clinically relevant bleeding events in the 12-month group and 41 in the 3-month group (OR 1.40; 95% CI 0.90-2.19).
A prespecified subgroup analysis showed no significant effect of treatment by age, sex, weight, history of VTE, creatinine clearance, platelet count, anemia, edoxaban dose adjustment, history of major bleeding, or metastasis.
To TCTMD, Yamashita said while the difference in major bleeding was not statistically significant, it does indicate the need for frequent monitoring of patients receiving 12 months of therapy. He added that "physicians should make the decision of anticoagulation strategies for these patients based on risk-benefit balance with anticoagulation therapy in individual patients."
Also important, noted López-Fernández, is that multiple clinical factors can change during cancer treatment. This makes it important to look at the overall patient and their cancer-related treatment and conditions, assessing bleeding risk in conjunction with any of those changes

Disclosures
Yamashita reports lecture fees from Bayer Healthcare, Bristol-Myers Squibb, Pfizer, and Daiichi Sankyo; and grant support from Bayer Healthcare and Daiichi Sankyo.