One in Six Patients With LBBB Post-TAVR Develop Atrioventricular Block
An implantable loop recorder could be used to monitor LBBB patients who might develop life-threatening arrhythmias, say researchers.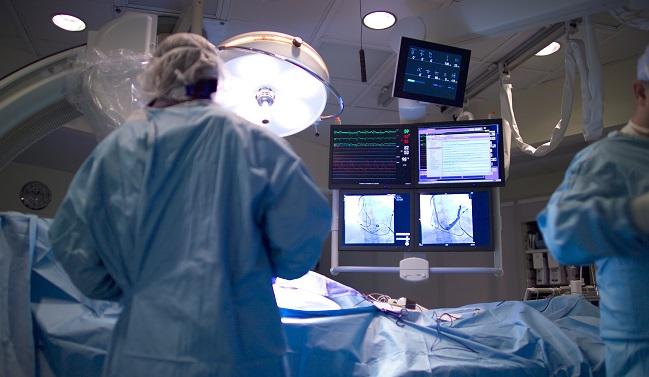 DENVER, CO—The use of an implantable loop recorder (Reveal LINQ, Medtronic) identifies a high incidence of arrhythmic events at 12 months in patients who develop persistent left bundle branch block (LBBB) after TAVR, with serious atrioventricular block identified in 16% of patients, according to new data
Among the patients who developed bradyarrhythmias in the study, half required treatment, including the implantation of a permanent pacemaker or a change in medical treatment.
Josep Rodés-Cabau, MD (Quebec Heart and Lung Institute/Laval University, Canada), who presented the results of the MARE study during a Featured Clinical Research session at TCT 2017, said conduction disturbances, particularly LBBB, are the most frequent complication following TAVR. While the clinical impact of LBBB post-TAVR is debatable, there are studies that suggest these patients are at an increased risk of cardiovascular and sudden death.
Rodés-Cabau said an implantable loop recorder can be used as an intermediate step, one that stops short of implanting a permanent pacemaker in patients with LBBB but goes beyond doing nothing at all.
"I don't think we need to implant pacemakers in everybody, which is what some centers are doing, if not systematically, then at least in a high percentage of patients with left bundle branch block," he told TCTMD. "This, to me, is too aggressive. Yet, doing nothing is not appropriate either. You can see things happen and sometimes these kinds of events can translate into sudden death. I think this kind of monitoring of these patients can be an intermediate and reasonable solution."
The MARE Study
For MARE, which was performed at 11 centers in the United States, Canada, and Europe, the investigators used the implantable loop recorder to determine the arrhythmic burden in patients with LBBB after TAVR, particularly the incidence of arrhythmias the led to a treatment change, and the incidence of high-degree atrioventricular block at 12-month follow-up.
In total, 1,584 TAVR procedures were performed, with 974 patients identified as being at risk of new-onset persistent LBBB. Of these patients, 103 developed persistent LBBB, with roughly half treated with CoreValve/Evolut R (Medtronic) and the other half with Sapien/Sapien XT (Edwards Lifesciences). Patients received the loop recorder a median of 4 days after TAVR.
In terms of the global arrhythmia burden at 12 months, 1,584 new arrhythmic events were detected in 46 patients. Of these, 19 patients required treatment. In total, 22 patients had a bradyarrhythmic event, of which 16 were high-degree atrioventricular block. Overall, 11 patients with a bradyarrhythmia required treatment, including 10 who received a pacemaker, which is 10% of the 103 patients who presented with persistent LBBB after TAVR.
Rodés-Cabau noted that previous studies have shown roughly 5% to 10% of patients with persistent LBBB progress to atrioventricular block. In the present study, roughly two-thirds of patients had LBBB at 12 months; it resolved in the remaining patients.
Additionally, the researchers identified 13 patients with new episodes of atrial fibrillation/flutter, including six who required a modification of treatment, such as anticoagulation or antiarrhythmic therapy. Another 14 patients developed new episodes of ventricular tachycardia.     
In terms of clinical events, 12 patients died by 12 months, including four from cardiovascular causes and one patient from sudden death.
"The problem with conduction disturbances, especially for atrioventricular block, is we don't know what would be the next event," said Rodés-Cabau. "Maybe there would be a symptomatic event, where they could go to the hospital and get the pacemaker implanted, but maybe the next event is sudden death. This is why I think a close monitoring of these patients seems to be a reasonable strategy."  
Speaking during the session, panelist Y. S. Chandrasekhar, MD (VAMC/University of Minnesota, Minneapolis), noted that the more physicians monitor for arrhythmic events, the more they are likely to find. In this case, it's possible many of the arrhythmic events identified are unrelated to TAVR, but rather are undetected comorbidities in an older population with aortic stenosis.
"There is a danger that we monitor too much and get too much information," he said. "In some sense, we're getting more data than we need."
Rodés-Cabau agreed, but stressed this is a "particular group of patients" with persistent LBBB post-TAVR and that not every individual patient would need to be monitored in this way. He noted that treatment of these patients varies, as electrophysiologists don't all agree on how to manage the conduction disturbance post-TAVR. "It's treated very differently center by center," said Rodés-Cabau.
Stefan James, MD (Uppsala Clinical Research Center, Sweden), said these new data give physicians a glimpse of what is happening to patients with persistent LBBB after TAVR, but what would be ideal is a means to predict arrhythmias based on the preoperative ECG.

Michael O'Riordan is the Associate Managing Editor for TCTMD and a Senior Journalist. He completed his undergraduate degrees at Queen's…
Read Full Bio
Sources
Rodés-Cabau J, on behalf of the MARE investigators. Ambulatory ECG monitoring with an implantable loop recorder in patients with new-onset left bundle branch block following TAVR: the MARE trial. Presented at: TCT 2017. October 31, 2017. Denver, CO.
Disclosures
Rodés-Cabau reports grant/research support from Medtronic and Edwards Lifesciences.