As Outpatient Facilities Proliferate, So Too Does Scrutiny
With the rise of OBLs and ASCs, regulators are paying attention, but physicians can take steps to avoid legal troubles.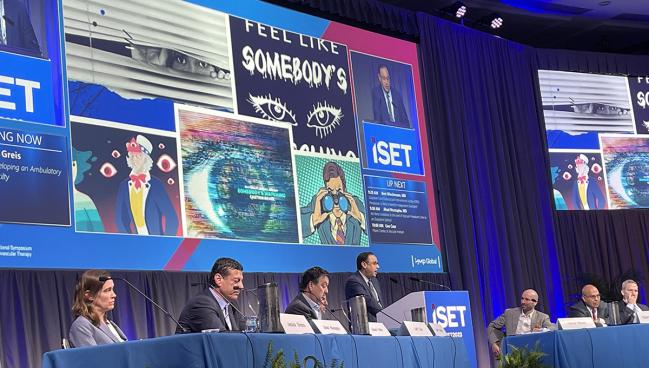 MIAMI BEACH, FL—(UPDATED) Physicians working in an outpatient setting, whether that's an office-based lab (OBL) or ambulatory surgery center (ASC), face increasing scrutiny over whether the procedures they perform are done with the patients' best interests in mind. Here at ISET 2023, one lawyer described the legal landscape, with advice on how to avoid getting embroiled in trouble.
"What's driving the enforcement and investigations in the outpatient setting? The answer is: it's complicated," Jason Greis, JD (Benesch Law, Chicago, IL), told the audience during the 2-hour ISET Town Hall, this year devoted to the movement of endovascular procedures to the ambulatory space. Setting up and running the facilities is complex, as are the legal and regulatory frameworks on a state and federal level, he pointed out.
"As the OBL industry has grown, so too has enforcement in the industry. Regulators and investigators have followed both the flow of money and are also responding to complaints from patients, physicians, and payers alike," Greis continued. "Whether it's botched Brazilian butt lifts here in Florida or procedures that may not be supported by medical necessity, such as overuse of atherectomy and angioplasty, questionable referral practices intended to increase patient volumes in the OBLs, or overly complex procedures arguably being performed [on an outpatient basis]: as a result of that, states and the federal government are coming up with new laws and enforcement actions to keep everyone in check."
Jeffrey Carr, MD (CardiaStream, Tyler, TX), founder and past president of the Outpatient Endovascular and Interventional Society (OEIS), agreed that this is a relevant issue. "All physicians working in OBLs and ASCs should be aware of the potential for investigation on federal, state, and even payer levels," he told TCTMD in an email.
If you feel like there's someone watching you, . . . it's true, there are a lot of eyes on the industry right now. Jason Greis
Florida, New York, New Jersey, California, and Pennsylvania stand out as states acting more proactively in this area, Greis said. But oftentimes enforcement begins with whistleblowers "who at the end of the day, if they bring a case to the government, stand to gain 25-35% of the recovery," he added, "so there's a lot of money to be made." The private equity that's funding many of these facilities, and the potential for profit, also captures investigators' attention.
"If you feel like there's someone watching you, . . . it's true, there are a lot of eyes on the industry right now," Greis commented, adding that some of the scrutiny comes from other healthcare providers, like hospitals, who don't want to lose customers. "Most of the players in the industry, they don't want to see OBLs succeed. ASCs are here to stay: they've been around for a long time, there's 4,500 or so of them in the US. But OBLs are a relatively new occurrence," he explained. "So there's a lot of competition."
'Nobody Is Immune'
In recent years, said Greis, several headline-grabbing investigations have occurred, some of which are still ongoing. Examples include Vascular Access Centers in 2018, Modern Vascular in 2020, vascular surgeon Feng Qin, MD, in 2021, and Azura in 2022.
In 2019, a TCTMD investigation delved into reports of unnecessary care and complications at an OBL in Port St. Lucie, FL; the story later won the 2020 Trade Journalism Award from the National Institute for Health Care Management (NIHCM).
"Nobody is immune, whether you have deep pockets or you're an individual physician, the government is out there," Greis cautioned, noting that investigators can use claims data, interviews, texts, and emails as evidence. "They can pursue civil and criminal actions against wrongdoers, fines and penalties, and the death knell [of] exclusion if you're a physician. . . . The thing about these investigations is the reputational damage alone can kill you," Greis stressed.
So what's a budding OBL-based vascular specialist to do? Greis listed his top tips.
Focus on quality, not volume.

Make sure a high proportion of the facility's owners are interventionalists who hold equity in the business.

Require each investor to contribute enough that their "investment represents a bona fide business risk" were something to go wrong.

Don't base the terms of that investment on things like past or anticipated volume.

Don't set the expectation that investors will be responsible for making a certain level of referrals.

Don't put pressure on physician investors by tracking their referrals and making them aware of that information.

Contracts with payers should, when possible, be risk-bearing.

Offer charity care for patients under financial stress.

Have a compliance plan and ongoing training.
And finally, said Greis, "take patient, payer, and investor complaints seriously, because otherwise you'll be calling me."
Carr also offered advice. "For those who own equity, the relationships of all the owners should be understood. Each lab's ownership structure and referral network should be known in relation to Stark and anti-kickback regulations," he said. "Disclosures to the patients receiving care of a financial relationship by the physician performing is important. Documentation of clinical need and appropriateness of the procedures is vital."
The OEIS, Carr noted, offers teaching and research on these topics through its annual meeting, webinars, and expert consultant referrals. Additionally, healthcare attorneys located across the United States have expertise in different regions, he said. "It is important to know and take into consideration state specific requirements, as well, to make sure the counsel provided has knowledge in state matters."

Sources
Greis J. Key lessons learned from governmental enforcement actions in the outpatient setting. Presented at: ISET 2023. January 17, 2023. Miami Beach, FL.
Disclosures
Greis reports no relevant conflicts of interest.