Post-MI High-Intensity Statin Use Has Doubled in Recent Years
The biggest driver, say investigators, appears to be the introduction of a cheaply available atorvastatin, which came to market in 2011.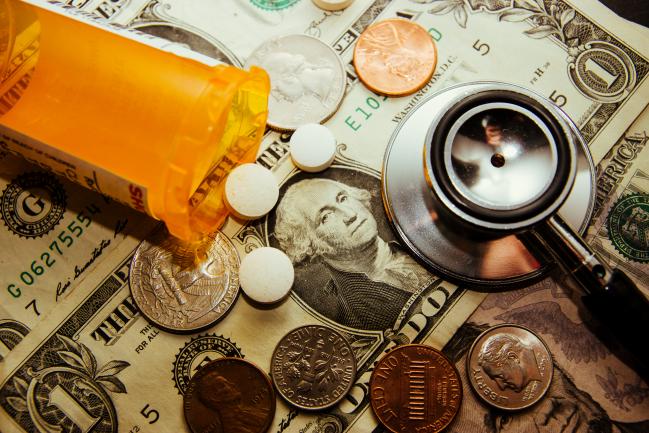 The use of high-intensity statin therapy in acute MI patients has more than doubled over a recent 4-year period, a time in which one of the world's most popular medications came off patent, according to the results of a new analysis.
In 2011, just 33.5% of patients discharged after acute MI filled a prescription for a high-intensity statin—atorvastatin 40/80 mg or rosuvastatin 20/40 mg—compared with 71.7% of acute MI patients discharged in 2014. Among Medicare patients, the use of a high-intensity statin after acute MI also doubled during the same time period, up from 24.8% in 2011 to 57.5% in 2014.
Speaking with TCTMD, lead investigator Robert Rosenson, MD (Icahn School of Medicine at Mount Sinai, New York, NY), said the researchers did not observe an inflection point during the 4-year period studied, but instead saw a steady increase in the uptake of high-potency statin use.  
"There are always papers coming out, saying the doctors aren't following the guidelines, and we're hard on ourselves—why are these numbers so terrible?—but it's not the only issue," Rosenson commented. "The issue is the cost of the medication."
Specifically, there's the cost of atorvastatin, which until 2011 was available only as a branded medication. With the patent on Lipitor (Pfizer) expiring in late 2011, Rosenson said, the utilization of atorvastatin 40/80 mg increased steadily among 75,096 Medicare beneficiaries and 42,893 patients younger than 65 years with supplemental insurance included in a commercial database.
"It's possible that patients weren't willing to pay a high copay, or didn't have the means to pay a high copay," said Rosenson. "Once the cost of the medication came down, and the copay for cost of a generic is much less than for a branded medication, then people started taking it."
The use of rosuvastatin 20/40 mg, which was available only as Crestor (AstraZeneca) during the study period, declined between 2011 and 2014, as did that of simvastatin 80 mg (simvastatin 80 mg was excluded from the analysis of high-intensity statin use given that it is no longer recommended for ACS patients). 
Results of the study were published online May 29, 2017, in the Journal of the American College of Cardiology.  
Steady Increase Over 4 Years  
In 2013, the American College of Cardiology/American Heart Association (ACC/AHA) issued new guidelines for management of cholesterol and recommended the use of high-intensity statin therapy for patients with established cardiovascular disease. Prior to the most recent guidelines, the ACC/AHA had recommended physicians prescribe "adequate" doses of statin therapy in the secondary-prevention setting so that high-risk and very-high-risk patients could achieve specific LDL cholesterol goals (< 100 mg/dL and < 70 mg/dL, respectively). 
In 2014, Rosenson and colleagues published research showing that the vast majority of patients hospitalized for a coronary heart disease event—an analysis spanning 2007 to 2009—did not receive a high-intensity statin. In fact, only one-quarter of such patients were discharged on a high-intensity statin, while fewer than 10% taking a low or moderate-intensity statin were shifted over to a more potent lipid-lowering agent.
Given such underutilization, the researchers wanted to determine if the 2013 ACC/AHA cholesterol guidelines altered prescribing patterns.
"What we saw was that there was no inflection in the curves after the release of the guidelines," said Rosenson. "Since 2011, the use of high-intensity statins kept increasing year after year, increasing in both younger and older people. . . . Utilization kept going up and up, because the price of atorvastatin has gone down so much."
For patients currently taking a low/moderate-intensity statin, the switch to high-intensity atorvastatin or rosuvastatin increased among discharged acute MI patients from 27.8% in 2011 to 62.3% in 2014. Among the Medicare beneficiaries, 12.6% were switched from a low/moderate-intensity statin to a high-intensity statin following the acute MI in 2011 whereas 45.1% were switched to the more potent agent in 2014.
Overall, men, patients also filing beta-blocker and antiplatelet prescriptions, and those attending cardiac rehabilitation within 30 days of discharge were more likely to be prescribed a high-intensity statin.
Goal Is Not Reflexive High-Intensity Statin Rx
In an editorial accompanying the study, Neil Stone, MD (Northwestern University Feinberg School of Medicine, Chicago, IL), one of the lead authors the 2013 cholesterol guidelines, states that the goal for statin use in secondary prevention is "maximally tolerated" therapy and that using the drugs requires physicians to assess the risks and benefits in the individual patient.
The goal, he says, is "not reflex prescription to increase the tally of those taking a high-intensity statin."
To TCTMD, Rosenson said the steady increase in the use of high-intensity therapy is good news, particularly the doubling seen in acute MI patients at risk for recurrent events. He noted that the utilization rate will never be 100%, given that some patients are unable to tolerate high-intensity therapy while others might be apprehensive about taking a drug's maximal dose. Stone makes a similar comment, noting that the "ultimate decision about care of a particular patient must be made by the healthcare provider and patient in light of the circumstances presented by that patient." 
In January, an analysis of SOLID-TIMI 52, a trial that included 13,026 patients stabilized after ACS, showed that less than half of patients were on high-potency statin therapy a median 14 days after the acute event.

Michael O'Riordan is the Associate Managing Editor for TCTMD and a Senior Journalist. He completed his undergraduate degrees at Queen's…
Read Full Bio
Sources
Rosenson RS, Farkouh ME, Mefford M, et al. Trends in use of high-intensity statin therapy after myocardial infarction, 2011 to 2014. J Am Coll Cardiol. 2017;69:2696-2706.

Stone NJ. Statins in secondary prevention: intensity matters. J Am Coll Cardiol. 2017;69:2707-2709.
Disclosures
Rosenson reports grant support from Akcea, Amgen, AstraZeneca, Eli Lilly, Esperion, The Medicines Company, and Sanofi; serves on advisory boards for Amgen, Eli Lilly, Regeneron, and Sanofi; has received honoraria from Akcea and Kowa; and has received royalties from UpToDate.