Prognosis of Myocarditis Following COVID-19 Vaccination 'Favorable'
No one had symptoms at 6 months, but five of seven patients had residual LGE on cardiac MR, possibly pointing to fibrosis.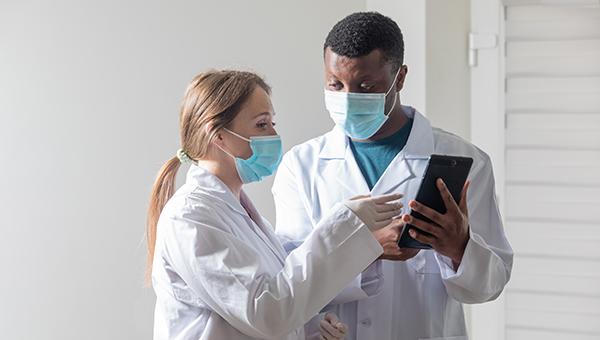 Longer-term imaging follow-up of a small group of patients who developed myocarditis after vaccination against COVID-19 has shown a generally favorable prognosis, including improved or resolved late gadolinium enhancement (LGE) on cardiac magnetic resonance (MR) imaging.
Additionally, there was no evidence of ongoing myocardial injury and no patient was experiencing symptoms, Carolyn Rosner, MSN, NP-C (Inova Heart and Vascular Institute, Falls Church, VA), and colleagues reported online March 28, 2022, in the Journal of the American College of Cardiology.
The researchers previously published their initial findings on these seven younger men hospitalized for acute myocarditis-like illness following vaccination at two US medical centers (Falls Church, VA, and Dallas, TX). The patients, who were white or Hispanic men ranging in age from 19 to 39 years, presented to hospital 3 days (range 2-5 days) after vaccination with an mRNA vaccine (Moderna or Pfizer/BioNTech) or the adenovirus-based vaccine (Johnson & Johnson). 
At 6-month follow-up, however, none of the patients reported any exercise intolerance, chest pain, shortness of breath, or palpitations, and none had experienced any major adverse cardiac events or hospitalizations. Follow-up ECG showed resolution of ST abnormalities in six of the seven patients (one had nonspecific ST-T abnormality).
On the initial cardiac MR, all patients had evidence of LGE, but it had completely resolved in two men and had improved in the remaining five patients. Two patients initially had evidence of myocardial edema but this was not observed in any patient at follow-up. Left ventricular ejection fraction increased for all—up from a median 52% to 60% at follow-up—and end-systolic volume index decreased in everyone. Cardiac troponin I, which was elevated in patients during the index hospitalizations, was within normal limits at follow-up.   
Need for Further Follow-up
For the five men with persistent LGE on follow-up cardiac MR, this is possibly indicative of myocardial fibrosis, say investigators. "Given the possible risk of arrhythmias, cardiac dysfunction, or recurrent myocarditis, patients should continue to undergo close clinical follow-up," write Rosner and colleagues.
Kate Hanneman, MD, MPH (Toronto General Hospital/University Health Network, Canada), who wasn't involved in the study but who has documented myocardial inflammation and cardiac abnormalities in COVID-19 patients and those with myocarditis after vaccination, agreed with the authors' conclusions.  
"In patients with myocarditis who have residual LGE at follow-up without corresponding edema, the LGE in this context usually reflects myocardial fibrosis," she told TCTMD. "Some scarring has resulted from the inflammation. However, we need longer-term follow-up to understand what the consequences of that will be. I agree with the authors that this persistence of LGE—even though it decreased compared to the baseline MRI—warrants longer-term follow-up and further study."
One of the concerns with fibrosis is that it might serve as an arrhythmogenic substrate.
"Based on what we know from patients with myocarditis due to other causes, persistent LGE could be a risk factor for adverse cardiac events including arrythmias. These patients should be followed to make sure they don't develop arrhythmias that may not even be clinically apparent," said Hanneman. "They might be followed with Holter monitoring periodically to make sure there is no heart rhythm disturbances. A small minority of patients with other causes of LGE can develop heart failure or even progress to dilated cardiomyopathy. However, we currently don't have long-term follow-up data in the postvaccine myocarditis population."
Overall, Hanneman said the findings are encouraging, noting that there appears to be no ongoing inflammation and that there was a normalization of LVEF.
Hanneman also pointed out that all seven patients had been initially hospitalized, which would suggest that these are people with the most severe myocarditis following COVID-19 vaccination. Further study is needed to understand the spectrum of imaging abnormalities in patients with milder myocarditis as well.
In their conclusion, Rosner and colleagues draw attention to the potential morbidity of COVID-19 and stress that the "risk-benefit decision for vaccination remains favorable."

Michael O'Riordan is the Associate Managing Editor for TCTMD and a Senior Journalist. He completed his undergraduate degrees at Queen's…
Read Full Bio
Disclosures
Rosner and Hanneman report no relevant conflicts of interest.