RANGER-SFA Data Support Another Paclitaxel-Coated Balloon for Superficial Femoral Artery Disease
The low-dose device, similar to others on the market, demonstrated better patency and fewer repeat procedures at 1 year vs POBA.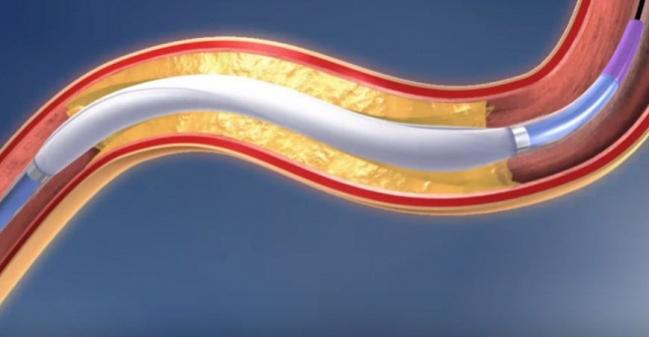 Another paclitaxel-coated balloon has demonstrated better efficacy and less need for reinterventions at 1-year compared with a standard uncoated balloon for the treatment of superficial femoral artery (SFA) disease. However, other measures, including health-related quality of life (QoL), were similar between the two groups.
"The study adds to the available information on peripheral treatment with drug-coated balloons; providing clinical evidence unique to the Ranger drug-coated balloon," write the researchers, led by Sabine Steiner, MD (Universitätsklinikum Leipzig, Germany).
The Ranger paclitaxel-coated balloon (Boston Scientific) is the fourth entry into the US field of similar technology including Lutonix (Bard), Stellarex (Spectranetics), and IN.PACT Admiral (Medtronic). Ranger received CE Mark in June 2014 but remains an investigational device in the United States. The drug dose delivered by Ranger matches that of Lutonix and Stellarex, with a paclitaxel dose density of 2μg/mm2, while the IN.PACT Admiral delivers a dose density of 3.5 μg/mm2.
"It's a great thing that we have ongoing interest in this important space, and there is a lot of good science being done," commented Sahil A. Parikh, MD (NewYork-Presbyterian/Columbia University Irving Medical Center, New York, NY), who was not involved in the study. "In that context, this is an important paper, because it demonstrates the clinical efficacy and safety of this Ranger balloon. On the other hand, it doesn't provide comparative effectiveness with others on the market, and it's yet to be determined whether our marketplace will be able to accommodate multiple players."
Impact on Patency and TLR, but Not QoL
Twelve-month results from the RANGER-SFA trial were published online May 2, 2018, ahead of print in JACC: Cardiovascular Interventions. The study enrolled 105 patients from 10 sites in Germany, France, and Austria. Patients were randomized to receive the Ranger drug-coated balloon (DCB) or an uncoated balloon. All had Rutherford category 2-4 symptomatic lower limb ischemia, and lesions between 20 and 150 mm in length (mean 68 mm), with 70% or greater stenosis in the native nonstented SFA or proximal popliteal segment. About one-third of patients had occlusions, and more than 50% had moderate or severe calcifications.
It's yet to be determined whether our marketplace will be able to accommodate multiple players. Sahil A. Parikh
Compared with the uncoated balloon group, patients treated with the Ranger device had greater absolute primary patency at 1 year (86% vs 52%; P = 0.002) and a two-thirds lower rate of TLR (8.5% vs 26.5%; P = 0.030). Treatment with the DCB was the only independent predictor of primary patency (OR 5.84; 95% CI 2.00-18.40) and TLR-free status (OR 4.37; 95% CI 1.25-16.39).
One-fifth of the DCB group (21%) required bailout stenting compared with 12% of the control group. However, in analyses that excluded those patients, the advantage of the DCB over the uncoated balloon did not change for the endpoints of primary patency or TLR, the researchers reported.
Both groups showed similar improvement in Rutherford categories, and the rate of clinical success also was similar in the DCB and control groups (92.6% vs 81.5%; P = 0.261). Improvements in ankle-brachial index and hemodynamic success were not different between groups, nor were walking scores that assessed distance, speed, and stair climbing. Health-related QoL, as measured by the EQ-5D-3L and SF-12v2 surveys, was similar in terms of improvement at 1 year.
To TCTMD, Parikh said the bailout stenting rate seen in the study is much higher than what has been shown with Lutonix or Stellarex, but he noted that due to the small number of patients in the trial, "a few more or less would have made a big difference in the overall percentage."
He also noted that the lack of difference between the DCB and control groups in symptoms and health-related QoL at 1 year actually is not that surprising, because the more important issue for these patients is whether they maintain the improvements over time. That, Parikh said, will require longer follow up.
Role in CLI Remains Unclear
In an editorial accompanying the study, Konstantinos Katsanos, MD, PhD (Patras University Hospital, Greece), notes that the findings are in line with other randomized trials of paclitaxel-coated balloons versus plain balloon for SFA (IN.PACT SFA, LEVANT 2, and ILLUMENATE) and says head-to-head trials of the different balloons are needed.
Parikh agreed, adding that despite their similarities, it is impossible to generalize the results or even discern the biological effect of each device without such comparisons.
"[Ranger] is an interesting addition to the field, but with three other players in the United States, and even more in the overseas markets, having a single-arm trial is probably no longer going to be good enough," he observed. One ongoing comparison trial is pitting Lutonix head-to-head with another new investigational paclitaxel-coated DCB known as Chocolate Touch (QT Vascular). That trial is still enrolling.
Even with all the positive trials, the adoption of DCBs for SFA disease in the US has been "relatively modest," Parikh said, due in part to reimbursement issues as well as the uncertainty over using them as first-line therapy.
"Patients often are at the whim of their physicians, who are not sure what the right strategy is because there isn't an accepted algorithm for the treatment of patients with femoropopliteal disease," Parikh said. 
As pointed out by Katsanos, the efficacy of the DCBs in more complex lesions and CLI patients also remains to be determined.
"According to a recent meta-analysis of paclitaxel-coated balloons in the femoropopliteal arteries, the population of critical limb ischemia has been conspicuously underrepresented, representing no more than 15-20% of total enrolled participants," he writes. "Of note, there was not a single CLI patient enrolled in the active arm in the RANGER-SFA study."
According to Parikh, while the DCBs could prove important in CLI, "if you look at all the drug-coated balloon pivotal trials, none of them included Rutherford 5 and 6 patients. If we really want to compare apples to apples, we need to exclude that patient cohort and consider them in the context of a real-world study or registry where you can get better insight into the performance in that specific population."
Photo Credit: Adapted from Boston Scientific.

Disclosures
Steiner reports serving as a consultant for Abbott and C.R. Bard.
Katsanos reports no relevant conflicts of interest.
Parikh reports serving on the advisory boards of Medtronic, Boston Scientific, and Spectranetics.