Rising Inflammatory Tides: Increasing CRP Levels After ACS Tied to Greater CVD Risks
Identifying these patients could help determine who might benefit from intensive treatment and closer attention, say researchers.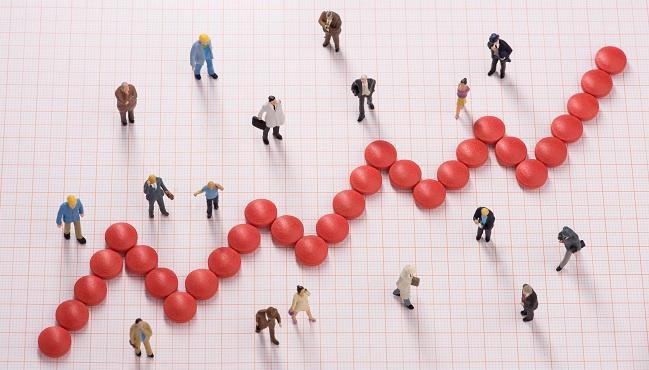 Elevated high-sensitivity C-reactive protein (hsCRP) levels following an acute coronary syndrome are associated with an increased risk of recurrent events, but now there are new data to suggest that the risk of recurrent events is also elevated if hsCRP levels continue to rise in the months after the patient stabilizes.
Researchers say that identifying patients with increasing hsCRP levels after their events may help determine who might benefit from more intensive treatment.
"These data are certainly provocative and certainly would suggest it's not unreasonable to follow CRP along with lipids in high-risk patients getting out of hospital for an acute coronary syndrome," Rishi Puri, MBBS, PhD (Cleveland Clinic, OH), one of the senior investigators, told TCTMD. "You're drawing blood to follow their lipids that we're trying to treat to target, why not add on high-sensitivity CRP that can help potentially better risk stratify the patient?"
The important question, however, is what to do when increasing CRP levels are detected?
While the CANTOS study firmly supported the inflammatory hypothesis of atherosclerosis, there is no mainstream therapy for the treatment of inflammation and all ACS patients should be started on high-intensity statin therapy anyway, said Puri. Serially testing CRP in the months after ACS might identify high-risk patients, and these patients should be optimized on medical therapy. But until there is a safe, effective, and affordable therapy to target inflammation, "it is very hard to make any recommendations beyond that at this point in time," said Puri. 
What Happens When CRP Continues to Rise?
Published March 6, 2019, in JAMA Cardiology, the new study is an analysis of the VISTA-16 randomized clinical trial testing varespladib, a secretory phospholipase A2 inhibitor, in 5,145 patients with ACS. VISTA-16 was halted early when the data safety monitoring board determined that the addition of varespladib to statin therapy did not reduce the risk of recurrent cardiovascular events. In fact, use of varespladib was associated with a significantly increased risk of MI.
In the present analysis, the researchers wanted to determine if temporal changes in hsCRP measured after ACS provided additional prognostic information, so they assessed serial hsCRP levels for 16 weeks in 4,257 patients treated with optimal medical therapy. As part of VISTA-16, hsCRP levels were measured 1, 2, 4, 8, 16 weeks after randomization to varespladib or placebo. At 16 weeks, the mean LDL cholesterol and hsCRP levels were 65 mg/dL and 2.4 mg/L, respectively. In total, 16% of patients had an increase in hsCRP after ACS.
In a multivariate-adjusted model, each standard deviation (SD) increase in hsCRP at baseline was associated with a significant 36% increased risk of major adverse cardiac events, a 58% increased risk of all-cause mortality, and a 61% increased risk of cardiovascular mortality.
In the longitudinal model adjusted for baseline hsCRP levels, assigned treatment in VISTA-16, and high-intensity statin therapy and other evidence-based treatments for ACS, the researchers found that increasing hsCRP levels were associated with a higher risk of recurrent events. Overall, each SD increase in longitudinal hsCRP was associated with a significant 15% increased risk of major adverse cardiac events, a 25% increased risk of all-cause mortality, and a 26% increased risk of cardiovascular death. 
"We were able to show quite consistently that if longitudinal CRP tracks upwards over 16 weeks, [the patients] had a higher chance of death, cardiovascular death, and revascularization," said Puri.    
LoDoCo and Colchicine
Brent Muhlestein, MD (Intermountain Healthcare, Salt Lake City, UT), who was not involved in the study, said ACS patients presenting to the hospital will all have elevated hsCRP levels.  
"The way we generally use CRP is in determining the overall future risk in patients without documented coronary artery disease," he told TCTMD. "It's used to determine whether we need to be aggressive in primary prevention with statins and so forth. If CRP is high, even though their LDL cholesterol might not be that high, we might treat patients with statins, which was tested in the JUPITER trial."
In secondary prevention, Muhlestein said he uses CRP measurements in stabilized patients. For example, if an ACS patient is stabilized but CRP does not return to normal, these patients are at higher risk for recurrent events, he said. In the CANTOS trial, which included patients with a previous MI but elevated hsCRP levels, the addition of the anti-inflammatory canakinumab to statin therapy lowered the risk of recurrent events.
While canakinumab is available as an orphan drug to treat various rare conditions, it's exorbitantly expensive and not a treatment option. Instead, Muhlestein said he'll turn to the inexpensive anti-inflammatory agent colchicine in select patients on the basis of the LoDoCo randomized trial. "I've started to check CRP levels in my patients, and if the CRP levels are high even though they've become stabilized, I'm giving them colchicine and then rechecking CRP," he said. "If it drops, I'll leave them on colchicine and I'm convinced I'm helping them."
The LoDoCo2 trial, which is substantially larger than the first study, is ongoing but it will be several years before it is completed. "Until then, I'm just using this inexpensive, safe medication in the hopes that the original trial was accurate," said Muhlestein. If their CRP isn't lowered after a 6- to 12-week course of colchicine, Muhlestein said he'll stop the drug.
To TCTMD, Puri said that since canakinumab won't be available, and methotrexate failed in the CIRT trial, there is a lot of interest in colchicine as a potential anti-inflammatory agent. "There's a lot of translational and mechanistic data to suggest colchicine could be good in this setting, but the trials are still ongoing testing this hypothesis," he said.

Michael O'Riordan is the Associate Managing Editor for TCTMD and a Senior Journalist. He completed his undergraduate degrees at Queen's…
Read Full Bio
Disclosures
Puri reports no conflicts of interest.