Serious Risks With 'Jailing' Pacemaker, ICD Leads During TTVR
EPs want to talk before some procedures to prevent operators from damaging pacing and defibrillator leads.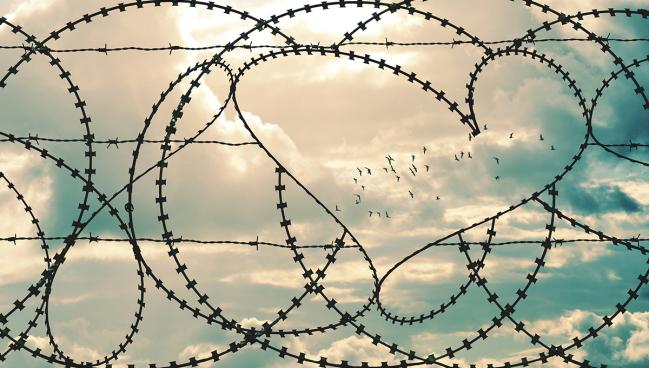 Electrophysiologists are asking for better communication between their field and the interventional cardiology community, particularly with operators who perform percutaneous transcatheter tricuspid interventions, given the potential risks of "jailing" existing pacemaker and defibrillator leads.
Being involved in the heart team discussion could help identify the potential hazards of transcatheter tricuspid valve replacement (TTVR) in patients with preexisting leads, say the EPs. Jailed leads—those "squished" against the heart tissue or an older surgical valve by the new transcatheter device—can be damaged and no longer function properly, which can result in patient deaths.
Michael Lloyd, MD (Emory University School of Medicine, Atlanta, GA), who presented new data about the potential risks of entrapped leads at the Heart Rhythm 2023 meeting last month, said the community needs to start thinking more collaboratively before performing TTVR.
"The plumbers and the electricians aren't talking," he told TCTMD. "You might have a doctor that needs to fix the tricuspid valve, and he or she does a good job of doing that, but [does so] with no attention to the pacemaker wire. If we're called afterwards, it's already too late. There needs to be some more preoperative consideration."
Leads should probably be extracted first so they aren't jailed as a result of any procedure, including TTVR, Lloyd told TCTMD. "It's extract, intervene, and then reimplant."
Bruce Wilkoff, MD (Cleveland Clinic, OH), who wasn't involved in the new study, said the focus for the interventional cardiologist is the treatment of tricuspid regurgitation (TR), but that such singular attention has ignored the concerns of the EP community. If operators, as well as device manufacturers, are not considering the pacing leads, this can put the patient at risk for adverse events.    
"Two things can happen," Wilkoff told TCTMD. "One, the valve can sometimes damage the lead so it doesn't work so well, and two, it makes it difficult or impossible to get those leads out without doing surgery, which is what they were trying to prevent in the first place."   
Even if the old wires are extracted and the new transcatheter valve implanted, Wilkoff said structural cardiologists are somewhat reluctant to have EPs run a pacing wire through the new tricuspid valve, out of fear it will interfere with "their" device. He stressed, however, that he's not trying to paint interventionalists as "the bad guys," but rather to emphasize the importance of communication and preprocedural preparation.
"The issue is that we need to talk to each other and to plan," said Wilkoff.
Passing Through Tricuspid Valve to RV
Transvenous pacemaker and ICD leads are commonly passed into the right atrium across the tricuspid valve and into the right ventricle. However, placing an endocardial lead to provide pacing or defibrillation to the right side of the heart can have adverse consequences on the tricuspid valve itself, with multiple studies showing impaired valve structure and function. As a result, patients with TR requiring an intervention frequently have endocardial leads in place, said Lloyd.
With a transvenous wire coming across the tricuspid valve, TTVR can trap the lead outside the new bioprosthesis and against the tricuspid annulus (or against a prior bioprosthesis or tricuspid annuloplasty ring in the case of redo procedures). This can cause the wire to fracture.
"The wires can break, and when the pacemaker wires break, especially in people who need them, it's a life-threatening problem," said Lloyd. "If it's a defibrillator wire that breaks, it results in inappropriate shocks."
The plumbers and the electricians aren't talking. Michael Lloyd
At the Heart Rhythm Society meeting, Lloyd presented unpublished data on 30 patients who underwent TTVR at Emory University between 2021 and 2023. Seven patients had an existing right ventricular lead crossing the tricuspid valve at the time of TTVR with either an EVOQUE or a Sapien 3 bioprosthesis (Edwards Lifesciences). For five patients, the leads were left in place and jailed as a result of TTVR, while two patients had the leads extracted. For the five patients with a jailed transvenous lead, three had issues with the procedure, including one who died from complications. The two other patients required urgent lead revisions.
The Emory series is not the first addressing the safety of jailed leads resulting from TTVR.
A 2019 case report described a case of device pocket infection with incomplete lead extraction resulting from an RV lead being jailed at the time of a transcatheter tricuspid valve-in-valve procedure.
In 2020, investigators published data on 329 patients from the VIVID registry who underwent valve-in-valve TTVR, of whom 128 had prior pacing systems in place. Of those, 31 had leads that passed through the tricuspid valve. The leads were left in place for 28 cases, leaving them trapped between the new transcatheter implant and the prior surgical or repaired valve. Of those with jailed leads, there were two cases of right ventricular lead failure (7%) over 15 months follow-up.
Data from the first-in-human trial with EVOQUE for TR did not show any significant changes in sensitivity or pacing thresholds in patients with a permanent pacemaker and jailed transvenous leads.
Scope of the Problem
Both Lloyd and Wilkoff said the follow-up in these studies was relatively short, and that the long-term implications of a jailed lead still aren't known. Right now, Lloyd said there is no way to predict which patients will have adverse consequences from jailed leads after TTVR. It is possible, though, to identify patients who would have an extremely bad outcome if the wires were damaged with entrapment, such as those who are pacing dependent or who have an ICD. It wouldn't be safe for these patients to undergo TTVR without first extracting the leads given the risks of lead damage, he said.
There may be some scenarios where jailing the lead is appropriate, said Wilkoff, but lead extraction should be offered to all patients as part of informed consent. In such instances, the leads would be taken out, the valve implanted, and then pacing provided in another way.
[Jailing] makes it difficult or impossible to get those leads out without doing surgery, which is what they were trying to prevent in the first place. Bruce Wilkoff
"Lead extraction is a very-low-risk procedure even in fairly sick patients," said Wilkoff, "and there are alternative ways to put the leads in. They can be put in through the coronary sinus, like you do with resynchronization leads, and there are now leadless pacemakers that wouldn't bother the tricuspid valve."
While the consequences of jailed transvenous leads after TTVR are still being worked out—the exact rate of lead failure is still unknown—Lloyd said awareness is growing about the potential risks. That said, he believes EPs should be participating in discussions with their structural heart colleagues prior to these interventions.
"We're part of the problem," he said, referring to cardiac implantable electronic device (CIED)-induced TR. "We're causing leaky tricuspid valves, which is the impetus for things to go in," in the first place.
Wilkoff added that medicine is no longer practiced in silos, and that better communication is needed between EPs and structural heart physicians. "This isn't a new concept," he said. "It's the standard of care for the best way to treat a patient. We're a long ways from where it's one person deciding everything that happens for the patient."
At the recent European Heart Rhythm Association meeting in Barcelona, Spain, EPs also made the push for greater involvement on the heart team, particularly given the high risk of conduction disturbances after TAVI.    

Michael O'Riordan is the Associate Managing Editor for TCTMD and a Senior Journalist. He completed his undergraduate degrees at Queen's…
Read Full Bio
Sources
Lloyd M. Percutaneous tricuspid valve replacement: managing existing and future transvenous RV leads. Presented at: HRS 2023. May 20, 2023. New Orleans, LA.
Disclosures
Lloyd reports honoraria/speaking/consulting payments from Boston Scientific and serving on an advisory committee for Abbott Medical.
Wilkoff reports honoraria/speaking/consulting payments from Abbott, Philips, Medtronic, Xcardia, and Boston Scientific.