Statins No Benefit to ICU-Admitted COVID-19 Patients: INSPIRATION-S
But there were positive signs among patients treated early, and ongoing trials will provide more-definitive answers.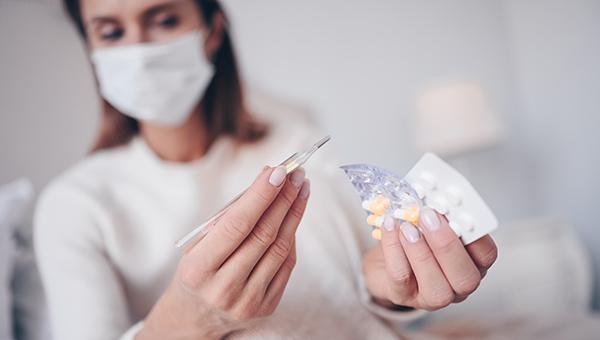 Statins aren't protective against adverse outcomes in COVID-19 patients admitted to the ICU, results from the randomized INSPIRATION-S trial show. But the treatment proved to be safe, and investigators haven't ruled out the possibility of benefit, especially for those treated early after contracting the viral disease.
Published today in the BMJ, INSPIRATION-S compared atorvastatin 20 mg daily with placebo as part of a larger trial with a 2x2 factorial design. Its sister study, INSPIRATION, previously reported results in JAMA showing no advantage for intermediate versus standard doses of anticoagulation.
Behnood Bikdeli, MD (Brigham and Women's Hospital, Boston, MA, and Yale University School of Medicine, New Haven, CT), the new paper's lead author, told TCTMD that the hope had been that statins' pleiotropic effects might impart better outcomes. In addition to endothelial-stabilizing, anti-apoptotic, and antioxidant effects, their anti-inflammatory potential stands out, he said, citing the hint of a mortality reduction seen among a subset of patients with acute respiratory distress syndrome in the HARP-2 trial.
"Obviously, COVID being an inflammatory disease and statins being known to reduce inflammation as well, we thought this might be a reasonable medication to investigate," said Bikdeli, especially on the heels of observational data supporting the idea. "What we found was actually a little disappointing, if I may, because we were hoping for a larger treatment effect."
That said, INSPIRATION-S showed positive signs for patients who presented to the ICU earlier in the course of COVID-19, he pointed out. "So I think that's encouraging. Maybe it has to do with timing: if people are presenting so late, there's really not much to reverse with an oral medication. That's a working hypothesis."
Even in the entire cohort, the results point in the right direction, Bikdeli added.
INSPIRATION-S
INSPIRATION-S investigators randomized 605 study participants who were enrolled at 11 Iranian hospitals between July 29, 2020, and April 4, 2021, to receive oral atorvastatin (20 mg/day) or placebo. Before reaching their target sample size of 626 patients, the trial was terminated due to lack of funding and enrollment difficulties. Ultimately, event rates were lower than expected, the researchers say.
What we found was actually a little disappointing, if I may, because we were hoping for a larger treatment effect. Behnood Bikdeli
The current analysis, after excluding 18 patients who didn't meet eligibility criteria or failed to receive the study drug, involves 587 patients (median age 57 years; 44% women).
The primary efficacy outcome—a composite of arterial thrombosis, extracorporeal membrane oxygenation, or all-cause mortality within 30 days of randomization—occurred at similar rates in the atorvastatin and placebo groups (33% vs 36%; OR 0.84; 95% CI 0.58-1.21). This amounts to an absolute but nonsignificant difference of 3.6% favoring atorvastatin, driven largely by a disparity in death rates (31% vs 35%). Results didn't differ based on which anticoagulation regimen patients received in INSPIRATION.
Yet statin treatment did appear to be safe. There were no cases of myopathy. Liver enzyme levels were no more likely to increase with atorvastatin than with placebo (2% in each group). Major bleeding trended higher with atorvastatin (4% vs 2%), but there was no difference in the rate of fatal bleeds.
Subgroup analyses showed consistent results irrespective of sex, obesity, and diabetes status. Notably, though, patients whose symptoms had begun within 7 days prior to admission saw a lower risk of the primary outcome with atorvastatin (OR 0.60; 95% CI 0.37-0.99).
This raises the possibility that statins could be targeted at patients who present early, Bikdeli and colleagues suggest. It may also be that the effects of statins take longer than 30 days to appear. They are currently looking at 90-day follow-up as well as functional outcomes.
As for the choice of atorvastatin, Bikdeli said, it was a matter of safety. "Early in the pandemic," when INSPIRATION launched, "many people were using antivirals that had significant interactions with statins," potentially augmenting their side effects, he explained. Today, the more-common antiviral therapies are less likely to do so. Their results, which showed no excess harm, are reassuring.
Across the spectrum of COVID-19 severity, ongoing studies are exploring not just statins but also other lipid-lowering agents, including omega-3 fatty acids, fibrates, and niacin, the researchers note. For the ICU setting, there are at least three randomized trials focused on statins, including two in Lebanon (here and here) as well as another in Colombia. Data are also forthcoming from the REMAP-CAP trial of community-acquired pneumonia. "There are a lot of interesting questions coming up, but ultimately all these hypotheses, they have to pass the test of time and rigor of randomized trials. It's going to be only after a few more months that we would be well positioned to think [about whether they're] ready for prime-time use," Bikdeli cautioned.
"Unfortunately, the pandemic doesn't seem to be going anywhere anytime soon," Bikdeli said, so if the aforementioned studies provide good news, the INSPIRATION investigators might conduct a follow-up randomized trial attempting to more closely target which patients stand to benefit.
Everything continues to shift in the pandemic, from patient profiles to treatments and new variants, he observed. Future studies should conduct subgroup analyses to dig into these differences, comparing across time periods.
For now, "given the results of our trial, I do not think statins should be used as a new treatment in patients with COVID-19. [But] if somebody is on statins for other reasons, they definitely should continue [taking them]," Bikdeli advised.

Disclosures
Bikdeli reports that he is a consulting expert, on behalf of the plaintiff, for litigation related to two specific brand models of IVC filters.