Studies Highlight Rarity of Myocarditis With mRNA COVID-19 Vaccines
Data from the US and Israel show that cases were clustered in young men and typically followed a benign course.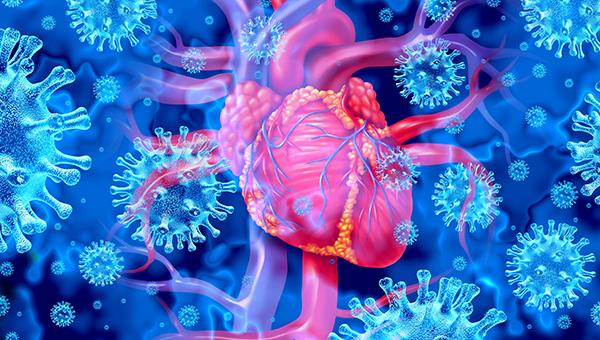 Acute myocarditis is not a frequent complication associated with either of the mRNA-based COVID-19 vaccines, and it typically carries minimal short-term clinical consequences, data from large healthcare organizations in the United States and Israel show.
Among about 2.4 million adult members of the Kaiser Permanente Southern California (KPSC) integrated health system, the incidence of acute myocarditis after the second dose of vaccines from Pfizer/BioNTech or Moderna was 5.8 per million people, according to a research letter published online this week in JAMA Internal Medicine, with lead author Anthony Simone, MD (Kaiser Permanente Los Angeles Medical Center, CA).
And among more than 2.5 million people ages 16 and older vaccinated within Clalit Health Services, the largest healthcare organization in Israel, the estimated incidence after receipt of at least one dose of the Pfizer/BioNTech vaccine was 2.3 per 100,000 people, researchers report in a study published online ahead of print in the New England Journal of Medicine. A second NEJM paper, involving a retrospective review of Israeli Ministry of Health data, found the rate of definite or probably myocarditis to range from 1 in 26,000 in males to 1 in 218,000 in females.
Data from all three papers confirm that the rare complication was clustered in young males, tended to occur after the second dose, and usually followed a benign clinical course, with most affected patients recovering after a short hospital stay.
"We continue to believe strongly that the benefits of the COVID-19 vaccine greatly outweigh the risks," Mingsum Lee, MD, PhD (Kaiser Permanente Los Angeles Medical Center and Kaiser Permanente Southern California Department of Research & Evaluation), senior author of the US study, told TCTMD via email, calling the incidence of myocarditis very low. "Getting the COVID-19 vaccine is one of the best things people can do to protect themselves from getting or spreading COVID-19."
However, she said, "anyone who experiences chest pain or shortness of breath within a few days after receiving a COVID-19 mRNA vaccine should seek medical help."
Ran Kornowski, MD (Rabin Medical Center, Beilinson Hospital, Petah Tikva, Israel), senior author of the NEJM study, agreed with Lee's assessment.
"We know the consequences of COVID, which is a very unpredictable disease that can cause severe life-threatening complications and even death," he commented to TCTMD. Though how people weigh risks and benefits is subjective, in this instance the equation "makes a very strong case in favor of the vaccine compared to the alternative," he added. "For me, as a researcher and as a cardiologist who has taken care of those patients, I think that it gives a very good perspective of the risk-benefit of being vaccinated versus not being vaccinated."
We continue to believe strongly that the benefits of the COVID-19 vaccine greatly outweigh the risks. Mingsum Lee
Commenting on the studies and the accumulated research in this area for TCTMD, Mohammad Madjid, MD (McGovern Medical School at UTHealth Houston, TX), said: "Now we have enough data to suggest that there is a causal relation and most likely these [myocarditis cases] are related to the vaccine."
He noted that the reported cases are likely just the "tip of the iceberg" because more-subtle cases are likely not coming to the attention of the medical community, although that also goes for myocarditis related to SARS-CoV-2 infection, which is a more-prevalent problem.
Exact mechanisms behind vaccine-induced myocarditis remain unknown, but the fact that there have been few clinically significant cases observed is very reassuring, Madjid added, stating that the beneficial effects of vaccination far outweigh the possible risks.
Kaiser Permanente Southern California
Early in 2021, Lee noted, there were a few young people who developed myocarditis shortly after receiving one of the mRNA-based vaccines, a phenomenon reported in other parts of the world as well. "At the time, we were not sure whether those were isolated cases, but we started to proactively follow all our patients after COVID-19 mRNA vaccination to see if any of them were later hospitalized for myocarditis," she explained.
For this analysis, she and her colleagues examined data on about 2.4 million KPSC members (median age 49 years; 50.4% women) who received at least one dose of the Pfizer/BioNTech or Moderna vaccine between December 14, 2020, and July 20, 2021; 93.5% received two doses.
They identified 15 cases of confirmed myocarditis in this cohort, with each case adjudicated by at least two cardiologists. All confirmed cases were in men, with a median age of 25. None had prior cardiac disease.
Our findings are definitely very reassuring that people have much more to gain from being vaccinated and significantly reducing their risk of COVID infection compared to the risk they take in terms of myocarditis by getting the vaccine. Guy Witberg
All of the patients presented with chest pain within a week of vaccination. The length of stay ranged from 1 to 3 days in all but one patient, who was discharged after 5 days. "Symptoms resolved with conservative management in all cases; no patients required intensive care unit admission or readmission after discharge," the authors report.
The incidence of myocarditis over a 10-day observation window was 0.8 per million first doses and 5.8 per million second doses in the vaccinated cohort. For comparison, the incidence of myocarditis during the same time period among unvaccinated individuals was 2.2 per million people. Comparing the two cohorts, mRNA vaccination was associated with a higher rate of myocarditis after the second dose (incidence rate ratio 2.7; 95% CI 1.4-4.8), but not after the first dose (IRR 0.38; 95% CI 0.05-1.40).
"We do want to stress, though, that given the observational nature of this study, no causal relationship between COVID-19 mRNA vaccination and postvaccination myocarditis has been established," Lee said.
What's unique about these data compared with prior studies of myocarditis after COVID-19 vaccination is the racial/ethnic makeup of the cohort, Vinay Guduguntla, MD (University of California, San Francisco), a JAMA Internal Medicine editorial fellow, commented to TCTMD, referring to the mix of Hispanic (37.8%), white (31.2%), Asian (14.3%), and Black (6.7%) individuals included.
"I think that's important to document . . . when considering how vaccines and vaccine side effects will affect different populations," said Guduguntla, who wrote an accompanying editorial with Mitchell Katz, MD (NYC Health + Hospitals, New York, NY), deputy editor of JAMA Internal Medicine.
Israeli Data
In the Israeli analysis led by Guy Witberg, MD (Rabin Medical Center, Beilinson Hospital), investigators examined the database of Clalit Health Services, which provides care for 52% of the Israeli population, to look for cases of myocarditis among more than 2.5 million people ages 16 and older who received at least one dose of the Pfizer/BioNTech vaccine between December 20, 2020, and May 24, 2021; 94% received two doses.
Overall, they found 54 cases that met criteria for myocarditis after a review of the electronic medical records, as adjudicated by cardiologists. Compared with the entire vaccinated cohort, affected patients were younger (median age 27 vs 44) and less likely to be female (6% vs 51%). Most cases (69%) were diagnosed after the second dose.
Bottom line: the benefits of the vaccine outweigh the risks by far. Vinay Guduguntla
Most patients (81%) presented with chest pain, and vital signs were typically normal. Slightly more than half (53%) had ST-segment elevation on ECG, with normal findings in 21% and minor abnormalities in the rest. Cardiac troponin T levels were elevated in all cases.
Of patients who received an echocardiogram, 29% had LV dysfunction during the hospital stay. Ten patients still had dysfunction at discharge, but of five who underwent subsequent testing, all had normal heart function. Cardiac magnetic resonance imaging revealed normal LV function in the 15 patients who received it.
About three-quarters of the myocarditis cases were deemed mild, with another 22% considered intermediate. Only one patient, a male between the ages of 16 and 29, developed fulminant myocarditis associated with cardiogenic shock; he was treated with extracorporeal membrane oxygenation and recovered. No other patients required inotropic/vasopressor support or mechanical ventilation.
The median length of stay was 3 days, with 65% of patients getting discharged without any ongoing treatments. Through a median follow-up of 83 days, one patient with a history of pericarditis required multiple readmissions and one patient with preexisting cardiac disease died of unknown cause.
The researchers calculated an overall incidence of 2.13 myocarditis cases per 100,000 vaccinated individuals, with a higher incidence in men versus women (4.12 vs 0.23 per 100,000) and in those younger than 30 versus 30 or older (5.49 vs 1.13 per 100,000). The highest incidence was observed in men ages 16 to 29 (10.69 per 100,000).
Those numbers are slightly lower than the rates reported in the second paper, by Dror Mevorach, MD (Wohl Institute for Translational Medicine, Jerusalem, Israel), and colleagues. In their review of national health records, including over 5 million fully vaccinated Israelis and 136 cases of definite or probably myocarditis, fully 129 cases were deemed to be mild. One case involved fulminant myocarditis, which was fatal. As compared with the expected incidence rate based on historical data, the standardized incidence ratio in this cohort was 5.34 and was highest after the second dose in male recipients between the ages of 16 and 19 years 13.60.
"Overall, we estimated that definite or probable cases of myocarditis occurred in the overall Israeli population at a rate of approximately 1 per 26,000 males and 1 per 218,000 females after the second vaccine dose, with the highest risk again among young male recipients," they write.
Weighing the Risks and Benefits
Addressing the higher incidence observed here than in the US study or prior research, Witberg pointed out to TCTMD that the occurrence of myocarditis varies based on many factors, including geography, rural versus urban setting, and race/ethnicity. Moreover, differences between studies of vaccine-associated cases may arise due to differences in methodology, he said.
With that in mind, Witberg said the findings of the study are reassuring in that they show most patients who develop myocarditis have mild disease and a quick recovery. "So we do not expect that there will be any long-term consequences in terms of their cardiovascular health or general health," he said. And even with a higher incidence here than previously reported, the complication remains rare.
"If you look at the overall balance, then our findings are definitely very reassuring that people have much more to gain from being vaccinated and significantly reducing their risk of COVID infection compared to the risk they take in terms of myocarditis by getting the vaccine," Witberg said.
Guduguntla agreed that, on balance, it makes sense to take the vaccine when looking at the potential risk of myocarditis.
"In our editorial, we talk about how it's a mostly mild side effect, and I would say that's quite true," he told TCTMD. "Not only is it rare, but most people were not hospitalized for a very long period of time and most had good recovery, and I think that's important when fleshing out this topic of interest further."
Guduguntla underscored the seriousness of the disease the vaccines are designed to combat. "COVID, in addition to the numerous deleterious effects that have been documented, also has a very negative effect on the heart. So bottom line: the benefits of the vaccine outweigh the risks by far," he said, noting that that message would apply for anyone eligible to receive a shot.
Still, both he and the US researchers say the heightened risk in young men should be further studied.
In addition, Madjid said, it'll be important to monitor the myocarditis issue as people start to get third shots of the vaccines. And for his clinician colleagues, he cautioned that vaccine-associated myocarditis should be a diagnosis of exclusion. "In these cases, if you're not looking for other things you may easily miss it," he said, highlighting other viral infections as a potential cause. "That might explain some of the discrepancies in the incidence rate that you see from different reports."
TCTMD Managing Editor Shelley Wood contributed to this article.

Todd Neale is the Associate News Editor for TCTMD and a Senior Medical Journalist. He got his start in journalism at …
Read Full Bio
Sources
Simone A, Herald J, Chen A, et al. Acute myocarditis following COVID-19 mRNA vaccination in adults aged 18 years or older. JAMA Intern Med. 2021;Epub ahead of print.

Guduguntla V, Katz MH. COVID-19 messenger RNA vaccination and myocarditis – a rare and mostly mild adverse effect. JAMA Intern Med. 2021;Epub ahead of print.

Witberg G, Barda N, Hoss S, et al. Myocarditis after COVID-19 vaccination in a large health care organization. N Engl J Med. 2021;Epub ahead of print.

Mevorach D, Anis E, Cedar N, et al. Myocarditis after BNT162b2 mRNA vaccine against COVID-19 in Israel. N Engl J Med. 2021;Epub ahead of print.
Disclosures
The study by Witberg et al was funded by the Ivan and Francesca Berkowitz Family Living Laboratory Collaboration at Harvard Medical School and Clalit Research Institute.
Simone, Lee, Witberg, Kornowski, Guduguntla, and Katz report no relevant conflicts of interest.