Supplemental Oxygen Provides No Benefit to Patients With Suspected MI: DETO2X-AMI
Don't waste time with oxygen. Focus instead on getting patients to the cath lab as quickly as possible, says one expert.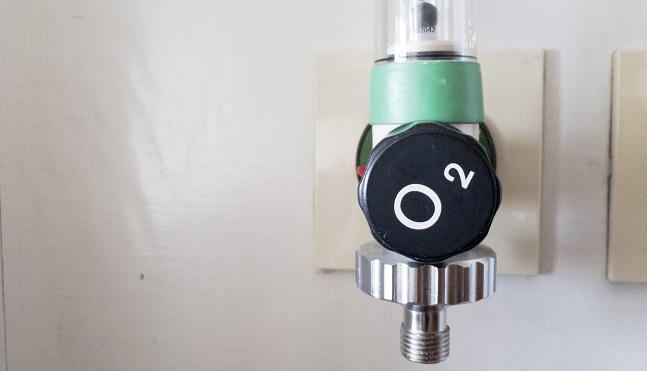 Routinely providing supplemental oxygen therapy to patients with suspected acute MI without hypoxemia does not result in a reduction in the 1-year risk of all-cause mortality when compared with patients receiving ambient air, according to the results of a new study.
There was no benefit of oxygen therapy in any of the prespecified subgroups, including patients with confirmed STEMI. Additionally, the extent of myocardial injury, as assessed by cardiac troponin T levels, was no different between patients who received supplemental oxygen and those who received ambient air.
Robin Hofmann, MD (Karolinska Institute, Stockholm, Sweden), who led the registry-based randomized study, told TCTMD that for the general patient with suspected MI, widespread use of supplemental oxygen is no longer warranted, despite being a firmly entrenched practice for physicians and emergency providers who treat patients with ACS. 
"It's interesting, but when it came down to it, and you explained it to physicians—that we don't know if oxygen is beneficial and that's why we have to do this [study]—they could accept that," said Hofmann. "Now we have good data, with many patients, and I think practice will change."
Christoph Varenhorst, MD (Uppsala Clinical Research Center, Sweden), a spokesperson for the European Society of Cardiology (ESC), said it's standard of care for physicians and emergency providers to give oxygen to patients with suspected MI, particularly if the patient is in distress.
"There have been quite a lot of ideas on the beneficial effects, such as decreasing pain and possibly providing comfort to the patients," Varenhorst told TCTMD. "But with data hinting at the potential for harm, I think this study was warranted and it'll change how we do things."
The results of the study, known as the Determination of the Role of Oxygen in Suspected Acute Myocardial Infarction (DETO2X-AMI) trial, were presented today at the European Society of Cardiology Congress 2017 and published simultaneously in the New England Journal of Medicine.
Oxygen Part of Practice Despite Lack of Evidence
Speaking with TCTMD, Hofmann said that when they began the trial there was an initial resistance, with physicians arguing that oxygen shouldn't be taken away from ACS patients. The researchers argued, however, there was simply no evidence to support supplemental oxygen, that it was simply "one of those things" that had always been done.
With data hinting at the potential for harm, I think this study was warranted and it'll change how we do things. Christoph Varenhorst
Use of supplemental oxygen is also recommended by the clinical guidelines, although the evidence base to support the recommendation is thin and mostly based on expert opinion. The rationale behind supplemental oxygen is that increased oxygen delivered to the ischemic myocardium could reduce infarct size and subsequent complications, such as heart failure or arrhythmias, said Hofmann.  
The AVOID trial, however, raised the possibility that supplemental oxygen might be harmful. In that small study, which was presented in 2014 and reported by TCTMD, supplemental oxygen in acute MI patients without hypoxia appeared to cause myocardial injury, with the study showing an increase in myocardial infarct size among those who received oxygen. 
To address the question of oxygen's benefits, Hofmann and colleagues studied 6,629 patients enrolled in the SWEDEHEART registry who presented to ambulance services, emergency departments, coronary care units, or catheterization laboratories in Sweden. Individuals had symptoms suggestive of MI for less than 6 hours, an oxygen saturation of 90% or higher on pulse oximetery, and ECG changes suggestive of ischemia or elevated troponin levels on admission. Patients were randomized to oxygen therapy (6 L/min for 6 to 12 hours) or ambient air.
At 1 year, death from any cause occurred in 5.0% of patients randomized to oxygen and in 5.1% of patients treated with air (P = 0.80). Similarly, there was no difference in the rate of rehospitalization for MI or the combined endpoint of all-cause mortality/MI rehospitalization. The 30-day event rates also did not significantly differ between the two study arms.
"We saw that myocardial infarction measured by very sensitive biomarkers was virtually identical between the groups, which is good for us because we've been using this stuff for ages," said Hofmann. "Can you imagine if we harmed our patients? It would have been terrible."
Predictable, but Not Inconsequential
Gregg Stone, MD (Columbia University Medical Center, New York, NY), who was not involved in the study, said that unless the patient has pulmonary edema, and is reasonably well oxygenated—say 92% or better—providing supplemental oxygen is not going to change the amount of oxygen delivered to the tissue, especially in the infarcted area.
"I think it was a predictable result but it's not an inconsequential result," Stone told TCTMD. "Oxygen does have some cost associated with it and it takes time and resources. There's no reason for routine use. The patient should have their arterial oxygen saturation monitored, just a finger probe, and if they ever start getting into the 91% or 92% range, it might be reasonable to start oxygen. But that won't be most patients."
Varenhorst called the DETO2X-AMI study a pragmatic trial, one that will help direct physician care and resources. "It takes time in the prehospital setting to pull out the oxygen," he said. "This will also have an impact on [how] the EMS, doctors, and nurses prioritize what they do. I think this will have an impact on care."
While there are certain patient groups where oxygen is important, such as those with heart failure or chronic obstructive pulmonary disease presenting with acute MI, the priority for physicians should be getting acute MI patients quickly to the catheterization laboratory rather than worrying about oxygen. "We want as little as possible a delay in getting them to the cath lab," said Varenhorst.
In an editorial accompanying the study, Joseph Loscalzo, MD (Brigham and Women's Hospital, Boston, MA), writes that while the mechanisms underlying the adaptation to myocardial ischemia are complicated, the results of this DETO2X-AMI are straightforward and indisputable: "supplemental oxygen provides no benefit to patients with acute coronary syndromes who do not have hypoxemia—it is clearly time for clinical practice to change to reflect this definitive evidence."    
The ESC recently updated their guidelines for the management of patients with acute MI. In the new 2017 guidelines, they recommend physicians provide supplemental oxygen only when arterial oxygen saturation drops below 90% (class I indication).  


Michael O'Riordan is the Associate Managing Editor for TCTMD and a Senior Journalist. He completed his undergraduate degrees at Queen's…
Read Full Bio
Disclosures
Hofmann reports grants from the Swedish Research Council, Swedish Heart-Lung Foundation, and Swedish Foundation for Strategic Research.
Loscalzo is the editor-at-large of the New England Journal of Medicine.