Tafamidis, a Transthyretin Stabilizer, Offers Hope for Rare Cardiomyopathy
The disease, in which unstable, misfolded amyloid proteins accumulate in the heart, is likely underdiagnosed, researchers say. Now there's new hope.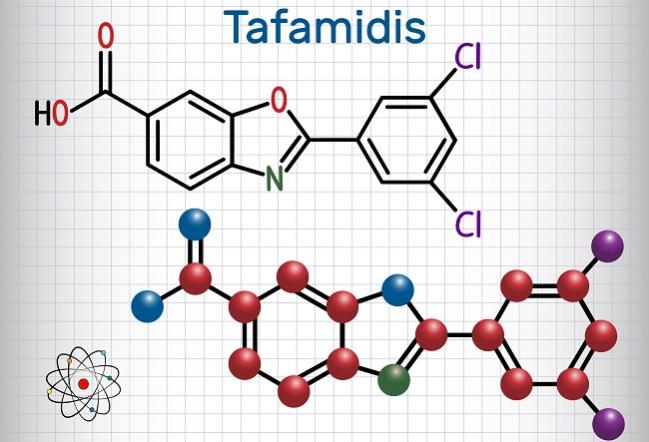 MUNICH, Germany—A new therapy offers a better chance at survival and improved symptoms for adults affected with transthyretin amyloid cardiomyopathy, a disease that previously had no good treatment options.
Presenting the results of the ATTR-ACT study during a late-breaking clinical trial session at the European Society of Cardiology Congress 2018, senior investigator Claudio Rapezzi, MD (University of Bologna, Italy), reported that patients treated with tafamidis (Vyndaqel; Pfizer), a drug that stabilizes transthyretin and is currently used to delay the loss of peripheral nerve function in polyneuropathy, significantly reduced the risk of all-cause mortality compared with placebo (HR 0.70; 95% CI 0.51-0.96).  
If untreated, "the mean duration of survival is no longer than two-and-a-half years from the time of diagnosis," said Rapezzi. "This treatment offers a chance to patients with a terrible disease."
Transthyretin amyloid cardiomyopathy is caused by the formation and accumulation of amyloid fibrils composed of misfolded transthyretin proteins in the heart. "It's sort of an invasion of the fibrils within the tissue," explained Rapezzi. These unstable, misfolded proteins building up in the myocardium can lead to cardiomyopathy and symptoms of heart failure, including dyspnea, fatigue, orthostatic hypotension, and syncope.
The disease typically manifests in male patients 60 years and older and is inherited as an autosomal dominant trait caused by mutations in the transthyretin gene (TTR) or by the deposition of wild-type transthyretin proteins. There are 120 different TTR mutations that can lead to a phenotypic presentation of transthyretin amyloid cardiomyopathy.
Although it is believed to affect less than 1% of the population, Rapezzi said the disease is more undiagnosed than rare.
Fostering Suspicion
In the ATTR-ACT study, which was simultaneously published in the New England Journal of Medicine, 264 patients were randomized to tafamidis (either a 20-mg or 80-mg dose) and 177 to placebo. At 30 months, 29.5% of patients treated with tafamidis had died compared with 42.9% of patients treated with placebo. In addition to all-cause mortality, tafamidis also reduced cardiovascular hospitalizations by 32% compared with placebo. Among subgroups, including those based on TTR status and different doses, treatment favored tafamidis, but the drug did not appear to have an effect in those with NYHA class III symptoms.
The all-cause mortality advantage emerged after approximately 12 to 18 months, "suggesting a period of time is necessary to observe the benefit," said Rapezzi. "Something has to happen with the myocardium to ameliorate the cardiac function." In terms of symptoms, tafamidis treatment led to improvements in the 6-minute walk test and various quality-of-life scores. 
Clinicians should be aware of the possibility of transthyretin amyloid cardiomyopathy in patients with heart failure symptoms, Rapezzi said, particularly since earlier treatment appears to result in better clinical outcomes. He noted that in men 60 years and older, the presence of bilateral carpal syndrome tends to accompany the disease, calling it a "diagnostic red flag."
"Putting together clinical details, the electrocardiogram, and the echocardiogram, you can foster suspicion [of disease]," said Rapezzi. While tissue biopsy was required for diagnosis in ATTR-ACT, bone scintigraphy tracing has been validated as a method for identifying patients, he said, which can help diagnose patients before left ventricle enlargement and symptoms of heart failure develop.
'Pioneering, Game-Changing Trial'
C. Christina Quarta, MD (University College, London), and Scott Solomon, MD (Brigham and Women's Hospital, Boston, MA), who wrote an editorial accompanying the study, also raise the possibility that treatment might be best initiated at an early stage of the disease when the underlying pathology is more easily reversed. They also point out that alternative therapies to treat neuropathy and transthyretin amyloid cardiomyopathy, including a small interfering RNA therapy and an antisense oligonucleotide that interferes in transthyretin production.  
Jacob George, MD (Kaplan Medical Center, Rehovot, Israel), the scheduled discussant during the ESC session, called ATTR-ACT a "pioneering, game-changing trial." He noted there are remarkable similarities between transthyretin amyloid cardiomyopathy and Alzheimer's disease, another condition that has been plagued by recurrent treatment failures.
Earlier this year, the US Food and Drug Administration designated tafamidis as a "breakthrough therapy" for transthyretin amyloid cardiomyopathy. The designation, which can expedite the review process, is awarded for drugs to treat serious or life-threatening diseases/conditions in setting where there is preliminary evidence it is an improvement over existing therapies on or more clinically significant endpoints. Tafamidis received orphan drug designation in Europe and the US in 2011. 

Michael O'Riordan is the Associate Managing Editor for TCTMD and a Senior Journalist. He completed his undergraduate degrees at Queen's…
Read Full Bio
Disclosures
Rapezzi reports grant support from Pfizer.
Quarta reports no relevant conflicts of interest.
Solomon reports grant support from Alnylam, Ionis, and Eidos.