Unprotected Left Main PCI? US Interventionalists Aren't Biting (Yet)
While just 1% of PCIs are for left main disease, those treated tend to be older and sicker than patients treated in the randomized trials.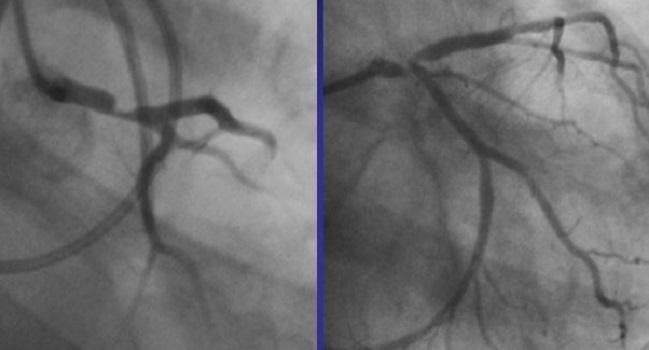 Just one out of every 100 PCI patients in the United States is being treated for unprotected left main coronary artery disease, and while there has been a slight uptick in the number of left-main PCI cases over time, the increase is very modest, according to the results of a new analysis.
Additionally, the study showed that patients undergoing PCI for unprotected left main coronary artery disease in the real world tend to be older and sicker than those treated in the landmark clinical trials comparing PCI versus CABG surgery.
"The people who are getting referred for left main stenting are pretty ill, overall, and relatively high-risk," said lead investigator Javier Valle, MD (Rocky Mountain VA Medical Center, Aurora, CO). "And then you combine that with the fact there isn't that much continued experience. Nearly 85% of operators did less than one left main intervention in a year. If you're doing it that infrequently, do you really want to be doing it in the highest-risk patients?"
The two most recent randomized clinical trials testing revascularization strategies for unprotected left main disease—EXCEL and NOBLE—yielded conflicting results, with EXCEL investigators reporting comparable rates of death, stroke, and MI at 3 years between PCI with the everolimus-eluting metallic stent (Xience; Abbott Vascular) and CABG surgery. In NOBLE, however, PCI with primarily the biolimus-eluting stent (Biomatrix Flex; Biosensors) was associated with a higher rate of major adverse cardiac and cerebrovascular events at 5 years.
The new data from Valle and colleagues, published January 2, 2019, in JAMA Cardiology, provide a snapshot of contemporary clinical management of unprotected left main coronary artery disease prior to the publication of EXCEL and NOBLE.
In an analysis of 3,342,162 patients undergoing PCI included in the National Cardiovascular Data Registry (NCDR) CathPCI Registry between 2009 and 2016, 33,128 of all procedures (1.0%) were for unprotected left main coronary artery disease. Over time, the percentage of left main PCI procedures increased, up from 0.7% of all PCIs in 2009 to 1.3% in 2016.
"It's one of the things that did strike us, just how infrequently this is being done, although there are some places, and some operators, who are doing it more frequently," Valle told TCTMD.
Operators included in the CathPCI Registry performed just 0.5 unprotected left main PCIs each year, and only 16.5% of all operators performed more than one procedure each year. On average, institutions performed 3.2 PCIs of unprotected left main disease each year, with 53.7% of centers averaging more than one case annually.
Gregg Stone, MD (NewYork-Presbyterian/Columbia University Irving Medical Center, New York, NY), who led the EXCEL study, said the findings showing that PCI of left main disease occurs infrequently doesn't surprise him. "In this time period, the rate is consistent with other US-based studies," he commented to TCTMD. "Prior to EXCEL being published, coronary artery bypass graft surgery was considered the standard of care for patients with left main disease, with PCI primarily considered for those too high risk to undergo surgery." 
David Kandzari, MD (Piedmont Heart Institute, Atlanta, GA), another EXCEL investigator, suspects, however, that the present-day use of PCI for unprotected left main disease is not much higher than that observed in NCDR CathPCI Registry. In Europe and Asia, left main PCI is more routinely adopted as an alternative to surgical revascularization in appropriately selected left main patients, but US clinical guidelines are weaker in their support of PCI.  
In Europe, PCI is designated as a class I indication, the same as CABG surgery, in left main patients with a SYNTAX score 0-22 and as a class IIa indication in patients with an intermediate SYNTAX score. In the United States, PCI is a class IIa indication in select patients with isolated left main stenosis involving the ostium or shaft without coexisting multivessel disease. It is a class IIb indication in patients with disease involving distal bifurcation or with less complex coexisting multivessel disease.
To TCTMD, Kandzari noted that while the clinical guidelines have not been updated to reflect more recent evidence, the appropriate use criteria for PCI have been modified to include left main disease. And although there are some unanswered questions regarding the use of PCI for left main CAD, such as the best stent technique and whether intravascular ultrasound should be required, these factors shouldn't be a barrier to advancing the field, said Kandzari.  
"In the US, there is a carryover of unfamiliarity with the procedure and with uncertainty with regard to skill sets, and that is combined with an almost ingrained history that left main disease should be reserved for surgical revascularization," said Kandzari.
Highly Selected Left Main Patients
In the new study, patients treated with PCI for unprotected left main coronary artery disease had a significantly higher rate of major adverse cardiac events compared with those undergoing PCI of other lesions. When stratified by annual PCI volumes, the researchers observed a lower rate of major adverse cardiac events among institutions and centers with the highest volumes.
As noted, patients undergoing PCI in the NCDR CathPCI Registry differed significantly from those treated in the randomized revascularization trials of unprotected left main disease. For example, they were approximately 8 years older and had a higher burden of comorbidities, including more heart failure, cerebrovascular disease, peripheral artery disease, diabetes, chronic lung disease, and end-stage renal disease requiring dialysis.
Although they do not have surgical data to make comparisons, Valle said their data suggest patients undergoing PCI for unprotected left main disease are highly selected because "people don't want to operate on them." The medical community, at least during this time period, did not view PCI as a reasonable alternative to CABG surgery in this patient population, he said.
"When you look at EXCEL and NOBLE, and even SYNTAX, these are randomized trials taking patients with equivalent risk and splitting them into surgery and PCI," Valle said. "That's not what's happening with unprotected left main interventions in the United States, at least from what we can tell."  
To TCTMD, Stone said it takes time for trial results, such as the positive EXCEL, to translate into changes in clinical practice. For that reason, he anticipates an increase in PCI for unprotected left main disease over the next few years for selected patients, specifically those with SYNTAX scores of 32 or less. Kandzari agreed, adding that there is still a need for greater collaboration among surgeons, interventionalists, and others in the setting of left main coronary artery disease, as there is for structural heart disease.
Valle agreed about the need for collaboration and that changes in referral patterns take time. In the future, unprotected left main PCI could be relegated to high-volume institutions or there could be a shift in the types of patients referred for the procedure, he predicted.
"Both of those things will accomplish the same goal, and should both be evaluated as potential directions," he said. "You increase the experience, increase the exposure for operators in lower-risk patients so you're not just doing cases of surgical turndowns, where the mortality risk is so high. If you do both of those together, you'll start seeing patients similar to the clinical trials and outcomes that mimic them."
Stone added that certain left main PCIs are relatively straightforward, such as when the lesion is isolated to the ostium or shaft of the artery. These cases can be handled by most interventionalists with proper training and the procedure is safe with excellent long-term outcomes, he said. With distal bifurcation, however, things can get more complicated, particularly when most multivessel disease is also present.
"Left main PCI is not as complicated as chronic total occlusion PCI, which has a whole set of specialized skills," said Stone. "However, complex left main disease can be put into the CHIP category, for which a certain level of expertise is mandatory, particularly for handling hemodynamic support in patients with poor left ventricular function and those with complex bifurcation disease. Hopefully most reasonable-sized centers will have one or two people with that type of skill set."
Photo Credit: Gerschlick T. PCI is now the preferred option for LMS CAD. Presented at: TCT 2017. October 30, 2017. Denver, CO.

Michael O'Riordan is the Associate Managing Editor for TCTMD and a Senior Journalist. He completed his undergraduate degrees at Queen's…
Read Full Bio
Disclosures
Valle and Stone report no relevant conflicts of interest.
Kandzari reports consulting fees from Medtronic, Cardinal Health, Boston Scientific, and Micell as well as research support Medtronic, Abbott Vascular, Boston Scientific, Biotronik, and Medinol.