US and European Valvular Guidelines Mostly Concordant, Analysis Finds
Comparing the guidelines is useful and "often leads to some further fine-tuning down the road," says Robert Bonow.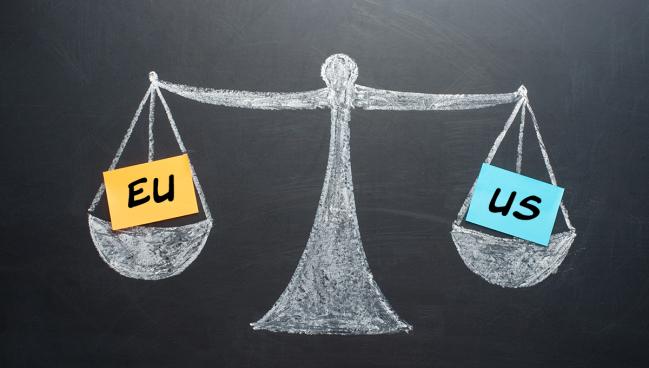 The American and European guidelines for valvular heart disease have more similarities than differences, but knowing where any discrepancies lie may help clarify future research needs as well as what to look for in emerging data, a comparison study suggests.
In 2020, the American College of Cardiology/American Heart Association updated their guideline. The following year, the European Society of Cardiology/European Association for Cardio-Thoracic Surgery also released new valvular heart disease guidelines.
The comparison of the two was undertaken by the EuroValve Consortium to assess consistent and discordant recommendations, identify potential reasons and clinical implications of differences, and highlight areas where further research is needed, said the paper's lead author Augustin Coisne, MD, PhD (Heart and Lung Institute, Lille University Hospital, France).
"We felt it was important to characterize these discrepancies in order to lead the way for the next guideline iteration," he told TCTMD. The European document is set to be updated again in 2025.
Under the current system, the heart disease guidelines are updated every 5 to 6 years, which Coisne and colleagues say is suboptimal based on the rate at which new data in the structural heart disease field are being generated.
"It is important to implement mechanisms that may facilitate timely updates of the guidelines because what we know now will not be the same in 2 or 3 years," Coisne said. "There are many randomized controlled trials ongoing. Valvular heart disease is a booming area of study."
Robert Bonow, MD (Northwestern University Feinberg School of Medicine, Chicago, IL), a member of the writing committee for the US valvular disease guidelines, agreed, saying there is movement toward more rapid incorporation of new evidence into existing standards without the need to rewrite the whole thing.
"The guidelines are used by not only doctors and surgeons and heart teams, but also by regulatory bodies and payers," he told TCTMD. "The guidelines committee themselves stay intact and should be able to make rapid decisions when there are changes that are important for patient care."
The guideline comparison was published August 14, 2023, in the Journal of the American College of Cardiology and covers aortic stenosis (AS), chronic aortic regurgitation, mitral stenosis, chronic mitral regurgitation (MR), tricuspid regurgitation (TR), and prosthetic valves.
Analyzing Discrepancies
While mostly in sync, the recommendations regarding management of aortic stenosis in the two guidelines differ mostly with regard to the age cutoffs for TAVI. Both recommend stratifying patients by suitability for TAVI, suitability for SAVR, and shared decision-making using an individualized approach, but the American guidelines recommend SAVR over TAVI only in patients < 65 years of age with a life expectancy exceeding 20 years, while the European guidelines recommend it for those < 75 years of age with an STS-PROM/EuroSCORE < 4, or those in whom femoral TAVR is not possible.
TAVI is recommended for those > 75 years of age or with STS-PROM/EuroSCORE > 8 in the European guidelines, and for those > 80 years of age or with life expectancy < 10 years in the American guidelines.
"As recent data have shown, about 50% of the TAVRs in the US, even at academic centers, are being performed in people under the age of 65," Bonow noted. "We're much more liberal [about age] in the US, so that is still a big difference between the two guidelines."
The US guidelines also stand out in highlighting that the choice of prosthetic valve should be based on a shared decision-making process and give a Class IIb indication for renin-angiotensin-aldosterone system (RAAS) blockade in patients undergoing TAVI.
Coisne said the most important knowledge gaps in this area extend to management and recommendations for aortic valve replacement in patients with asymptomatic severe aortic stenosis, and in those with moderate aortic stenosis and heart failure (HF). The paper also notes that "more data and recommendations for the selection of TAVR vs SAVR in patients with bicuspid aortic valve disease are needed."
In the chronic aortic regurgitation population, the differences are fairly minor, centering primarily on LVEF cutoffs for asymptomatic patients with severe regurgitation. Both sets of guidelines agree that patients with an LVEF < 50% should be referred for surgery (Class I), but with the American guidelines extending this indication further to those with LVEF up to 55%. The US indication was based on data suggesting that waiting for LVEF to drop below the 50% threshold might worsen long-term outcomes.
"We felt 55% was appropriate and so we moved to that based on evolving data. There are some other areas, as well, where we are probably going to see changes like this in future guidelines, possibly regarding [left ventricular] volumes instead of dimensions, for example," Bonow added.
Another difference is that the US guidelines recommend surgery for patients with moderate aortic regurgitation while the European guidelines recommend heart team discussion. Additionally, the US guidelines recommend surgery in asymptomatic severe aortic regurgitation and progressive decline in LVEF on three serial echocardiograms.
In terms of aortic valve repair, the European guidelines limit this indication to select patients at experienced centers, while the American guidelines do not address this at all.
Coisne and colleagues suggest that imaging, specifically advanced echocardiographic studies such as three-dimensional, speckle tracking, and cardiac magnetic resonance, should be given more consideration in the guidelines to aid in risk stratification and more accurate assessment of other measures.
Mitral and Tricuspid Valves
In mitral stenosis, where the inconsistencies between the guidelines are minimal, the study authors identify a gap in knowledge regarding the applicability of direct oral anticoagulants in patients with severe disease and in mitral stenosis with annulus calcification. They also note that the US guidelines provide specific recommendations for type of mitral valve surgery in primary MR, whereas the European version does not.
Coisne and colleagues also point to several differences regarding mitral transcatheter edge-to-edge repair (TEER) in secondary MR that are apparent. While the European guidelines recommend TEER only in those not eligible/appropriate for mitral valve surgery or when TEER is planned in addition to PCI or TAVR, the American guidelines recommend it exclusively on the basis of appropriate anatomy and the COAPT criteria.
"One major limitation in all of the guidelines is the absence of any data about management of severe MR in the setting of acute HF and what is the optimal timing of intervention for severe MR after an episode of decompensation," Coisne and colleagues write. "There are not sufficient data to guide the procedure-related risk, for both mitral valve surgery and TEER, and simply adapting the model from AS in a population with MR may lead to errors."
They also say the potential impact of TEER on LV reverse remodeling and long-term outcomes should be better documented and the role of newer transcatheter treatment options, such as mitral valve replacement, should be considered.
For tricuspid regurgitation, the American guidelines do not address specific parameters for assessing severity, or specify primary and secondary etiology of tricuspid valve disease, as the European guidelines do. Additionally, Coisne and colleagues note that the US guidelines "weakly recommend" (Class IIb) isolated tricuspid surgery for symptomatic severe disease in patients who have already undergone left-sided valve surgery in the absence of severe pulmonary hypertension or severe RV systolic dysfunction.
"On the other hand, according to European guidelines, tricuspid valve surgery should be considered (Class IIa, Level of Evidence: B) regardless of the history of left-sided valve surgery in patients with severe secondary TR who are symptomatic or have RV dilatation, in the absence of severe RV or LV dysfunction and severe pulmonary hypertension," they write.
Future Directions and Earlier Treatment
Coisne said the majority of differences overall between the guidelines are seen in areas where evidence is considered insufficient or conflicting and in need of RCTs.
"What is changing in both of these is that whereas a few years ago we were so focused on looking solely at values, . . . now we realize we need to propose not a one-size-fits-all solution, but a more tailored solution for each patient," he added. "That's why phenotyping deserves consideration. Also, with experience and new devices, we are hopefully learning how to treat the patient earlier."
For his part, Bonow said this type of comparison analysis is helpful in identifying "how these differences actually arise when you have expert groups looking at the same data, and often leads to some further fine-tuning down the road."
He added that the comparison also highlights an important area where the European and American guidelines are very much in step, which is the need for a multidisciplinary heart team to manage valvular heart disease.
"Both of these guidelines have that front and center, and it's really the most important thing, especially when you are dealing with complex patients," he said.

Disclosures
Coisne reports no relevant conflicts of interest.
Bonow is a member of the writing committee for the most recent ACC/AHA valvular heart disease guidelines.