2021 ESC/EACTS Valve Guidelines Unveil TAVI/SAVR Age Cutoffs and Earlier Care
The surgeon and cardiologist chairs stressed that patient involvement and heart center expertise are lynchpins for 2021.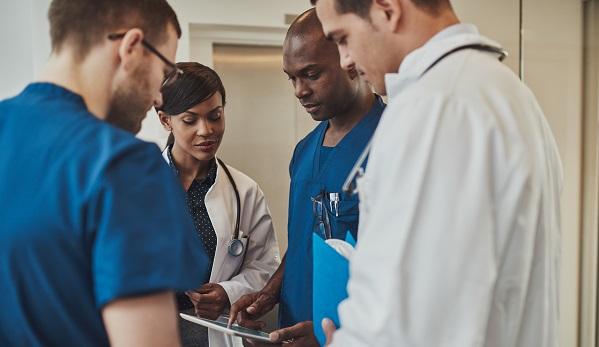 Earlier intervention in severe asymptomatic valve disease, age recommendations to help guide the choice of TAVI versus SAVR, and an upward nudge for transcatheter edge-to-edge repair (TEER) for secondary mitral regurgitation: these are some of the big changes in the new valvular heart disease guidelines released this week at the European Society of Cardiology (ESC) Congress 2021. A joint document of the ESC and the European Association for Cardio-Thoracic Surgery (EACTS), the guidelines also put renewed emphasis on heart team collaboration and patient-centered evaluation.
Both the ESC chairperson, Alec Vahanian, MD (Universite ́ de Paris, France), and the EACTS chairperson,  Friedhelm Beyersdorf, MD, PhD (University Hospital of Freiburg, Germany), emphasized that these are the first guidelines to put so much emphasis on involving patients in the decision-making, while putting specialized heart valve centers in charge of care decisions.
"Of course, back in 2017, we were speaking with the patient, but now it's really an emphasis on this patient-informed choice," said Vahanian, referring to the last valvular heart disease guidelines, which came out in 2017.
And, given the explosion of new imaging and procedural advances required to get the best outcomes—and the training those entail—it is no longer appropriate for referring physicians to send patients directly to their preferred surgeon or cardiologist, the guidelines stress. "We have had an explosion in diagnostic and therapeutic tools for these patients," said Beyersdorf. "Therefore, we stress the requirement for multidisciplinary heart valve centers. This is very important because not long ago everyone was a valve specialist, but this is actually no longer true."
Language spelling out the requirements for specialized heart valve centers and patient-informed choice have been added to the guidelines and are both class IC recommendations.
Relations between the ESC and EACTS have been rocky since the last valve guidelines came out, most notably over the left-main disease recommendations in the last revascularization guidelines but also over the trial evidence that paved the way for TAVI's move into younger, lower-risk patients. Both Vahanian and Beyersdorf told TCTMD that both cardiologists and surgeons can be confident that the guidelines are evidence-based and that the emphasis on patient choice and multidisciplinary decision-making should help keep the peace.
Tellingly, while there are a number of recommendations that appear in the guidelines for the first time, and several that were strengthened or softened, many of the changes to the guidelines involved careful rewording as opposed to changes to the class of recommendation.
Age Cutoffs for TAVI
An entire section of the guidelines is devoted to the sticky question of the mode of intervention in patients with aortic stenosis. Age plays a starring role, and most are class I recommendations.
In patients under age 75 who are low risk for surgery or who are unsuitable for transfemoral TAVI, SAVR is recommended. However, in patients 75 and older or who are high risk for surgery, TAVI is recommended. For all remaining patients, SAVR or TAVI are recommended "according to individual clinical, anatomical, and procedural characteristics," many of which are set out in a table in the guidelines; these must be discussed by a heart team and shared with the patient.
I think it's quite good to have in front of you people who present opposite views, because it brings those views to your attention. Alec Vahanian
The age cutoffs, Beyersdorf noted, are a notable departure from the US guidelines, but there is a lot of room for discussion and individualized choices. "If you have, for example, a patient 73 years of age who is rather sick, not low risk, then one should and has to discuss if this is not also a patient for TAVI," said Beyersdorf. On the other hand, "a patient 78 years old [who is an] extremely healthy guy, no risks at all with probably a high life expectancy for the next 20 years, he might go to surgery."
Intervene Earlier
A broad emphasis on intervening earlier in aortic stenosis, aortic regurgitation, and mitral regurgitation is one of the most important messages of the 2021 update, both Vahanian and Beyersdorf noted.
Surgery is now a class I recommendation for asymptomatic patients with left ventricular end-systolic diameter (LVESD) > 50 mm or LVESD > 25 mm/m2 BSA (small body size) or resting LVEF ≤ 50%. For the first time, it "may be considered" in asymptomatic patients with LVESD > 20 mm/m2 BSA, especially in those with small body size, or resting LVEF ≤ 55%, so long as the surgery is deemed to be low risk (class IIb).
For patients with severe aortic stenosis and clear evidence of systolic LV dysfunction of no other cause, an intervention "should be considered"—a new class IIa recommendation. And while SAVR was recommended in the past for patients with severe, asymptomatic aortic stenosis and a normal EF who meet specific criteria, this recommendation now specifies that an "intervention should be considered"—leaving the door open to percutaneous treatment.
In primary, asymptomatic mitral valve regurgitation, surgery remains a class I recommendation, but the bar for LVESD has been lowered. For tricuspid disease, which is too often treated too late, stressed Vahanian, new wording makes it clear that patients with asymptomatic or mildly symptomatic isolated, severe, primary tricuspid regurgitation and RV dilatation should get surgery, if suitable, without waiting for evidence of RV dilatation  or deterioration of RV function.
Mitral Updates
Mitral regurgitation (MR) gets several novel or strengthened recommendations, taking into account several recent trials.  
Surgery remains a class I recommendation for severe, primary mitral regurgitation, but left ventricular parameters were broadened.
For secondary mitral regurgitation, however, a new class I indication specifies that valve surgery or intervention can only be recommended when patients remain symptomatic despite guideline-directed medical therapy, including cardiac resynchronization therapy if warranted, and that the decision to proceed must be made by a heart team. For patients who have concomitant coronary artery disease and severe functional MR, who are deemed unsuited to surgery, both PCI and, if needed, TAVI get a new class IIa recommendation.
In patients without CAD, TEER moves from a class IIb recommendation to class IIa in selected, symptomatic, nonsurgical patients. As in the new heart failure guidelines, the choice of wording leaves a lot to heart team interpretation: "TEER should be considered in selected symptomatic patients, not eligible for surgery and fulfilling criteria suggesting an increased chance of responding to the therapy."
Anticoagulation, AF, Tricuspid, and More
Antithrombotics in the postoperative period get a spateof new recommendations in this year's update, almost all of them class I. These include the preference of a non-vitamin K antagonist oral anticoagulant (NOAC) over a vitamin K antagonist for stroke prevention in atrial fibrillation (AF) accompanying aortic stenosis, aortic regurgitation, or mitral regurgitation; in a range of surgical valve scenarios; and for TAVI patients who have other indications for oral anticoagulation. NOACs are not recommended for patients with AF who also have moderate-to-severe mitral stenosis, or for patients with a mechanical heart valve.
It was not easy. It didn't fall from the sky. Friedhelm Beyersdorf
To TCTMD, Vahanian also pointed to the new recommendation that anticoagulation should be considered (class IIB) in patients with bioprosthetic valves who develop "leaflet thickening and reduced leaflet motion leading to elevated gradients, at least until resolution."
In another novel addition, left atrial appendage occlusion in patients already undergoing valve surgery "should be considered to reduce the thromboembolic risk in patients with AF and a CHA2DS2VASc score ≥ 2."
Beyersdorf noted that valve-in-valve procedures have been strengthened for bioprosthetic failure in the aortic position (class IIa) and "may be considered" in the mitral and tricuspid positions (class IIb).
Tricuspid interventions, likewise, get a nod with transcatheter treatments getting a new class IIb recommendation for inoperable patients with severe tricuspid regurgitation.
Moving Forward
Both Vahanian and Beyersdorf acknowledged that reaching consensus in the document was challenging, but fruitful. There were some "disagreements," Vahanian acknowledged, but these were accommodated "as much as possible," and a separate methodology committee tasked with analyzing trial evidence was useful in honing the strength of the recommendations according to the quality of the studies.
"I think it's quite good to have in front of you people who present opposite views, because it brings those views to your attention," Vahanian said, and helps to keep "too much enthusiasm" in check.
Asked whether he felt surgeon perspectives and opinions were adequately reflected in the document, Beyersdorf said: "My answer is yes, but it was not easy. It didn't fall from the sky. There was a huge amount of discussion and I have to say that, for unknown reasons, scientific data can be interpreted in different ways and we have to phrase this cautiously. But guidelines need to reflect not what is being done, but what the scientific evidence in the original articles says."
His message to surgeons and cardiologists alike is that these guidelines reflect "the best evidence we have for 2021, there's no doubt, and we can all agree to that."

Shelley Wood is Managing Editor of TCTMD and the Editorial Director at CRF. She did her undergraduate degree at McGill…
Read Full Bio
Disclosures
Vahanian reports direct personal payments from Cardiovalve.
Beyersdorf reports intellectual property payments from Köhler-Chemie.