For Vascular Labs, Accreditation Drives Quality and Objectivity
Getting the lab accredited, though it costs money and time, offers advantages to both physicians and patients, experts said at ISET.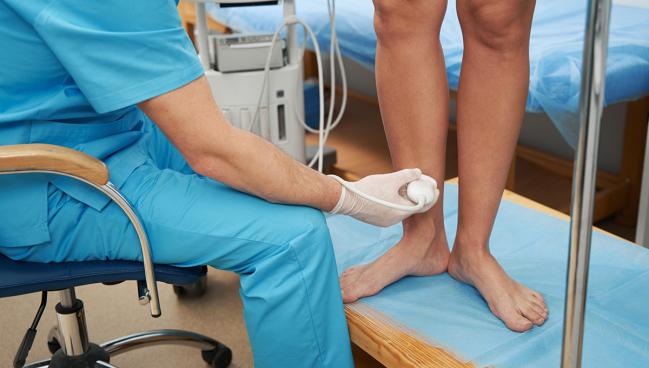 MIAMI BEACH, FL—Access to a top-notch vascular lab equipped to diagnose various forms of disease through ultrasound and other tools is an asset for vascular specialists, but when creating this resource, it's important to get formally accredited, experts said at ISET 2023.
Physicians who choose to set up and run their own labs must take steps to ensure quality, urged Yolanda C. Bryce, MD (Memorial Sloan Kettering Cancer Center, New York, NY), in her "Vascular Lab 101" presentation here. Whether on-site at the hospital or office-based, a vascular lab isn't just a place where equipment is stored and tests are done—rather, it's "a place where physicians and technologists have a commitment to perform and interpret noninvasive testing with objective techniques," she said.
Bryce advocated for clearly stated policies and procedures for how to do each test and document the results—a level of precision that can maintain quality, can aid in billing, and is necessary for accreditation.
James F. Benenati, MD (Miami Cardiac & Vascular Institute, FL, and Penumbra), whose presentation during the same session made the case for accreditation, admitted it's a topic that "makes some people cringe and other people happy."
The concept is straightforward, said Benenati. "Accreditation is simply an affirmation that an organization provides quality that the general public has the right to expect and that the medical community, including government agencies, can recognize."
It should come as no surprise to the ISET audience that quality is inconsistent, he emphasized. "Every single person in this room knows that you can get a carotid duplex in one place and go around the corner and get another carotid duplex and have very discordant data. What does that mean? It may not mean much to you when you go home at the end of the day. But to someone who's going to end up with an endarterectomy, a stent, or a TCAR [transcarotid artery revascularization] procedure, whether they really have that degree of stenosis can have a profound impact on life."
Accreditation, and the work it takes to get there, can have real effects, said Benenati.
For instance, research presented at the 2017 International Vein Congress showed that of facilities seeking Intersocietal Accreditation Commission (IAC) Vein Center certification, around half had safety issues, slightly less than half had incomplete procedure documentation, a third had incomplete patient histories, a quarter had inadequate patient consent, and a quarter had suboptimal imaging, among other concerns, at the time of their site visit. Within 60 days, 81% of those troubled facilities had improved enough to earn accreditation.
Similar data exist for vascular testing facilities, Benenati added, and studies have shown accreditation's positive impact in other realms, such as reduced radiation dose in CT imaging and better image quality in echocardiography.
To someone who's going to end up with an endarterectomy, a stent, or a TCAR procedure, whether they really have that degree of stenosis can have a profound impact on life. James F. Benenati
As Bryce pointed out to ISET attendees, the basic ingredients to a lab are fairly simple: personnel with the right skill sets to meet the facility's needs, a dedicated space with room to accommodate a treadmill, chair, technologist, and patient, as well as buy-in from the hospital or institution. For lab directors, sitting for the Registered Physician in Vascular Interpretation (RPVI) exam isn't mandatory, but is a chance to learn expertise in not only sonography but also physiologic testing. Having a registered vascular technologist (RVT) on staff is key, she noted.
Accreditation of the lab—through professional societies like the American College of Radiology, the Joint Commission, or the IAC—isn't required but is, in her mind, important, Bryce added. Achieving this standard "does cost money, so if you're just getting started, maybe that's not something you can do at the very beginning, but you should shoot towards it," she advised.
The Case for Accreditation
Benenati stressed to TCTMD that vascular labs play an integral role not just in diagnosis but also in treatment.
To start, "because a lot of peripheral vascular disease is underrecognized, screening patients is very important. You may not have symptoms, but you could have severe disease. Through a screening program you may get pushed into the system," he noted. Vascular labs also provide information on the patient's baseline ahead of treatment, help streamline procedures, document any improvement, and monitor progression thereafter.
Yet "there are so many different types of vascular labs, and because there's this lack of standardization, when you practice medicine, you see reports coming in that are hard to reproduce and not always the same," he observed. "The people who suffer from that are the patients—you want to get the same result at point A as you do at point X, and that isn't happening."
Benenati, who previously served on the IAC board for more than a decade, noted that there's a reluctance among some vascular specialists to take this formal step. "It is hard to convince people to get accredited, because it's hard to actually have proof that [it] matters. So as a skeptic you might say, 'You're charging me money to put a stamp on my report, but what's it really doing for me?' You have to believe in the process," he said, which is why at meetings like ISET he tries to raise awareness about accreditation's value.
"The goal is to create a minimum level of competence. We're not trying to create the best lab: we just want the bottom of the labs to be at a certain level," Benenati said.
He acknowledged that there's money and time involved in applying for accreditation, after which blinded reviewers will occasionally check to make sure that quality is being maintained. Still, he said, accreditation offers physicians the reassurance of knowing the lab's equipment is working as it should and provides the potential for learning through continued medical education and better communication among clinicians when discussing test results.
A dedicated issue of Techniques in Vascular and Interventional Radiology, published in December 2022 with Bryce as editor, explores what it takes to have a successful, high-quality vascular lab.

Sources
Multiple presentations. Presented at: ISET 2023. January 16, 2023. Miami Beach, FL.
Disclosures
Benenati is chief medical officer of Penumbra.