What Role Do Textbooks Play in Cardiology Training Today?
While they can feel monotonous and overwhelming, textbooks remain key in the early years, says this fellow.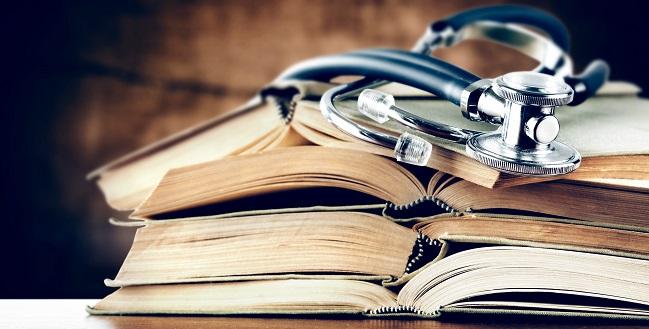 Around 6 AM on a frosty, dark Michigan morning, I sipped a cup of hot coffee and cracked open my echocardiography textbook. As I struggled to deduce an equation, I began to wonder: "Do I really need to go through this?"
In my general cardiology program, textbooks have been heavily emphasized as a primary information source, at least during the first part of our training. But, to me, they can feel monotonous and overwhelming at times.
To compare their usefulness to other knowledge sources, I calculated the minimum amount of time it would take me to go through the four primary textbooks: Feigenbaum's Echocardiography (8th edition), Marriott's Practical Electrocardiography (13th edition), Braunwald's Heart Disease (12th edition), and Kern's Cardiac Catheterization Handbook (7th edition). Assuming it would take me, on average, 4 minutes to go through a page, it would take around 256 hours to get through all four books once. That's equivalent to reading 1 hour a day, every day for about 9 months, a task I know from previous experience requires the highest level of discipline and endurance.
With many cardiology fundamentals, however, a second and maybe even third or fourth reads would be necessary for me to fully comprehend them. And this would be alongside all of my other daily duties as a cardiology fellow.
It was at this point I wanted to know if there was a better way of learning. Could I use other resources out there like ACCSAP and board review videos or review articles to learn the same concepts? How do immersive Twitter discussions, UpToDate, podcasts, and webinars play into all this?
In talking with my program director, Luis Afonso, MD (Wayne State University, Detroit, MI), who has supervised the training of cardiology fellows at our institution for over 15 years, he said that it is easy to get lost in the flood of information during the initial phases of training, making it difficult to stay on track. Despite the rapid advancements in the field, the core concepts of cardiology have remained the same. Investing time with descriptive textbooks, he said, can help the budding cardiologist build a solid foundation that will eventually help us better assimilate the new information that we are sure to see during our lifetime of practice.
Additionally, Nasser Lakkis, MD (Wayne State University), our chief of cardiology, told me that textbooks make us appreciate the core concepts of cardiology that have stood the test of time. In juxtaposing the advancements in the field with these concepts, it's easier to envision the direction in which the field is going, which can help us steer our career paths, he said. Doing so can also help us to recognize the most relevant concepts amidst so much new information.
I also wanted to hear from the early-career generation of cardiologists about their thoughts on where textbooks fit into the learning process. Chadi Alraies, MD, MPH (Wayne State University), agreed that they help with the fundamentals and understanding of pathophysiology. But on the flip side, he said that there are certain parts of cardiology where the field is evolving so rapidly that it is difficult for the textbooks to keep up with the advancements. In his experience co-authoring a textbook on the Impella device, Alraies said that while the fundamentals of hemodynamics hold true, there have been multiple new iterations of the device that have come out since the book was published. To stay current, he recommends going through webinars, conferences, and board review courses.
Moreover, Chandra Ala, MBBS (Wayne State University), said that reading textbooks from cover to cover is probably not practical. He finds the most valuable content to be in the initial chapters, which discuss topics like pathophysiology and hemodynamics, as these parts are the fruit of the labor of the most experienced physicians in the field, who have consolidated, distilled, and presented the information most understandably. After covering these sections, Ala recommends using textbooks as a reference on rotations and going through other topics as needed.
After collecting all of these thoughts, I tend to agree with the general theme: while numerous other tools are available, textbooks still form the core of our learning, and prioritizing them during the first phase of training is likely worth it. I'm going to try to look at this process as more foundation-building than burden, with the goal of prioritizing reading the essential chapters and not always cover to cover. As we progress towards our third year, moving towards board-review material seems reasonable and using review articles, UpToDate, webinars, podcasts, and Twitter discussions as supplements feels appropriate.
My takeaway? Yes, reading textbooks is an exercise in mental endurance: all the better to help prepare us for a lifetime of learning in the fast-paced field of cardiology.

Tushar Mishra, MD, is a second-year general cardiology fellow at Wayne State University/Detroit Medical Center in Detroit. Raised in India…
Read Full Bio