What's Going to Be Hot at AHA 2023
Buzz is building for SELECT, the semaglutide CV outcomes trial, and ORBITA-2, a sham-controlled trial of PCI in stable CAD.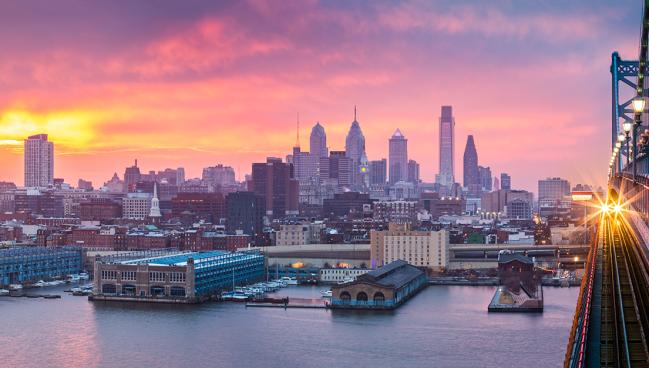 Later this week, the American Heart Association (AHA) 2023 Scientific Sessions return to Philadelphia, PA, the last city to host before the meeting was forced to go virtual—then hybrid—during the COVID-19 pandemic. This year's meeting is in-person only, with no virtual attendance, although "on-demand" access to certain sessions will be available after the conference wraps up.
Speaking with TCTMD, Amit Khera, MD (UT Southwestern Medical Center, Dallas, TX), chair of the scientific sessions program committee for 2023, said that for this year's meeting, he and vice chair Joanna Chikwe, MD (Cedars-Sinai Medical Center, Los Angeles, CA), along with other members of the committee, explicitly set out to plan a meeting that would make the most of the "modern, post-COVID era" after years of Zoom meetings and remote collaborations.
"We really wanted to double down on engagement and discussion," Khera said. "We felt like we were getting too 'TikTok-y' with these short-short talks with not enough discussion." As such, the three big themes for AHA 2023, he said, are engagement, discussion, and cross-disciplinary programming—all with an eye to maximizing meaningful, in-person interaction. "To that point," said Khera, "every session is now 75 minutes instead of 60, because we mandated adequate discussion time. That's what you come to hear, really—bright people talking: not just presenting studies, but really talking about the science."
Late-Breaking Clinical Trials
A total of 27 late-breaking clinical trials are grouped thematically across eight late-breaking science (LBS) sessions, with LBS.01 on Saturday morning devoted entirely to the hotly anticipated SELECT trial of semaglutide (Wegovy; Novo Nordisk) in patients with overweight or obesity. Top-line results for this international trial of more than 17,000 subjects have already been released, showing that a once-a-week, subcutaneous, 2.4-mg dose of the glucagon-like peptide-1 (GLP-1) receptor agonist lowers body weight along with adverse cardiovascular events. The first late-breaking slot will allow not only for an extended discussion of the SELECT results, but also a talk by the National Heart, Lung, and Blood Institute's Tiffany Powell-Wiley, MD, MPH, on "Population Health and Obesity: Achieving Equity and Feasibility."
Several other eagerly awaited trials have their moment in the sun later that morning: LBS.02 features DAPA-MI, testing dapagliflozin (Farxiga; AstraZeneca) in the setting of acute MI, as well as ORBITA-2, the sham-controlled trial successor to ORBITA, once again testing PCI versus a sham procedure in stable angina, this time in patients not also taking antianginal medications. A third trial, MINT, testing transfusion strategies in acute MI, will also "be important," Khera predicted. "We never know what to do with blood transfusions around the time of MI, and this has nearly 4,000 people, so we'll find out."
The remaining 23 late-breaking trials are divided among six additional LBS sessions. While many of them may deliver results that could pave the way for new drugs or cement the role of long-standing strategies, Khera highlighted a few that will be important contributions, however they land.
Two of those sessions feature blood pressure management, he noted, spanning from therapeutics to population health: LBS.04 "Using Drugs, Diet, and Delivery to Optimize Hypertension" and LBS.07 "From Local to Global: Achieving Equity in Prevention." In these, Khera highlighted a new analysis from the China Rural Hypertension Control Project (CRHCP), a cluster-randomized effectiveness trial addressing the impact of blood pressure-lowering on dementia, as well as ESPRIT, looking at cardiovascular event reductions with a more-intensive systolic BP target of 120 mm Hg versus a standard target of 140 mm Hg among patients with a history of CVD and an average baseline BP of ≥ 130 mm Hg. In other words, said Khera, "is 120 the new 130?"
A number of "hot" atrial fibrillation (AF) trials are grouped in LBS.05. Of these, Khera highlighted ARTESiA, testing apixaban (Eliquis; Bristol Myers Squibb) in patients with subclinical AF detected by an implanted device. Also in this grouping is AZALEA-TIMI 71 pitting the novel factor XI/XIa Inhibitor abelacimab (Anthos Therapeutics) against rivaroxaban (Xarelto; Bayer/Janssen) in AF patients: top-line results for this trial were "overwhelmingly" positive, the sponsor announced in September.
In the primary and secondary prevention arena, two trials of lipid-lowering approaches in LBS.06 may make headlines, Khera predicted. These include VERVE-101, a small, phase Ib study assessing a novel, DNA base-editing technology designed to disrupt PCSK9 gene expression to lower cholesterol in patients with atherosclerotic cardiovascular disease secondary to heterozygous familial hypercholesterolemia. The other is testing lepodisiran (Lilly/Dicerna Pharma), an extended-duration short-interfering RNA candidate targeting lipoprotein(a), which makes its late-breaking debut in a phase IIb trial.
The final late-breaking session, LBS.08, is devoted to artificial intelligence (AI), which Khera characterized as "some really futuristic, cool stuff." This includes a stethoscope, tested in Nigeria, that can pick up peripartum cardiomyopathy (SPEC-AI) as well as an app TCTMD has covered in the past, one that uses speech patterns to predict worsening congestion in heart failure. A final study, ARISE, describes AI-enabled software that rapidly identifies ST-elevation MI from electrocardiograms. "These are some really cool, cutting-edge topics that we're excited about," he said.
Beyond the Late-Breaking Science
Submissions to this year's meeting were up 20% over last year, Khera noted, making the simultaneous goals of longer, deeper-diving sessions and cross-disciplinary interaction that much more complex. In all, this year's meeting will have a total of 726 sessions, including over 200 invited sessions and over 4,000 abstracts.
A wide selection of higher-impact abstracts, many of which are new analyses from high-profile trials that debuted at earlier meetings internationally, will be presented during seven "Featured Science" (FS) sessions. These, too, are grouped by theme, but using a slightly more focused lens—for example, "HFpEF and Amyloid—It's Prime Time!" in FS.04 and "Novel Approaches in MI—Hyper or Hope" in FS.05. The ISCHEMIA trial, which was the blockbuster late breaker the last time the AHA was in Philadelphia, makes an appearance in FS.02 with a post hoc analysis comparing PCI or CABG versus medical therapy.
The meeting's physical layout will also maximize options for interactions and cross-specialty education, said Khera, with a centrally located "heart hub" adjacent to the main theater housing case theaters and a simulation zone. Critical care cardiology will be emphasized more than ever this year, he added, with hands-on lessons in the use of new machines and techniques, as well as tools for hemodynamic monitoring. A Health Innovation Pavilion will showcase emerging technology in "conversational and interactive" formats.
Facilitating multispecialty participation across sessions, extra care has been taken to upgrade the smartphone app and tag specific programming, said Khera, making it easier and more intuitive to view diverse talks relevant to individual areas of expertise. Fully 28 different specialties and interests have been used to link topics thematically, on top of designated diversity, equity, and inclusion programming focused on strategies to promote more equitable healthcare delivery.
TCTMD reporters Laura McKeown, Todd Neale, Michael O'Riordan, and I will be on the ground at AHA 2023. Reach out with news tips and follow along with our print coverage, which gets underway this week.

Shelley Wood is Managing Editor of TCTMD and the Editorial Director at CRF. She did her undergraduate degree at McGill…
Read Full Bio